Eight weeks of hard work learning new skills. The time is here and I am so excite to share the reveal of our budget kitchen refresh.
After all the planning, changes and a few issues, I am finally ready to share our One Room Challenge budget kitchen refresh with the unveiling of the space.
I wanted to take a minute to thank Linda at Calling It Home for providing this forum and Better Homes and Gardens for their partnership. It has been so much fun participating for the first time.
The One Room Challenge is a biannual challenge April and October for participants to have fun and support others during the 6 week period.
This particular One Room Challenge was extended due to the pandemic.
You can see all the previous weeks here, week2, week3, week4, week5, week6, week7
Just a little trip down memory lane of what our kitchen looked like before before our One Room Challenge budget kitchen refresh.
You can see from the photos that the backsplash and lighting was a bit dated and just needed a refresh.
We were simply looking to brighten up our kitchen without any major changes.
Design plan
Kitchen refresh
replaced stone tile with pine tongue and groove shiplap
replaced the previous knobs and drawer pools
upgraded our builder grade faucet
painted under the bar area to match the shiplap
changed out the pendent lighting
The small changes made for our budget kitchen refresh created the brighter, cottage farmhouse look we were looking for.
Unveil of budget kitchen refresh
Installing the shiplap gave our kitchen a bit of a bright, cottage farmhouse feel which is what we were looking for.
You can see in our One Room Challenge budget kitchen refresh reveal photos the difference the small changes made.
This was not to be a huge makeover, but a budget refresh to update our kitchen.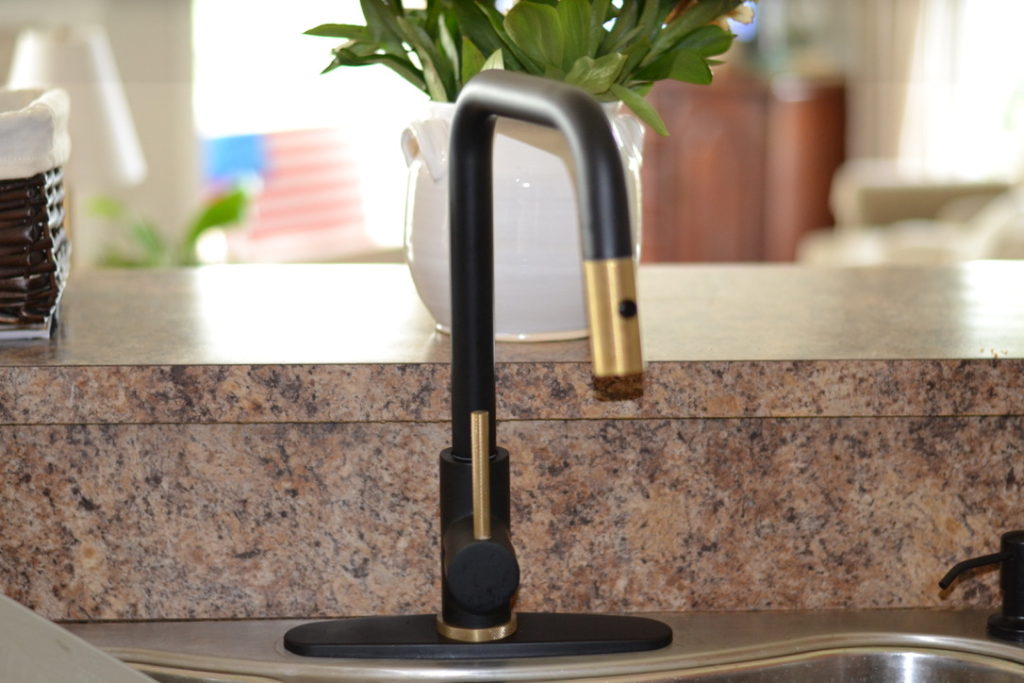 For this One Room Challenge we did not partner with any sponsors for this budget kitchen refresh and we did all the work ourselves.
What we learned during the ORC
This was the first time we participated in the One Room Challenge and we learned so much along the way.
I think this budget kitchen refresh was the perfect small project for our first One Room Challenge and I now know what to expect.
First I am already thinking and planning for the next ORC in October and plan on working with some sponsors for that space.
I learned how to use a jigsaw for this budget kitchen refresh to cut the pine shiplap and am excited to use that skill for future projects.
Another thing that I learned was how to change a faucet.
I spent 10 hours changing out that faucet myself with no help other than google.
That is definitely a skill to have because plumbers are very expensive, and rightfully so.
During this budget kitchen refresh challenge there were a few things that we had to let go of in our original plan due to the pandemic.
Final thoughts
We modified our original plans for the budget kitchen refresh and worked with what was available to use.
We had to modify it because product was not going to be available in time to complete within the eight weeks.
I learned so much participating for the first time and am excited to do it again.
Even though we had to drop a thing or two from our original plan, we are very happy with the results of our first ORC.
Thank you for being here for our One Room Challenge budget kitchen refresh reveal.
If you have not visited the designers post and other guest participants you can still go check them out. You will be amazed at all the beautiful spaces.
Till next time
Xoxo
Sonya
Comments
comments