Removing a kitchen faucet with u bracket
;
When I decided to change out my kitchen faucet for a simple update I had no idea what was involved in doing it myself. If you are removing a kitchen faucet with a u bracket, this will be extremely helpful.
This post contains affiliate links at no extra cost to you, but help to maintain this blog. For the full disclosure you can head to the disclosure page.
As part of my design plan for the ORC kitchen refresh last year I decided to replace my kitchen faucet.
I had no idea about faucets or their bracket systems and figured I could just google it.
It took me a while to figure out that my faucet had a u bracket.
Once I figured that out I thought it would be easy to google it.
As it turns out I could not find my exact situation online so I turned to a friend.
Why diy the kitchen faucet?
Originally I contacted a plumber to have them do it for me but the cost was incredibly high.
The plumber told me that in order to remove the original faucet he had to have a special tool.
After speaking with him I decided that I could figure it out and save myself some money.
Doing this faucet replacement myself helped me to stay on budget.
Staying on budget was key for this kitchen refresh.
You can go here to see the original plan for the space.
Things to consider before replacing a kitchen faucet
First off you must be aware that plumbing work can be back breaking.
Working under a sink is not an easy task, therefore the high cost of hiring a plumber.
You could hire this out to a professional plumber but need to consider the following before you make a decision.
scheduling issues (due to reduced work force scheduling could be an issue. Our particular plumber was scheduling several weeks out.
Know what their charge is. Our particular plumber had a base fee of $185.00 which did not fit into my budget friendly kitchen refresh
You must have patience
be prepared to work in a tight space
have a day blocked off for this DIY
I decided it was worth it to try and do it myself without help and here is some of what I learned.
Know which type of bracket
One problem was that I did not know how to remove the kitchen faucet.
So off to google I went, searching how to remove a faucet.
There are a ton of videos out there and some were extremely helpful.
I also was not aware that there are a few ways that a faucet can be installed.
The most common is with a nut and bolt mounting hardware.
Of course my sink had a different type of mounting hardware.
After lots of searching I really did not find exact directions for removing my particular mounting system so I wanted to share some important information here.
Before detaching the old faucet
shut off the hot/cold water
wear your eye protective glasses
empty the water out of the old hose
loosen the nuts that hold the hot/cold water lines
remove the old water lines and disconnect sprayer (attached with a quick connect)
Once these steps are done you are ready to move on to removing the bracket.
How to remove the u bracket
The mounting bracket is directly under the faucet and has one of two mounting brackets.
My sink had a u bracket connector and I had absolutely no idea how to disconnect it.
I could not find specific instructions for that online after searching for hours so I reached out to some online friends .
They let me know about the quick connect covering the bolt holding the faucet in place.
In order to remove the u bracket you need to first remove the quick connect, this faucet had two.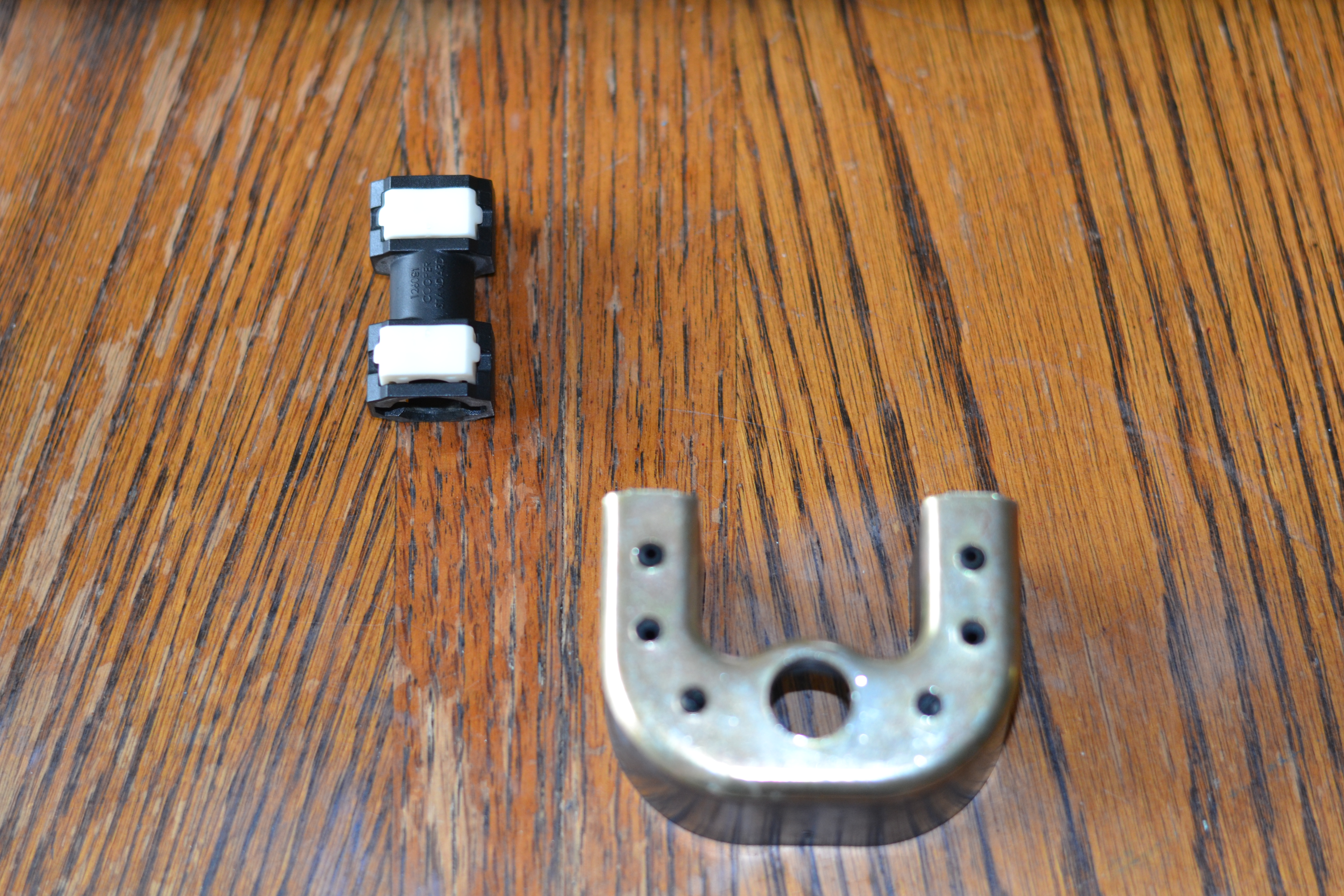 To detach the quick connect on the hose you simply squeeze on both sides (where the white buttons are).
Pull the quick connect down off the hose and the nut and bolt on the u bracket will be exposed.
The most difficult part of removing a kitchen faucet with a u bracket is working in such a tight space.
I was told that I would need a special tool.
However, I did not need a particular tool for this particular faucet replacement.
I just used a small 5/8 wrench to get the bolt loose.
In order to detach the u bracket after the bolt is off you need to squeeze , wiggle and pull down at the same time.
This took several tries because I was not pulling hard enough, afraid I would break something.
Once that is detached, you should be able to lift the old faucet out.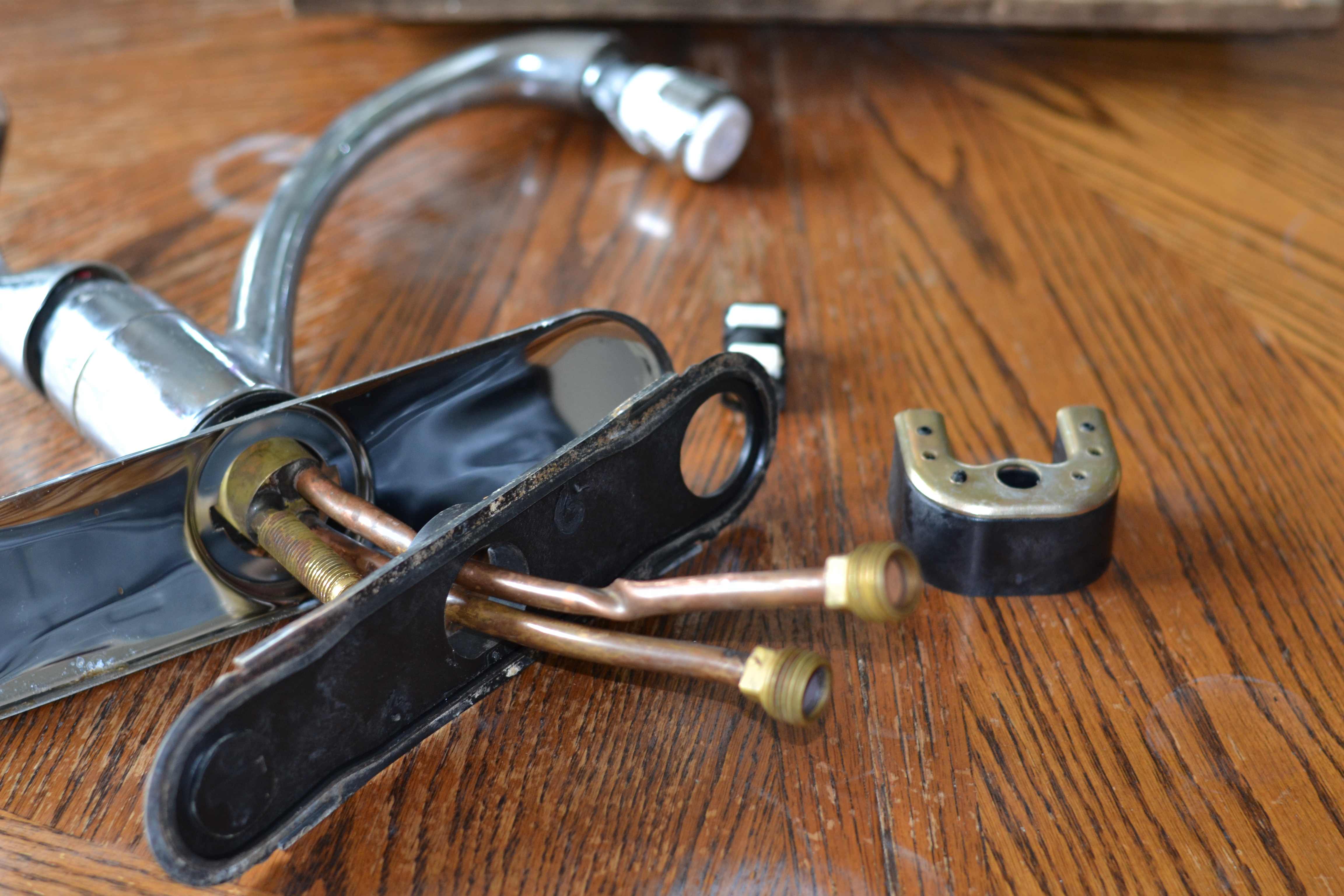 Final step in removing old faucet
After the old faucet is removed you should be able to follow the simple quick connect guide to install your new faucet.
Your faucet should include specific instructions for you to follow.
Be sure that everything is tightly fitted and there are no leaks.
I would suggest keeping a bucket or towel under the sink until you test out your new faucet.
Thoughts on replacing a faucet with a u bracket
Removing the kitchen faucet with a u bracket and installing a new one was one of the hardest diy's I have done , but it was so worth it in the end.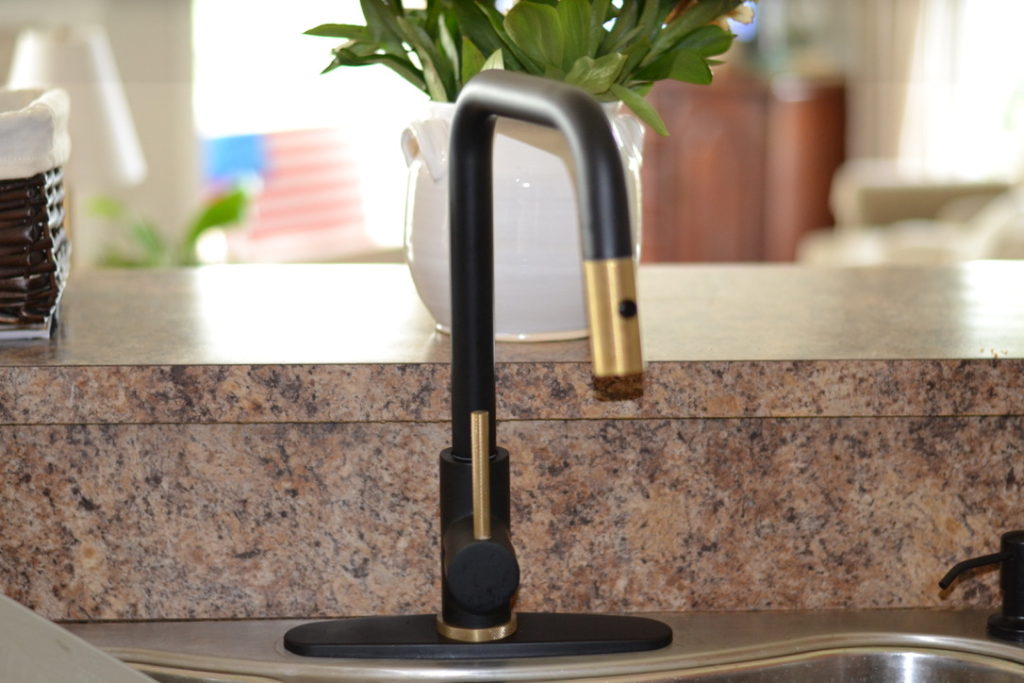 Here is everything needed to get the job done.

Never underestimate what you can do with some patience and muscle.
If you have trouble installing (though that part was easy and did not take long at all) you can start here.
Remember to have time and patience and you should have no problems getting this job done by yourself.
Let me know if you tackle this kitchen faucet removal with a u bracket DIY , I would love to know how it went.
Good luck!
Till next time
Xoxo
Sonya
Comments
comments