Furniture Transformation on a budget
Happy March friends!
I have been itching to do some home projects as I always do when the weather starts to change .  At this time the budget doesn't allow me to purchase any large furniture items because we are saving to replace our hvac system. That is perfectly fine because i happen to have a few pieces that need some transforming.
This beautiful (not really) piece of furniture below is a piece that I have had for several years.  Using it in our master bathroom just like it is, but with the drawer in it. The lines of this piece are  great and  I knew it had potential. I acquired this piece for free  few years back.  While visiting with a girlfriend, she mentioned she had a piece of furniture in her upstairs hallway that she was going to throw away because it was broken.  So of course I had to check it out, hating to see furniture go to waste.  Needless to say this piece came home with me.
Upon further inspection I realized that it was not made of wood, possibly it is made of particle board or mdf and not very sturdy.  I took the piece to  my neighbor who is amazing with repairing furniture. He  worked on what was broken and was able to make the piece more stable. I brought the piece into the bathroom and there it has been, until this past weekend when I finally made the time to tackle redoing it.
Since this is a redo on a budget, I needed to use what I had on hand. I headed to my diy closet to see what chalk paint and stain I had.  I used  Annie Sloan's "old white" (anniesloan.com/stockists/#/)  for a light color and Minwax "classic gray" (Lowes.com) for the stain on top to add dimension to the piece. In two hours I was able to change the look of this piece without spending a dime.
Although not completely finished, I still need to add the wax and drawer pulls, I feel it is much improved, what do you think?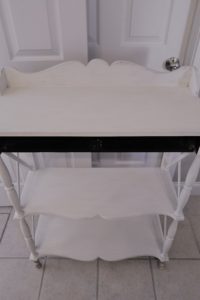 I  love the challenge of redoing a piece on a budget, using what I have on hand.  When it is complete I will come back and share a photo of the furniture transformation. Remember, "one man's trash is another man's treasure. Now on to find drawer pulls…
x0x0
Sonya
Comments
comments