Happy Spring friends!!! I wanted to take a few minutes and  share some of my favorite Spring beauty products with you today.
As you may know I  have been slowly changing to more natural products over the last few years and my cosmetics is one of those areas in which I have made some changes. That being said, although I have made some changes. there are some products that I have not found a more natural replacement for.
The first two products are primers, one for face and the other for eye shadow.  These are the two products I have not found a natural replacement for as of yet. The Too Faced Primed Poorless works so well at keeping my foundation from filling in my fine lines. Too Faced Shadow Insurance keeps my eye shadow from wearing off of my eye lids as well as keeping it from creasing. If you know of some more natural primers that could replace these two products, please share them with me so that I may give them a try.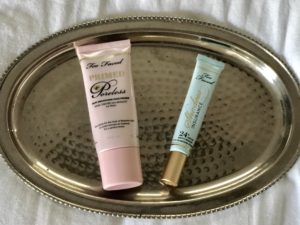 During the process of switching over my beauty products I have tried several more natural brands. Being that our largest organ is our skin , I personally feel that it is important that I be cognizant of the things being absorbed into my body. Within the last two years I found someone who sells BeautyCounter skin care and cosmetics and gave it a try and have been loving these products.
For my foundation I have been using the BeautyCounter Tint Skin Hydrating Foundation. This product goes on very well and is some what translucent, meaning you can still see my skin and some of the age spots on my face. This gives me a very natural look.  I use it mainly to even out my skin tone and not to have a full coverage foundation.
The BeautyCounter Touchup Skin Concealer Pen is an awesome product for covering under eye circles, which I seem to have all the time. Typically I apply this prior to my foundation.
Now onto some color products from BeautyCounter. The trio came as a set last year and I have used these daily. Pearl glow highlighter,Bronze glow for contour/bronzer and Rose glow blush. These are all in a cream stick form which works well for aging skin, and they have lasted for a long time. BeautyCounter has some beautiful colors in the stick as well as powder blushes.
I have tried a couple of the mascaras from BC and I am currently loving the Volumnizing Mascara and love the brush as well.
Feeling as though I am making wise choices for what I am putting on my skin and therefore being absorbed into my body, while also using products that work and do what they are meant to do.
If you are in the market to try some new cosmetics and are looking for a more natural line you can contact Michelle Wells at http://Beautycounter/michellewells, she is my go to girl and she is great at education on the products and information about toxic ingredients we should stay away from in our cosmetics.
Til next time
xoxo
Sonya
Comments
comments