Week 4 – Jeffrey Court Renovation Challenge: Design Plan and progress
Hi friends? Welcome to week 4 of the Jeffrey Court Renovation Challenge.
This week brings lots of excitement as this space is slowly coming together.
Before giving you an update on the progress with our renovation, I wanted to share our design plan.
Design Board
I absolutely love our design plan, but have to let you know that we are on a pretty tight budget for this space.
This small part of our master bath is part of a much larger space that has to stay as is for the time being.
These house plans give you an idea of the size of the entire space as well as the small shower/toilet closet that we are doing.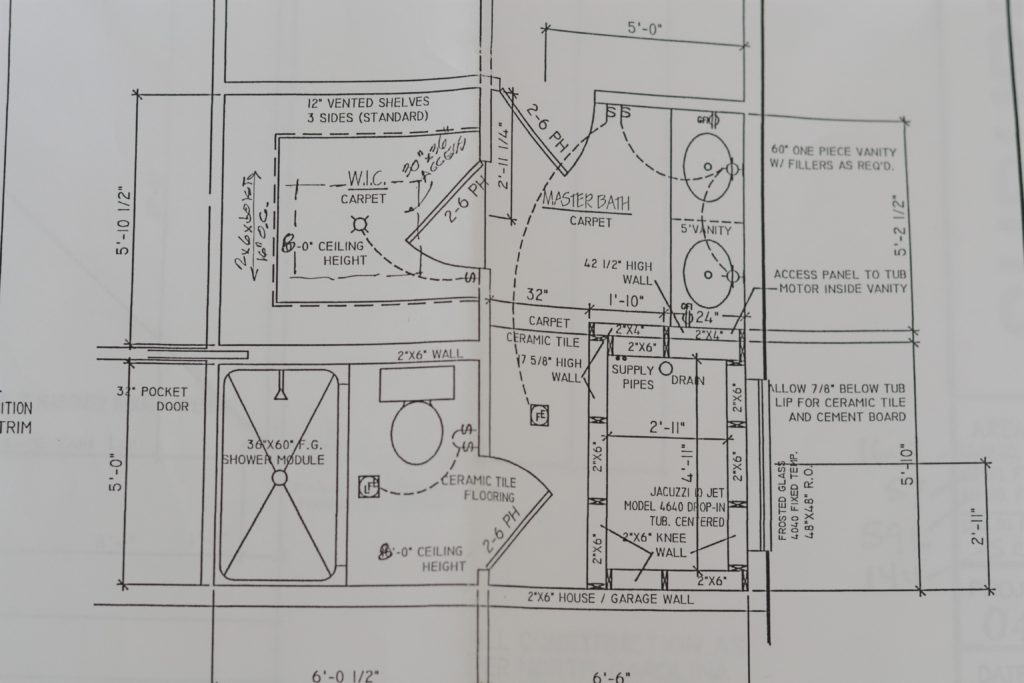 Other than painting the walls in the larger side, everything else will stay the same in there.
Looking back
During demo in week 2, Kenny had to be very careful not to break any of the floor tiles.
Our current floor tiles are 15 years old, if one were to get broken it could not be replaced without replacing the entire floor.
With that in mind, I began thinking of the design plan for the space.
Originally i felt we needed to stay in the beige family to match the beige tile currently on the floor.
I requested a sample floor and wall tile that I felt would work and waited for it to arrive.
Boy was I glad that I requested a sample. Even though they were beautiful tile, they were absolutely horrible next to our current floor tile.
All the beige together almost gave off a pink hue, which is not what we were looking for.
Sample floor and wall tile
After seeing the beige tile and panicking a bit, I completely changed my plan to the white tiles.
Deciding that the white base would work best with our current floor.
Other than white being the best choice to coordinate with our floor tile, I had always dreamed of having a white marble shower and just wanted to go for it.
Not only had I dreamed of such a design for a long time, but I wanted to go with a clean, classic look.
Having a classic look rather than something trendy, would ensure that we would not tire of it quickly and would make it easy to change out our floor tile in the future.
We really wanted something that we felt would work for many years to come, and we feel this design plan accomplishes that.
Now that we have had the tile for a couple of days and spent some time planning out the layout, we are ready to get rolling with the actual installation of the tile.
Time is closing in on this master bath renovation and it is time for us to get moving, we have two more weeks to complete the tile, painting, shower door installation, lighting and shower hardware.
We appreciate your support while following us through this amazing journey. We are excited to share the rest of the process with you.
If this is your first week here, you can look back at week1/week2/week3.
Be sure to go to Jeffrey Court Renovation Challenge page to cast your vote for our renovation project.
Till next time
Xoxo
Sonya
Comments
comments