Happy May, we made it!! I wanted to share with you some DIY Mother's Day gifts. These homemade gifts are the perfect little something to show your mother how much you appreciate her and that you want her to take some time for herself.
Whenever I get candles in beautiful apothecary like jars or bottles, I save them for gifts like these so I have them on hand and don't have to go out and purchase these items. I also, have a ton of oils on hand, but they are readily available at your local health food stores or can be ordered from a Doterra or Young Living representative. Some of the bottles used on this post were purchased in bulk from Amazon.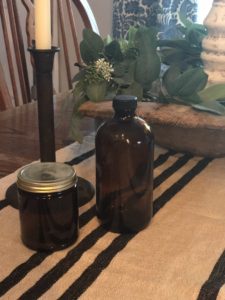 As a mother I love getting gifts that friends and family have taken the time to make with me in mind. It has so much more meaning to me personally. I have picked my top four pampering items to share with you today and know that the scents are just my suggestions and that with essential oils the possibilities are endless and you can personalize the scent to the person.
Brown Sugar Lip Scrub
~ 3 Tbsp. brown sugar
~1 Tbsp. coconut oil
~1-2 drops peppermint essential oil
~2 oz. glass salve jar
Mix the ingredients together and transfer to the jar of your choice.
To use, place a small amount on your lips, rub them together for a minute, then rinse with warm water.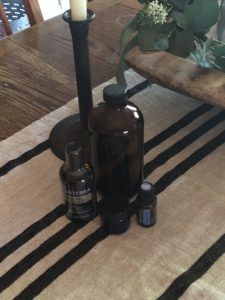 Another great gift to make for your mother is an exfoliating foot or body scrub, a personal favorite of mine.
Exfoliating Foot/Body Scrub
~1/4 cup Epsom salt or Himalayan Pink Salt
~1/4 Sweet Almond Oil or Jojoba Oil
~2 capsules or 6-8 drops of vitamin E
~10-20 drops of essential oil ( I like to use a citrus oil)
~container for your scrub
Pour all ingredients into a bowl and combine well
Put the mixture into a wide mouth jar of your choice
To use, place a small amount into palm of hand onto moist skin and gently scrub, rinse off well with warm water.
The oils can make the tub slippery so please use caution when exiting the tub.
Using epsom bath salts give a spa like experience while giving natural exfoliation and anti-inflammation remedy. Usually I purchase the plain, organic epsom salt from the dollar store fix it up so it is beautiful and smells amazing.
Lavender Epsom Bath Salt
~ One bag of organic unscented epsom salt
~10-20 drops of Lavender essential oil
~ 2-3 Tbsp. fresh lavender buds (I purchased organic ones from Amazon in bulk)
To use: scoop under running water and enjoy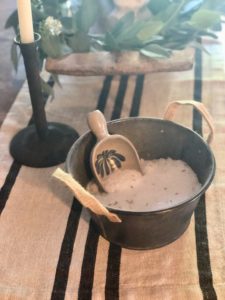 Last but not least is my absolute favorite room spray without any harmful chemicals.  This spray can be customized to what ever scent you feel your mother would love.
Room Spray
~ 20 drops of Patchouli essential oil
~5-8 drops of Eucalyptus essential oil
~10 drops Lavender essential oil
Put into a glass bottle fill with distilled water and a tsp of rubbing alcohol so it will not be so wet when sprayed.
These are just a few ideas of items that you can make for mother's day, birthday or any time you would like to give a little something to someone. I hope that this inspires you to do a DIY mother's day gift. Regardless of what you do, make it a special day.
Till next time
xoxo
Sonya
Comments
comments