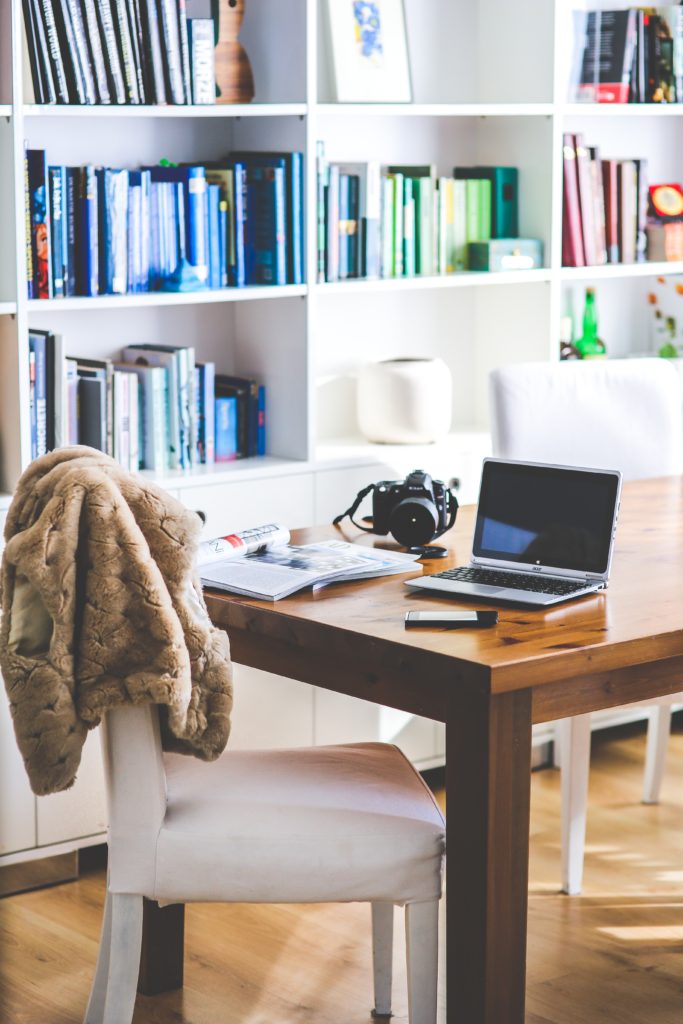 When it comes to having an office space in your home, I am sure we would all love to have one like the office above. More often than not, most of us do not have an extra space in our homes to devote to a home office.
I want to share how thinking outside the box, you too, can  create  a small home office anywhere in your home.
Our  home had no obvious extra room, but what it did have was two closets, side by side in the entry way.
I decided that the extra closet, farthest from the front door would be the perfect spot for an office. While the office is in use the front door can also be open.
The first step was to  paint the inside of the office, for this we choose Benjamin Moore, Quiet Moments, it is a very soothing color, which I felt was important in such  a tight space.
In order to make this space usable as an office we had to be creative in our design by using all  the wall space. This helped to optimize the space for storage. To do this we used magazine boxes and other coordinating storage boxes to hide all the necessary items that would normally be kept in a desk drawer.
The shelving units were pre-made boards from Lowe's Home Improvement with brackets to match, I have linked to one that is similar but light in color.
Creating the desk
We purchased a piece of thin plywood from Lowe's Home Improvements, had them cut it to the width of 42 inches to fit the dimensions of the closet.
Prior to mounting the wood, we painted it a dark brown to hide the imperfections of the inexpensive piece of plywood used.
We used a french cleat system to mount the piece of plywood to the wall. For those that don't know what a french cleat is, it is simply a piece of molding with a 30-45 degree slope used to hang cabinets and various things.
We kept the desk top at only 20 inches deep in order to be able to push a chair up under it to enable the closet door to be closed when the office is not in use.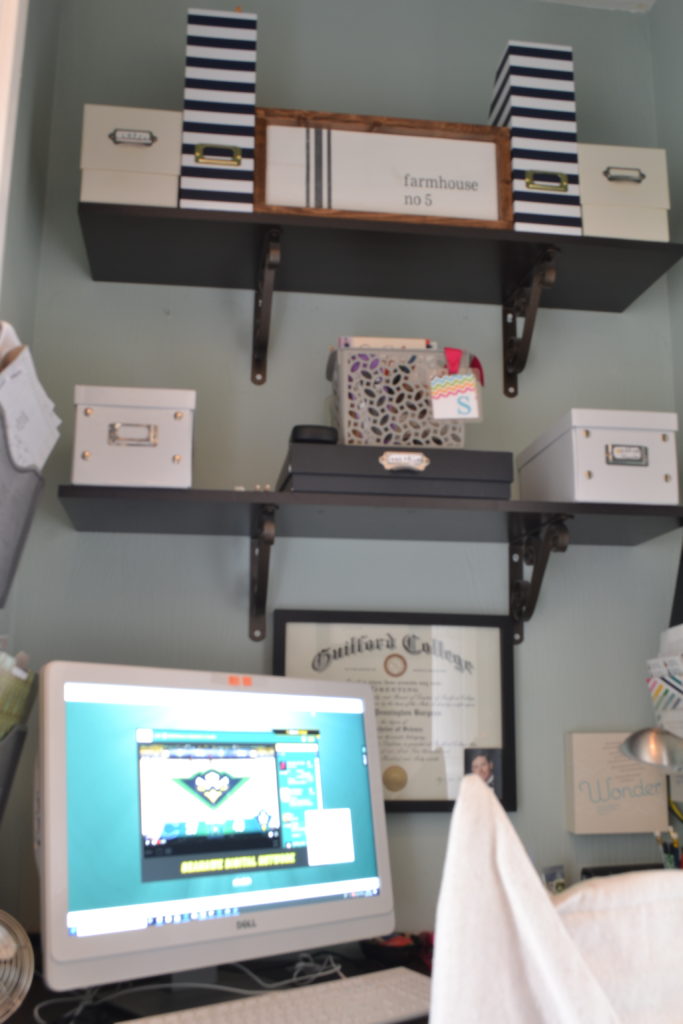 This space is very difficult to photograph due to being in a long hallway with little natural light, but I feel that you can see what was done here to make use of the space.
Things to consider when creating a closet office
Lighting
power source
air source
space
comfort
visual aesthetic
equipment needed
For lighting my husband purchased a clip on light with a flexible arm that can  be used anywhere in the office yet not take up valuable space. A lamp sitting on the desk would be pretty, but would just not be practical for the space.
Power source
Our home was built with an On-Q home system which is housed in this particular closet.  Because of this there is a cable and an electrical outlet inside of it. This is simply a system where all our electrical systems are centrally located in a box in the wall of the closet. If your home does not have such a system, you would need to figure out how to have an electrical source for your closet office if that is where you choose to have it.
Air source
Air flow is a huge problem when you are working in a closet office. Typically hallways or closets do not have air vents, a solution to that is the adorable, functional Fanimation fan. It is perfect in small spaces such as a closet office.  The fan works while being plugged into the USB on the computer, blows just enough air to keep the space cool without a ton of noise and without blowing papers around.
Space and comfort
Space and comfort go hand in hand so be sure that you have a comfortable chair, space to write and work in order  to use the space on a regular basis.
Visual aesthetic
Since this is a small home office it is easy to pile papers on the desk and shut the door. Do yourself a favor and make it a weekly task to keep up with papers and to keep the space neat so that it will not become an overwhelming office space.
Last but not least, there are several things that you can use to make the space aesthetically pleasing, be sure to use things that you love and inspire you in your work. Decorate it as you would any other space in your home being sure not to add clutter.
Equipment
One very important aspect of an office is your equipment. Most would opt for a laptop, I always have in the past, but they just don't seem to last as long as a desktop. I searched for a long time for an appropriate option and found the Dell that I currently have. Everything is built into the monitor, it is slim and has Bose speakers, while taking  up minimal space. For the printer, I am currently using an HP wireless printer that is set up in another room because there is obviously no room in this office.
Working with the space you have is so important when using your home to the fullest potential. It is not always about having a larger home with more space, being creative with the space you have is so fulfilling.
It is not really important if  you live in a small home or just have no extra room for an office, be creative in seeing if you can come up with an outside the box option for your home office. If you have a small home office I would love to see it.
Till next time
xoxo
Sonya
Comments
comments