How to create a simple holiday wreath
Creating a special holiday season means something different for everyone but for many it is about simplicity and finding the joy in the little things. Today I am sharing how to create a simple holiday wreath that is a quick craft anyone can create with a few supplies. If you like simple, yet beautiful crafts, this one is perfect for you.
I am joining an amazing group of bloggers who are sharing holidays wreaths that you too can create this holiday season.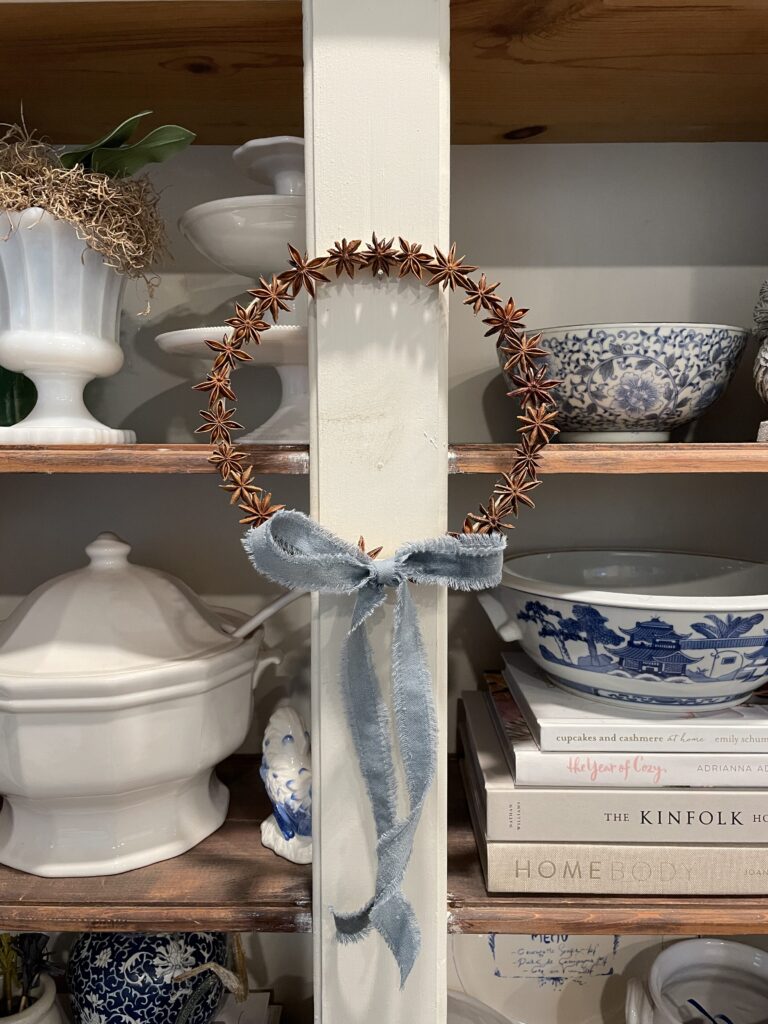 Supplies
With just a few supplies listed below you can create this quick and simple holiday wreath while sipping your morning coffee or tea, it really only takes a few minutes.
Whole Star Anise (I used 2 1ounce bags)
Glue gun
Glue sticks
Wreath form (I used a small embroidery hoop from the Dollar Tree)
Ribbon
I have linked the supplies I used for your convenience. These are affiliate links at no added cost to you. You can read the full disclosure on the disclosure page.
Once you have your supplies together there are just a few things that you need to do prior to glueing the star anise onto your form and creating this simply holiday wreath.
Tips before starting your wreath
First thing to do is go through bag of star anise and pull out the ones that whole and not broken. After you pull them out begin placing them onto the embroidery hoop to figure out which ones fit together best and to be sure you have pulled out enough to cover the form.
Once you have your star anise laid out, let them sit overnight if you are bothered by the scent of black licorice ,to let the scent fade. The smell did not bother me and I felt like it became less intense after just a few hours.
After they have sat overnight you are ready to start this quick craft and begin glueing.
Creating a simple holiday wreath
This holiday wreath is not only simple, but budget friendly because it can be used for fall, Thanksgiving, Christmas and through the winter just by changing the ribbon.
Time to begin assembling your wreath.
Begin by glueing one star anise at a time, placing the ones that fit together naturally and closely. Go all the way around the wreath filling any open spaces so that you do not see the embroidery hoop.
Make sure all the star anise are secure before making and attaching the bow. I used simple velvet frayed ribbon and glued it to the bottom and also put a small dab of glue to hold each side of the bow upright since the ribbon was a little flimsy.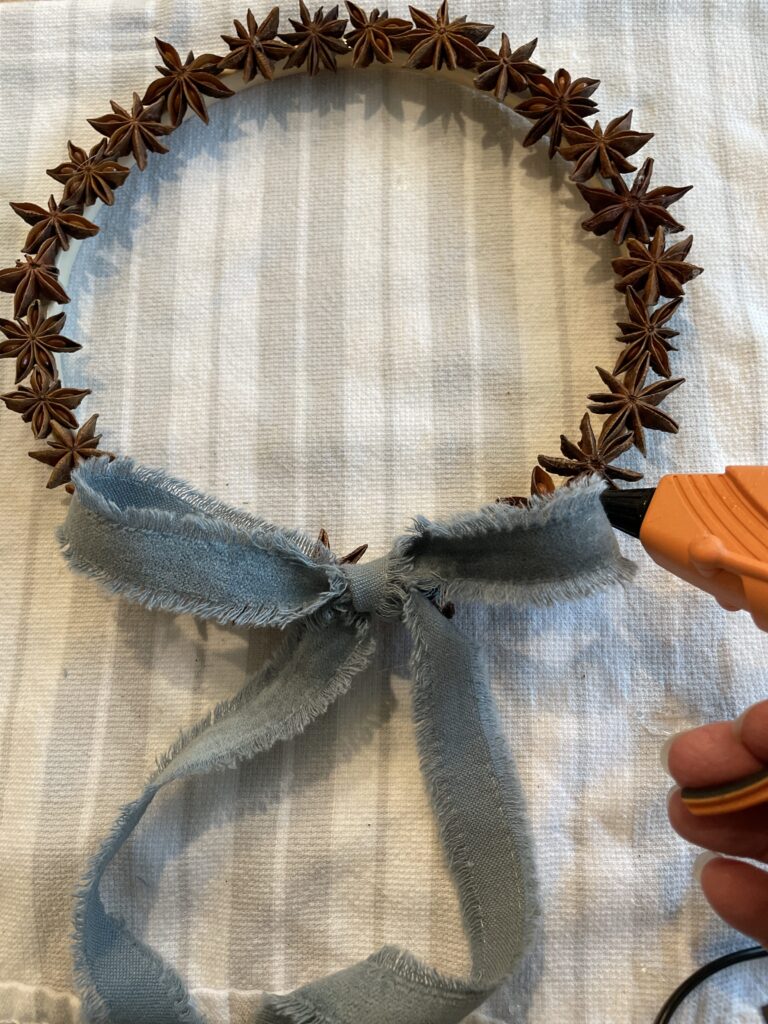 That is all you do to create this simple holiday wreath that you can enjoy for several months and carefully store for next year.
Keeping the holidays simple with quick crafts you can do together and enjoy the little things.
Looking for another simple holiday wreath idea, read here and here for other simple wreath ideas.
If you are looking for more simple holiday ideas, check this post out.
I would love for you to subscribe so you will be sure you will not miss my next post, a simple Christmas ornament.
Please be sure to visit the other amazing bloggers post and see what beautiful wreaths they have created, I promise you will be inspired.
Happy Holidays to you and yours.
Till next time
Xoxo
Sonya
Comments
comments