Simple french inspired holiday home tour
Hi, I am so happy you are here. I am participating with some super talented bloggers sharing our holiday homes. Today I am sharing my simple french inspired holiday home tour. Grab something warm to drink and enjoy.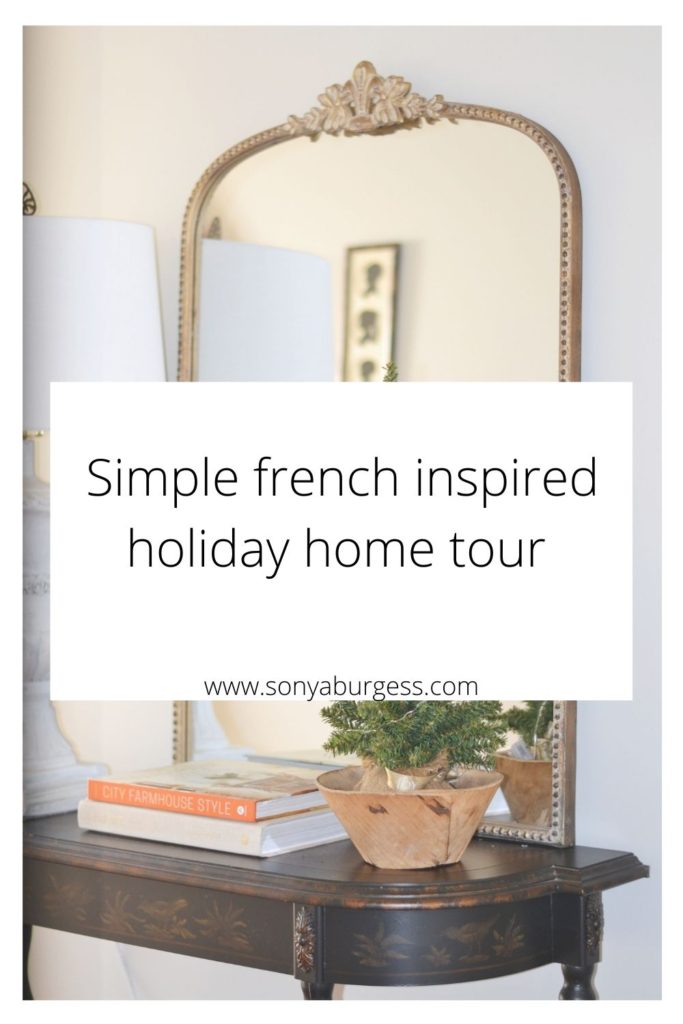 Thank you to Rachelle of My Hubbard Home for putting this fun holiday blog hop together.
It has been a crazy year so this holiday season I have really been craving simple decor and wanted to share my simple french inspired holiday home tour.
To be honest I have not put up a Christmas tree yet because we always do a real tree and it is a bit early here at the coast for that.
So for this tour you will see my simple french inspired holiday decor without a tree.
What is french cottage style
When I think of french inspired holiday style, I immediately go to muted colors and natural materials.
Often there are dramatic elements against a more rustic style.
Think dramatic elements alongside simple, neutral and natural elements.
For that look I started in the hallway, which is the first place our quest come.
French inspired holiday hallway
The front entry hallway greets our quest at first so I began my holiday decor there.
You can see here I only made a few simple changes to add that french inspired style.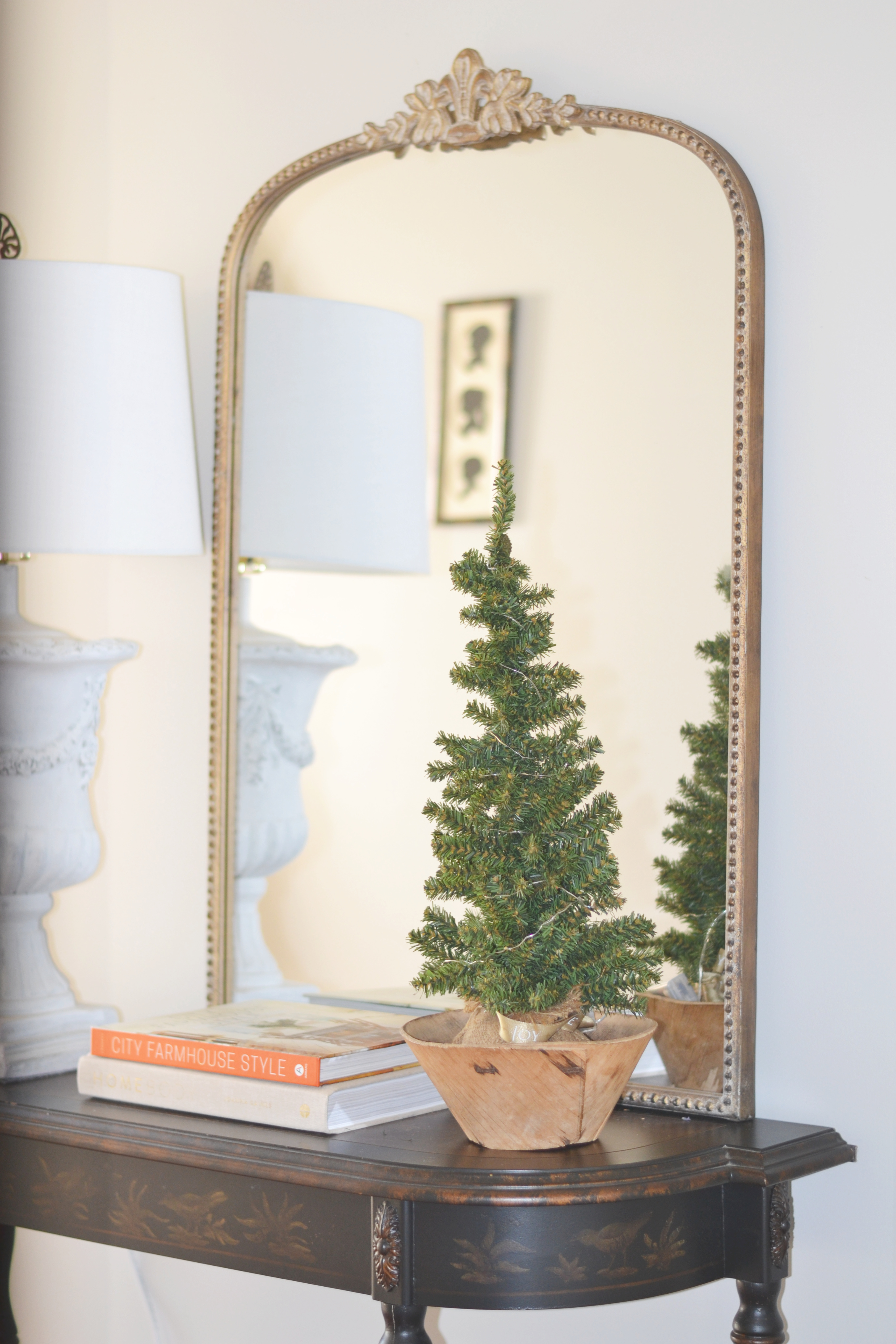 Here I simply switched out the lamp for my french cottage concrete lamp from the thrift store.
You can see that makeover here.

In addition to the lamp I switched out the round mirror for this gold ornate antique inspired mirror and a faux mini tree in an antique wood bowl.
These simple touches are french inspired and minimal at the same time.
The drama of the mirror with the rustic feel of the antique bowl set the tone.

Just a few simple changes made the hallway feel a bit french holiday style.
From there I moved on to the next thing you see in our home after entering.
Simple french style mantel
When you come down our hallway you immediately enter into the main family room and see the mantel.
I love keeping the mantel simple but inspired by the natural elements, which is important in french decor.
When creating this simple french inspired mantel I added natural elements like real pine cones and preserved magnolia leaves, you can read how to do that here.
The wood antique mirror lends to the french cottage feel along with the vintage brass candlesticks, for a bit of drama.
It is really about adding simple touches with a bit of texture and drama.
This is a simple way to decorate for the holidays and every day.
From the mantel I moved onto our old hutch.
Simple touches
After styling the mantel I moved to our old hutch which has a french cottage feel all on it's own.
So I wanted to keep the decor to a minimum as not to take away from the piece itself.
The hutch is a simple piece my stepfather made and gave to my husband and I as a wedding gift.
I wanted to add some simple special touches to add that french holiday style.
I used a combination of antique, vintage and new pieces that I adore, giving it that loved feel.
One thing I love about the french style is most pieces are not shiny and new and have that old, worn feel.
Not only are the items in the hutch beautiful but many are actually used.
I am not completely done with my french inspired holiday home but I have done most of it.
I even like adding a few simple touches to the bathroom.
French inspired bathroom style
The bathroom is another great space to add just a few simple touches and is a space often overlooked when it comes to holiday decor.
Our guest bath is simple in style anyway so it did not need very much to add a touch of Christmas.
This little black and white styled guest bath just needed a few simple touches to bring in that french inspired holiday feel.
Zinc was often used in french homes and this little zinc tray is the perfect addition with a small faux tree.
The gold deer adds a bit of drama to this small vignette.
It really does not take much to add a little holiday flair to a space.
Another way to add a french inspired holiday touch to your home is to use everyday items as decor.
French cottage kitchen decor
One thing the french do so well is to use everyday utilitarian items in their decor.
Things such as small brooms, brushes, aprons and scissors.
I made this hook rack last year with some old cedar planks I got from a family farm and hang things I use on it for display decor.
These everyday items help to create a simple french farmhouse flair.
I can add some little fresh green sprigs when we get our real tree to really bring in the Christmas feel.
Uncomplicated and useful decor is my favorite way to bring in the simple french inspired holiday decor.
If you are looking for way to create a more simple and neutral holiday home, read last years post here.https://www.sonyaburgess.com/neutral-holiday-home-tour/
Since I do not have a tree up yet you can see last years here.https://www.sonyaburgess.com/beautiful-minimal-christmas-tree-decor/
Be sure to click on the links below to visit the other amazing bloggers and see their holiday home tours.
Till next time
XoXo
Sonya
Comments
comments