How to make outdoor Christmas balls with chicken wire
15 days until Christmas, can you believe it? Well there is still time for one more holiday diy. I am sharing how to make outdoor Christmas ball with chicken wire.
This post contains affiliate links at no extra cost to you. You may read the full disclosure on the disclosure page.
What is a Christmas ball you might ask?
This is a tradition that began in Greensboro, NC where we are originally from, back in 1996.
The Sunset Hills neighborhood turned an idea into a community wide event to raise food for the hungry in the triad area.
You can read the entire story here.
Though we grew up not far from the community we had never been to the there during the holidays.
When we finally took the kids a few years ago my husband was convinced he could make those balls and our story began.
How it began
After returning home that Christmas he began figuring out how to make the Christmas balls.
It took him a few days to get it down before he was on a roll making our Christmas balls.
Every year he makes a few new balls, even though we only have one tree left in the front yard due to hurricanes.
That's a story for another time though..
They are really easy to make, with just a few supplies.
On a side note though, you do need to be careful when making them.
Supplies needed
chicken wire
strand of lights (colored or all white)
cutters
protective gloves
outdoor extension cords
All supplies are listed here in my Amazon affiliate storefront.
With just a few supplies and thirty to forty minutes you to can have Christmas balls for your trees or to give as gifts.
First step in making the balls
The very first thing you need to to is to cut off some of the chicken wire.
There is not particular measurement, cut enough to make varying size balls.
After you cut out your chicken wire you can begin to create a cylinder.
How to create the cylinder
This first step is where you roll the ends of the chicken wire to meet, this creates the cylinder.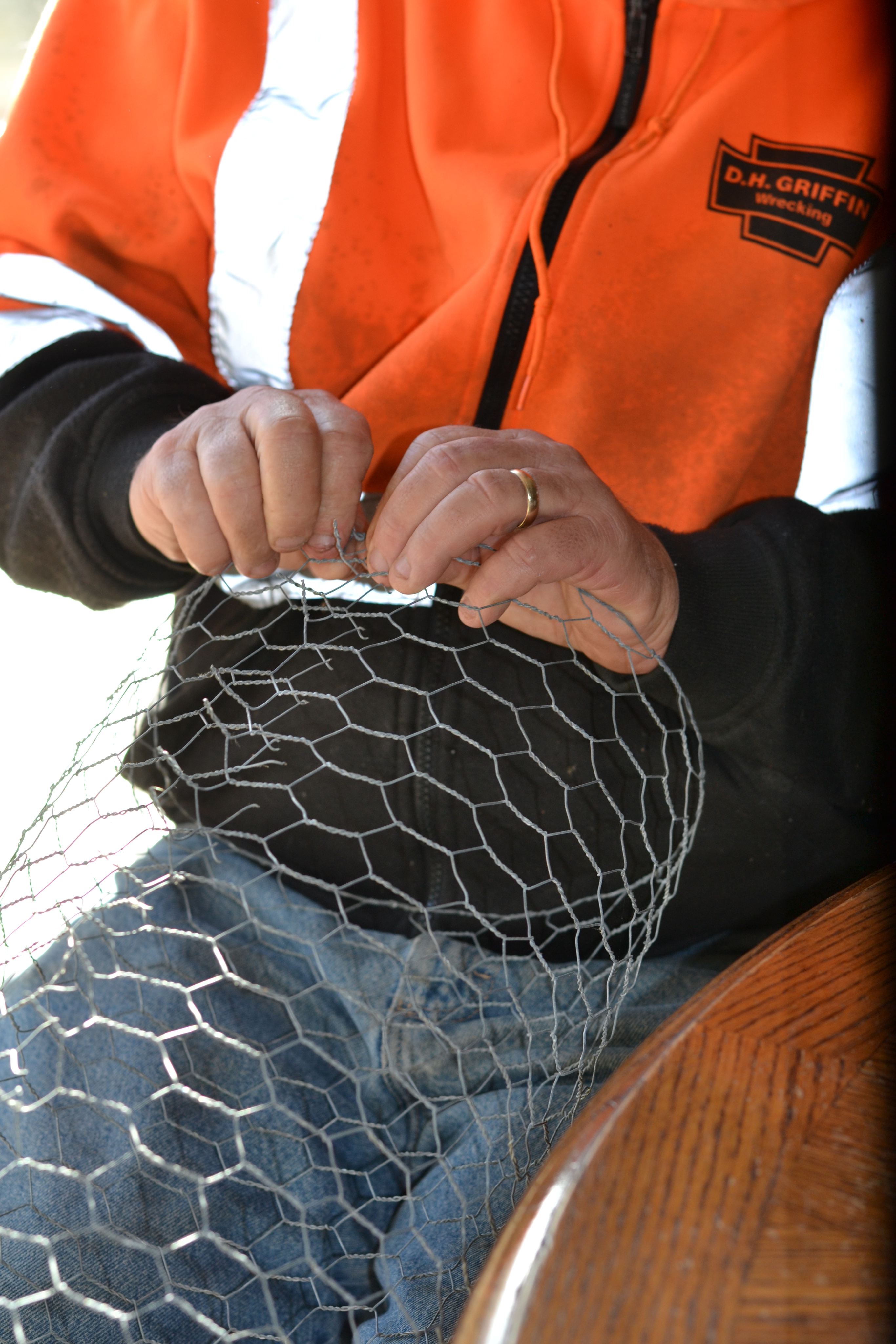 You may need someone to help you hold it because the wire tends to want to roll up on you.
Take the edge where the wire was cut and twist the ends together, the edges will be sharp.
This part takes longer because you really need to be careful so you do not hurt yourself on the sharp edges.
Disclaimer: my husband did not wear gloves when making this ball but suggests everyone does.
Now that you have attached the edges together down the entire height of the cylinder and your cylinder is created.
Now you can begin to shape your Christmas ball.
Begin shaping your Christmas ball
You can begin shaping the chicken wire cylinder by pushing each end into the cylinder, while at the same time trying to create a ball shape.
The shape does not have to be perfect, but make it resemble as close as possible to a round ball.
Once the chicken wire is pushed in you can begin to shape the ball in your hands.
Now that you have a round shape it is time for the lights.
Adding light to your Christmas ball
Now the fun begins.
Get outdoor Christmas lights with the green cord to wrap around your chicken wire balls.
The shorter strands should work just fine.
When you begin to wrap your chicken wire ball with the lights start with the connector or receptacle end.
You want the plug end to be outside of the ball to be able to plug it into the extension cord.
Be sure to leave enough cord to be able to reach the plug.
Now you are ready to get your Christmas lighted ball out into your tree.
How to hang your lighted ball
To hang your ball you can use anything that will withstand the weather in your area.
We used thin blue and white nylon rope to attached each ball to the tree.
You will need to make several balls depending on the size of your tree or trees.
Use a ladder to hang them and practice safety when hanging the chicken wire balls.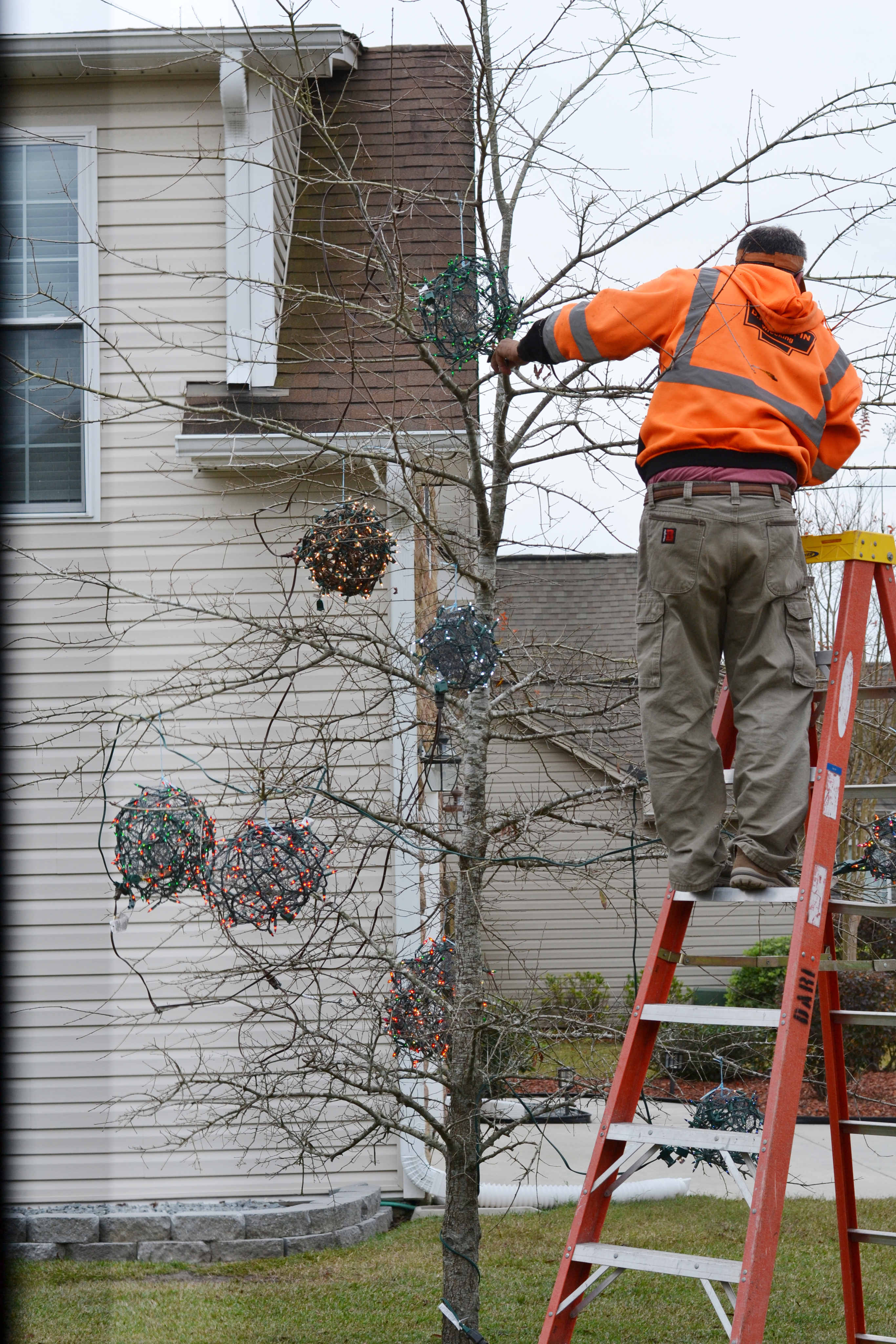 Our tree is pretty small, so he used a short ladder.
Use extra caution and always have two people when hanging your Christmas balls in higher trees.
We have heard some pretty creative ideas for those huge trees they hang these from in Greensboro, NC.
You can add as many chicken wire Christmas balls to your tree as you desire.
For our little tree we added about 8 so far.
Who knows how many we will add next year.
Here they are all lit up at night.
Making these Christmas balls will bring the holiday magic to your front yard just like it does ours.
If you are looking for more fun and easy holiday diy's look here.
Happy Holidays
Till next time
Xoxo
Sonya
Comments
comments