It is officially the summer season. With summer comes all things Americana and patriotic. Today I wanted to share with you a simple Americana style DIY Flag made with scrap plywood.
This post may contain affiliate links where I earn a small commission at no additional cost to you. You can read the full disclosure on the disclosure page.
It's time for another blog hop hosted by Sara at Birdz of a Feather whole Chloe from Celebrate and Decorate and Andrea from Design Morsels are on summer break.
If you are visiting from Zucchini Sisters, welcome and didn't you just love the nautical rope wreath she made?
Please be sure to visit the next stop on the blog hop and all the amazing bloggers linked at the bottom of this post.
Can you believe that summer is officially here?
Summertime, the season of hot dogs, apple pie and the American flag.
With summer I think of cookouts and lots of time spent outdoors with family and friends.
Today I am sharing a bit of Americana style with a DIY scrap plywood flag that is perfect for indoors or outdoors.
I had some scraps of plywood left over from the faux floating shelves I made a couple. of years ago, you can see those here.
There was one piece that was the perfect shape and size to make a flag without having to cut it.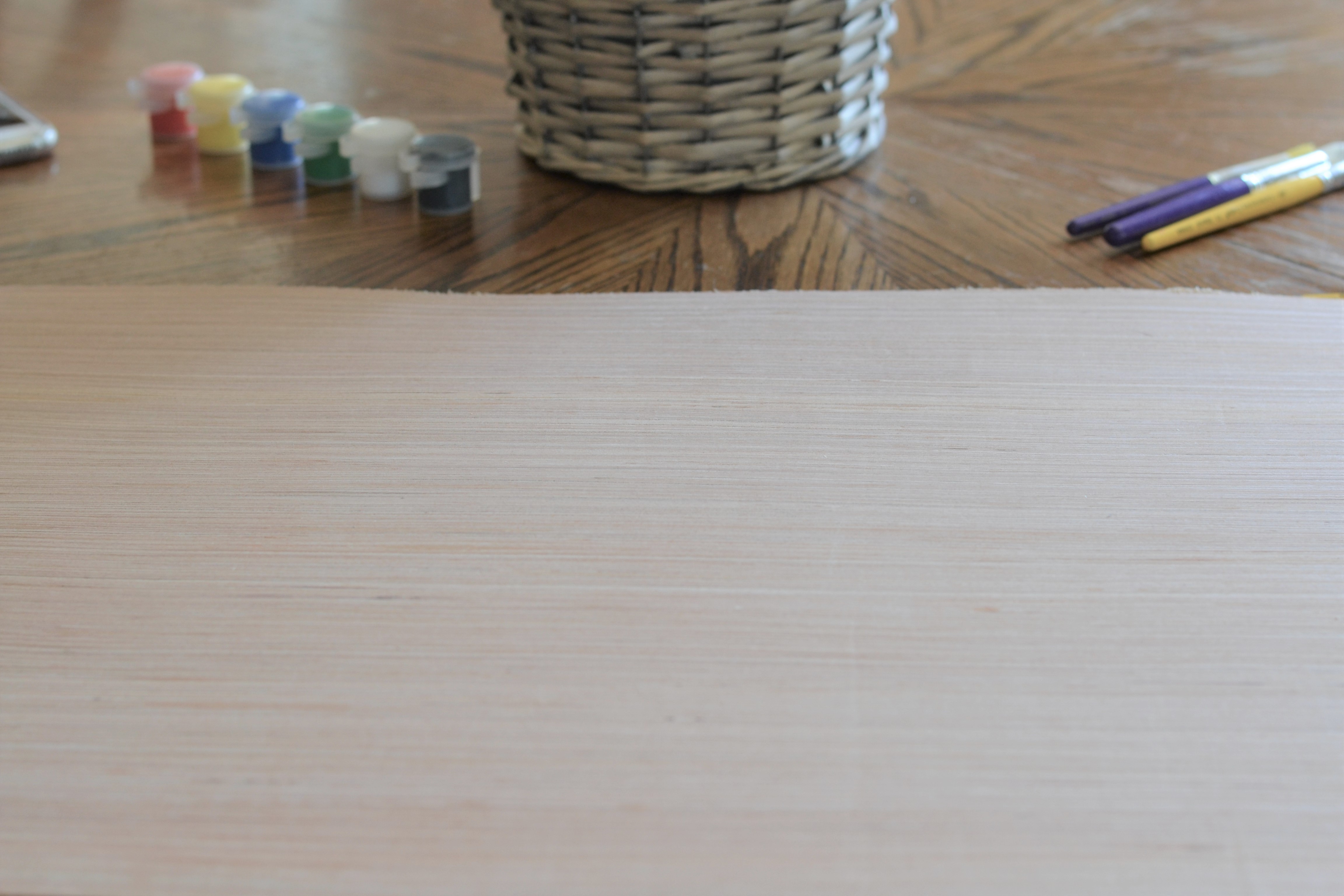 Perfect timing for this project with the start of summer.
The American flag can be used for several different holidays throughout the year and can be used in all decor styles.
This flag is super easy to make and you can get creative when your making yours.
Here are the supplies needed for this DIY scrap plywood flag.
Supplies:
piece of wood (scraps are best to use up what you have)
red, white and blue paint
three small craft paint brushes
painters tape
ruler
pencil
eraser
Once you gather all your supplies, it is time to draw out the flag pattern on the wood.
For this step I had my daughter draw it out,.
She loves drawing so she was happy to help me out, plus I have a hard time making a straight line anymore.
After she drew the lines and the rectangle for the stars she wrote in each line an R or W to mark the colors for that line.
That kept me from getting confused and messing up.
Now time for painting.
Painting the flag
This particular piece of plywood had been painted while all over because I had planned on using it for something else but never did.
The first thing I did was to paint the blue rectangle.
While the blue was drying I began painting the red lines using a card to keep within the lines.
As you see in some places I did go over the line or got a few red specks of paint on the white.
I was not looking for perfection with this homemade wooden flag, but I did go back and try to cover the mishaps.
Once the blue and red were painted I let them cure for at least 24 hours, before making any correction and painting the stars.
After curing I went back over the white with Rustoleum linen white chalk paint to cover the red.
Then it was ready for the stars.
Adding the stars to homemade flag
For the stars I had a star clip, but you can free hand it or use whatever you have that is the star shape in the size you need for your particular piece of wood.
For this part I did not count the stars, I simply put as many as possible in the space available.
Keeping this DIY scrap plywood flag simple was key, I am not an artist and was not looking for it to look like art.
I just love how this turned out and plan on using it outside when we have our July 4th celebration.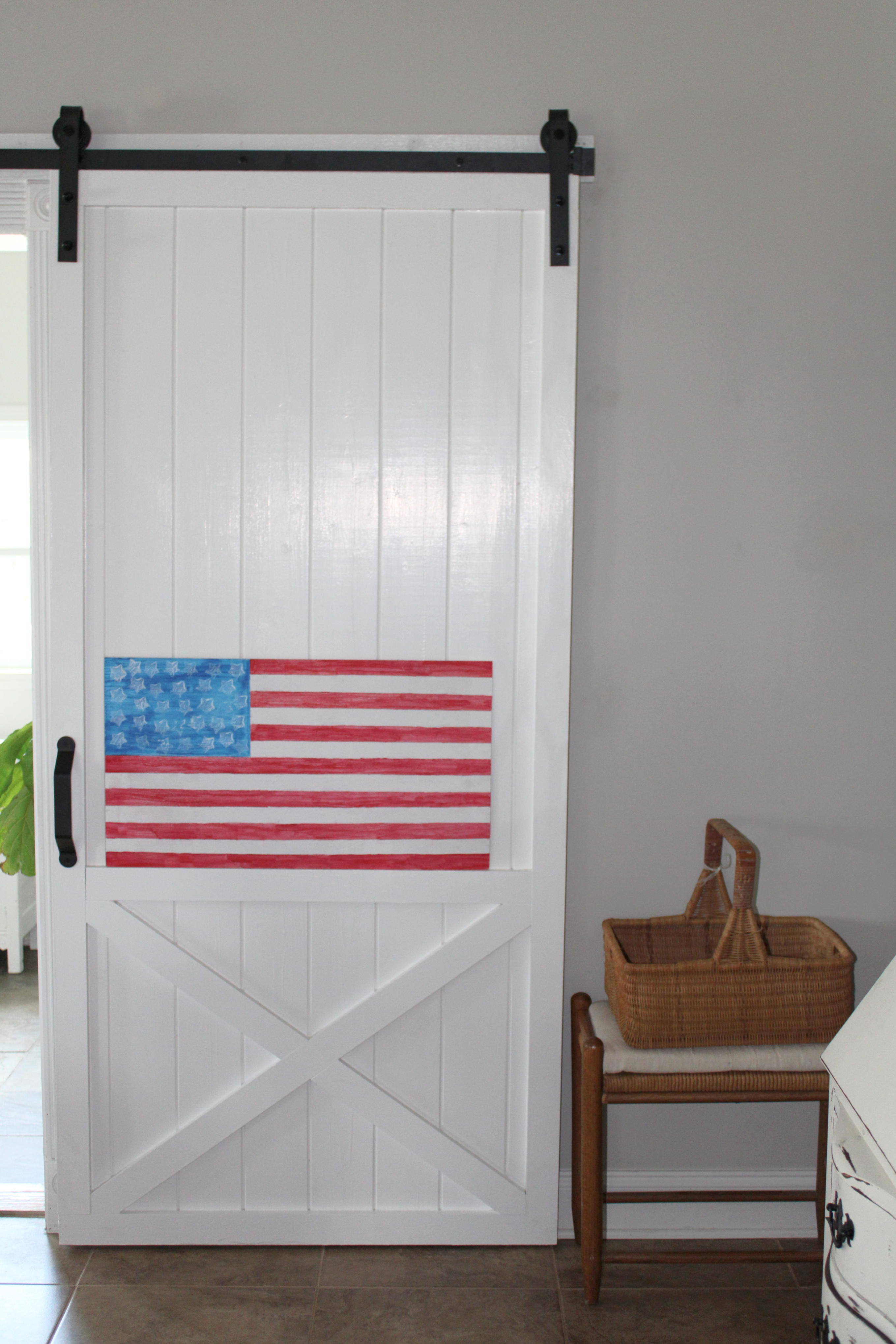 This is such a great way to use up leftover scrap materials you have to create a bit of Americana style for your home with a homemade wooden flag.
Looking for another fun patriotic craft that is super easy, read here.
Next go visit Cecilia at My Thrift Store Addiction to see what she made.
Be sure to visit all the amazing ladies below to see what fun things they crafted.
How to Stencil Tile Coasters for Home Decor
July Front Door Wreath Basket Using Paint Sticks
Dollar General Little Truck Revamp
DIY Bee Door Arrangement with an Upcycled Prime Envelope
DIY Nautical Rope Wreath Dollar Tree Craft
https://www.purplehuesandme.com/2021/06/diy-woven-yogurt-jar-hanger.html
Till next time
Xoxo
Sonya
Comments
comments