Every since I saw this on the lizmarieblog.com I had wanted to try and recreate this in our home. Little did I know this would be easier said than done.
http://lizmarieblog.com (photo credit)
When I saw her post in 2016, I thought how hard could that be?  I had no idea that it would take me almost three years to find a wooden spool where I live in NC. I searched relentlessly for one, scouring websites, newspapers and old country stores where I would see them sitting outside, only to be told they were display only and not for sale. This went on for close to two years.
I happened to be on a field trip with my youngest son at a local strawberry patch and low and behold, they had plants for sale sitting on top of wooden spools, so I inquired about them.  The manager at the strawberry patch gave me gentleman's number that she got them from and then she proceeded to call him. The very next day he met me at the strawberry patch and I had my choice of spools.
Choosing one spool was difficult because of course I wanted them all. Finally I picked the perfect one for my project and took it home. It was not until later in the summer when I began my project.
The first step was taking the spool apart and saving the top and the bottom pieces to use for two separate projects, one I am still waiting to do. Here is a picture of what it looked like prior to working on it.
I loved the rawness of the wood so I only gave it a light sanding before filling in the small wholes that were all over it with wood putty. I then mixed together some Annie Sloan white and grey chalk paint and gave it a light coat.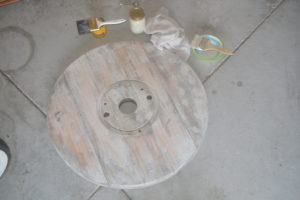 The wooden spool was finally beginning to take on a new life. Part of the fun of this project was working with the nature of the piece, leaving all the big holes, as they were part of the character. Using two coats of the chalk paint and an additional light sanding it was time to purchase some metal numbers for my clock.
The numbers I used were purchased from a locally owned hardware store and were priced right at 39 cents each. For me the hardest part other than actually finding the spool to work with was calculating the spacing in between the numbers. Not going to lie, I typically eyeball those things and hope that they turn out.  The idea of this project was not perfection, but making a piece that I would love for years to come.
This by far is one of my most favorite projects that I have done and I am so glad that I did not give up when I could not find a spool right away. This serves as a reminder for me to not always race against the clock and to take time to enjoy the little things.  I love gaining inspiration from other blogs and using the inspiration to make something of my own. The other end of the spool I plan on turning into an outside table once I find a bottom for it. On to the next project.
Till next time
xoxo
Sonya
Comments
comments