Looking for a great way to make curtains when sewing is not your thing. These simple DIY curtains panels with minimal or no sewing necessary are so easy you will be inspired to make your own.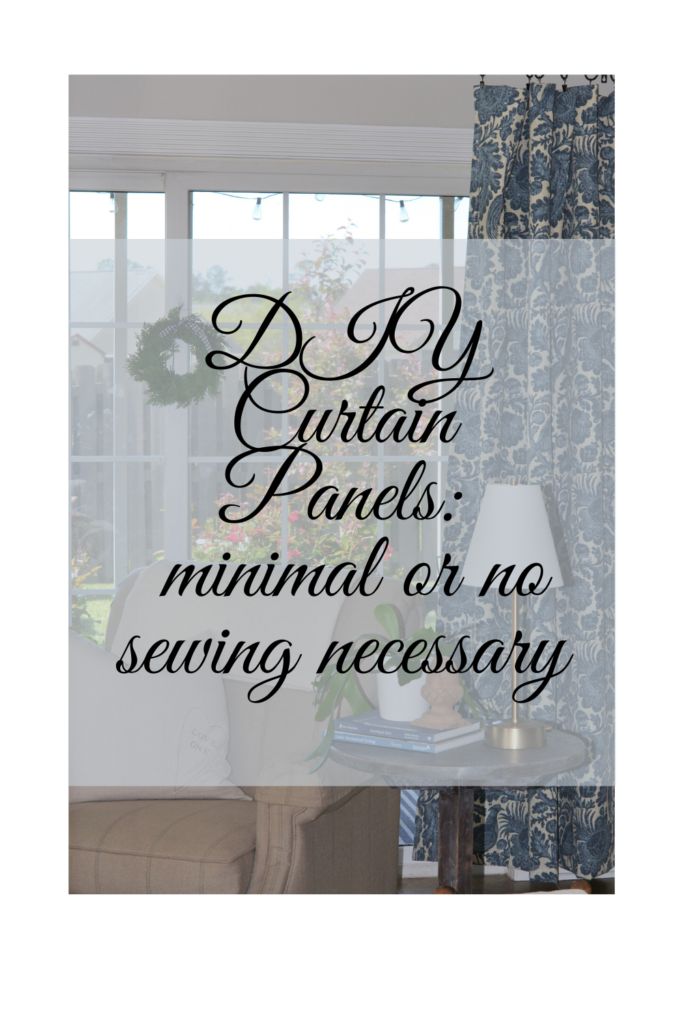 If you know anything about me you know that sewing is not my jam.
Until I realized you can make custom made curtain panels without any real sewing skills.
Years ago when I first started reading blogs one of the first ones I became obsessed with was Miss Mustard Seed.
She had the most beautiful curtain fabric that she used to make her own curtain panels.
After searching the web I was able to find the same fabric at an affordable price through Fabric.com.
The problem was I did not know how to sew.
I figured out how make simple straight line son my daughters sewing machine.
This was one of the easiest DIY's I have done yet which really surprised me.
I am going to walk you through this simple DIY with minimal sewing.
Curtain panels with minimal or no sewing
You will need to figure out how many yards of fabric you will need for your windows.
When figuring out the yards of fabric needed be sure to measure at least 4-6 inches above your window frame and to the floor.
If you are making two panels per window they each should be the the width of the window.
This will enable you to create fuller panels that can be closed at night for privacy.
Now that you now the yardage is it is time to get all your supplies together.
Supplies for DIY curtain panels
fabric of your choice
a flat white twin sheet per set of curtains (or more if your window is really wide)
thread to match your fabric
Heat and bond iron on tape
iron
sewing machine
sewing scissors for precise cutting
Fabric preparation
Before starting you need to use a straight edge and cut your fabric to the desired length and width.
You need to decide if the curtains are strictly for visual or privacy purposes.
Once you have that figured out you can wash your fabric and sheets if they are washable and the white sheet.
This way if there is any shrinking you have not cut your fabric yet.
After they are washed and dried according to your fabric specifications you can begin the next step.
Cutting fabric
Now that your fabric and sheets are prepped you are ready to start cutting the panels.
Allowing for the top and bottom hem, and each side folder over.
Cut your length and width with three extra inches on the top and bottom for the hem.
For the white sheet cut it 1/2 inch smaller on each side, left and right to accommodate the 1/2 inch folder over on each side.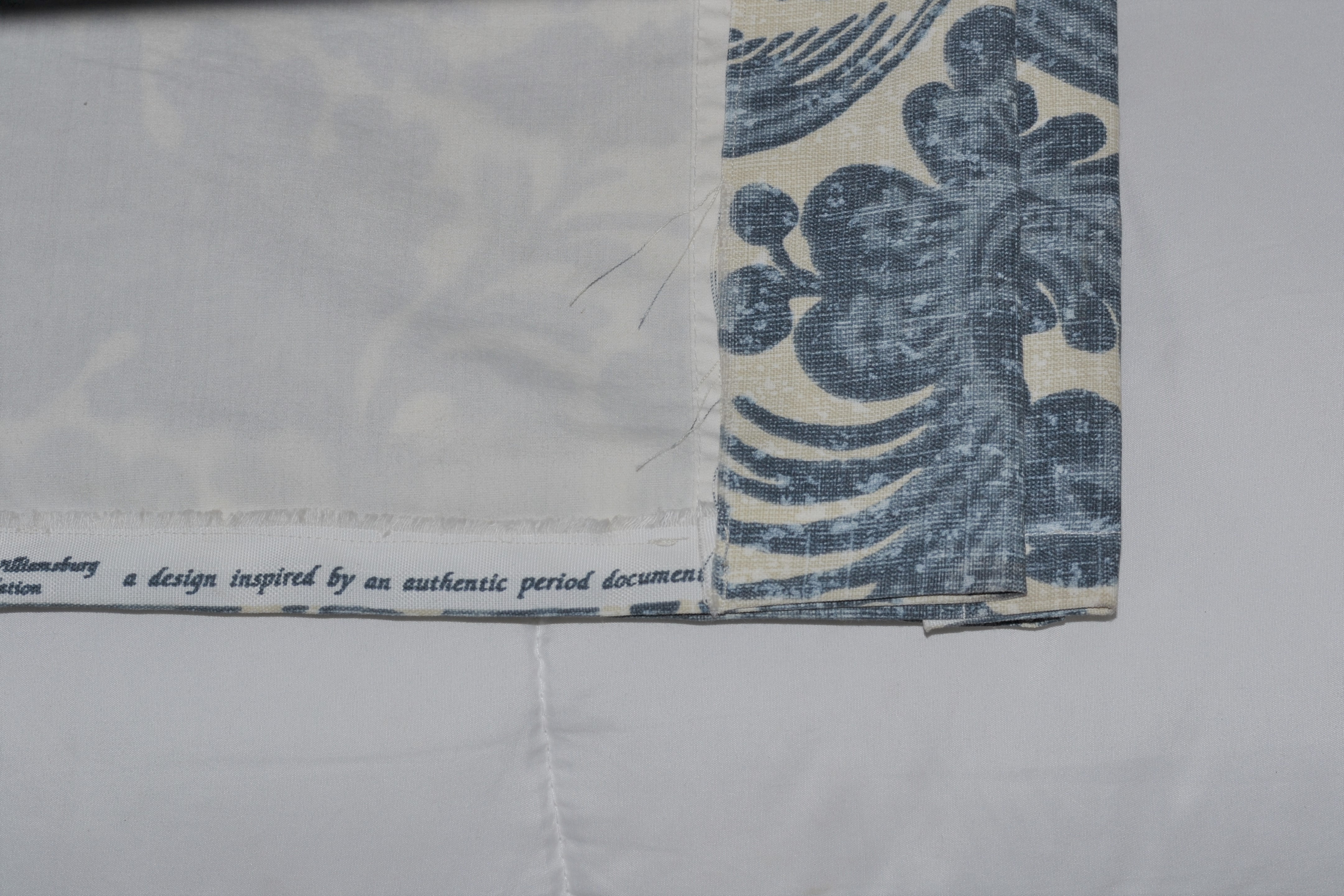 Make sure all your fabric panels are cut the same height and width.
Time to begin the next step of attaching your sheet backing.
Attaching the sheet backing
Lay your curtain panels out on a flat surface with the white flat sheet.
Be sure that the sheet has been cut a half inch less in width than the curtain panel.
Fold over the left and right side 1/2 inch over the white sheet and pin with straight pins in place.
Now sew on the sewing machine or use the iron on adhesive. For my curtains I used the iron on adhesive on the sides and the sewing machine for the top and bottom.
Now that is all done for each panel, it is time to hem the bottom.
Creating your bottom and top hem
For my hem I created a three inch fold on the top and bottom and sewed it on the sewing machine.
You may need a larger fold over depending on the circumference of your rod.
Be sure that the rod you will be using can fit through the top hem.
This is where it gets exciting, time to hang your curtains.
Remember the rules below before hanging your DIY curtain panels.
Rules for hanging custom made panels
have your curtains just touching the floor
hang your rod 4-6 inches above the window frame
rods should extend any where from 4-10 inches on each side
for fuller curtains, each panel should be the width of the window
make them 96-120 inches long depending on your particular window
It really is that simple to DIY curtain panels with minimal or no sewing necessary and get that custom made look.
Had I known sooner that it really was not difficult to make curtains I would have done it along time ago.
Enjoy making these DIY curtain panels with minimal or no sewing necessary.
Another idea for no sew or minimal sewing projects you can do with extra fabric you may have like this cute burlap banner.
I would love to see if you create your own curtain panels with a sewing machine or just with heat bonding.
Till next time.
Xoxo
Sonya
Comments
comments