Top three reasons for shopping vintage decor
If you have been around here for a while you know I love decorating on a budget. More times than not I am purchasing vintage items from thrift or local consignment stores. There are some great reasons to use vintage when creating your design aesthetic.
It is no secret that I love to decorate on a budget, but love having beautiful and unique pieces in my home. I want to share the top three reasons for shopping vintage when decorating your home.
Shopping vintage can be quite the adventure and you have to be patient if you are in the process of doing a space.
With patience the pay off could be amazing.
A great reason to shop vintage is that it is the most environmentally responsible choice for home decorating.
This is because the items are being reused over and over and not ending up in our landfills.
Though that is a great reason for shopping vintage I am discussing the top three.
Let's start by talking about what vintage is.
What is vintage
Vintage can be anything 30-100 years old, with some variance in opinion from what I have read.
This can be furniture, kitchen and decor items.
Antique items being anything over 100 years old, just for clarification purposes.
These are items with history and amazing craftsmanship.
Shopping for quality craftsmanship
If you have spent any amount of time looking at vintage furniture or decor items, you have seen some amazing craftsmanship that you don't see in today's mass produced furniture.
This is one of the three reasons that it makes sense to shop vintage.
Just look at some of the amazing details of these vintage pieces.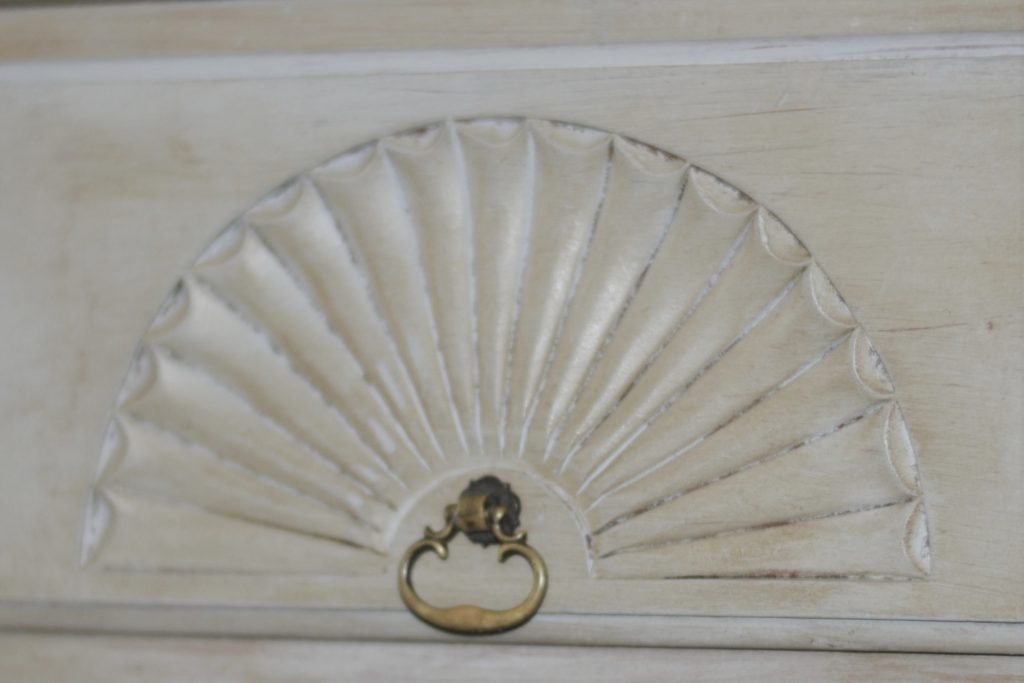 The details in the photos above show craftsmanship that you don't find on mass produced furniture.
Details like wood grains, carved details or even inlays are not things that can be seen or done with mass produced particle wood furniture.
The amazing craftsmanship of vintage furniture is what created furniture built to withstand time.
Another great aspect of the solid wood craftsmanship of vintage furniture is that it stands up to modifications.
If you find a piece look past the current color/stains and take faith in knowing you can redo and modify the piece to fit your home.
Looking at new pieces with this kind of craftsmanship you will see they are costly.
This bring us to the next reason for shopping vintage.
Budget friendly vintage shopping
Purchasing solid wood furniture today is so expensive.
When I googled a solid wood secretary or hutch in brand new furniture, the least expensive piece was 1500.00.
That is not budget friendly pricing for me and may not be for you either.
You may have to look for a while to find something in your budget but I can say that I have seen more budget friendly vintage wood pieces than new pieces.
If you frequent a particular store in your area often they may be willing to barter with you.
It is worth a try,
The last piece of vintage, solid wood furniture I purchased was a secretary that I paid a little over a hundred dollars for.
This piece will last for many more years to come if taken care of.
In the event you are redoing a room on a budget, vintage could bed way to go.
Searching for budget friendly furniture does not mean you need to purchase mass produced, pressboard furniture.
Instead look for budget friendly vintage furniture that creates a unique home aesthetic.
Timeless character
One of the things I love most about using vintage pieces in decorating is that it creates personality in the space.
Think about it like this, you don't want to dress exactly like your neighbor, so why would you decorate like your neighbor?
Interjecting some character and personality with pieces that tell a story, and creates originality in our homes is what vintage does best.
Our homes are meant to portray the life lived in them with things that we love and makes others feel welcome and comfortable.
These are great reasons to begin shopping vintage to mix in with your new pieces.
Remember if your redoing a vintage piece you should revisit this post about precautions to take.
Till next time
Xoxo
Sonya
Comments
comments