Renewing wicker: A trash to treasure transformation
With everyone at home right now we are all getting creative in how we refresh our homes and our accessories. Today I am sharing a fast and easy way to renew wicker with a trash to treasure transformation.
(This post may contain affiliate links in which I earn a small commission at no extra cost to you. You may read the full disclosure on the disclosure page.)
Have you had a basket or piece of wicker furniture that you felt had seen its better days and were ready to throw it out?
For me that piece was a wicker chest we had purchased at a neighbors yard sale many years ago.
I let my older son use it when he moved into his first apartment and his roommates dog chewed on the corner a bit.
This piece had been sitting out in the garage since last summer when he moved back home.
Just the other day my husband asked if I was ready for him to throw it out and I told him to go ahead.
Well the next day it hit me that I could totally bring that piece back to life real easy.
Before the transformation begins, it is time to clean.
Begin with cleaning
Before beginning this trash to treasure transformation, it is important to clean the basket or wicker piece thoroughly.
hose down the piece
use gentle soap and water
use a gentle brush to clean all the cracks
rinse off all the soap
lay it on a towel inside to dry or if it is sunny lay it outside in the sun to dry.
be sure it is completely dry before you move on
Renewing with chalk paint
This is really the easiest way to transform any piece you want to change but I think is often forgotten when it comes to wicker or baskets.
Grab your favorite brand and color of chalk paint, for this piece I used Dixie Belle Chalk Mineral Paint in the color Drop Cloth.
This is my new favorite color, it is a nice warm white without the yellow undertones.
When I painted the piece I didn't worry about getting even coverage.
I really wanted it to get that worn, used look.
Getting the desired look I wanted was achieved with two coats of the chalk paint.
If you desire that the original wicker color to not come through you will want to use heavier coats.
Also know that it may take more than two coats to get that look as well.
Fast and easy
This was the quickest transformation I have done yet.
It took about two hours total with complete drying time and now this piece will work for us for many years to come.
The fact that it was chewed a bit by the dog now does not stand out, but aides in giving the chest a little character.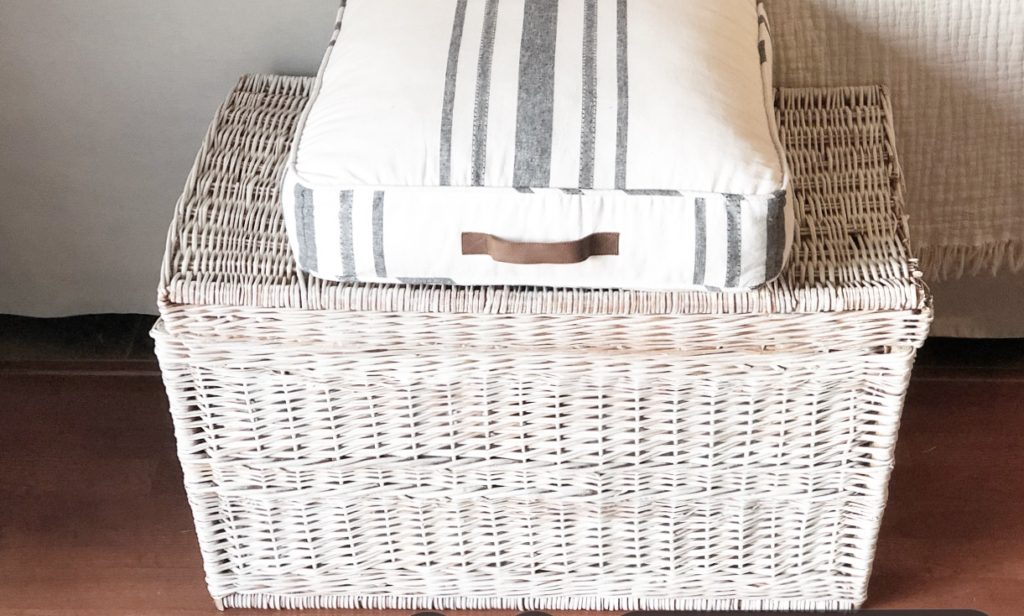 If you are wanting to renew your wicker then this trash to treasure transformation is for you.
This is the perfect way to transform your pieces and add some character with simple chalk paint.
Until next time.
Xoxo
Sonya
Comments
comments