Welcome back to Simple Saturdays #23, the weekly post sharing easy ideas for home and life.
Easy ideas and tips for home styling, crafts and easy recipe to serve your family and friends.
If you missed last weeks post you can read that here or if you missed any of the weekly post you can start here.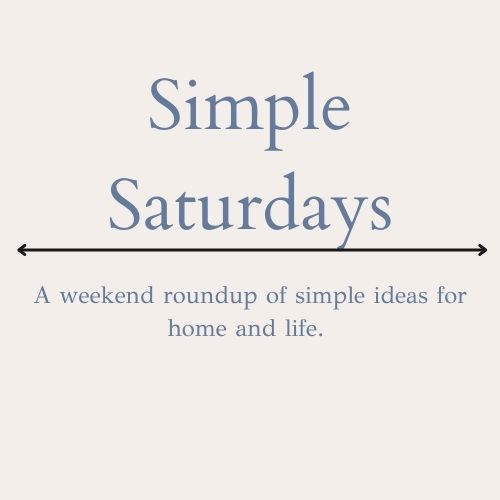 As you know each week I feature another blogger and one of their simple ideas for your home.
This week I am featuring my blogging friend Maria from Simple Nature Decor.
You are going to love her blog and all of her amazing ideas and recipes.
From the blog
You know I love simple things for the home and that is why I started Simple Saturday to share easy ideas for home and life.
Keeping things simple help to keep life uncluttered physically and mentally.
Keeping home decor uncomplicated yet beautiful is one of my favorite ways to decorate.
This post about creating simple budget friendly art is the perfect way to add unique art to your home on a budget.
I think often times we believe that in order to have a beautiful home we need to spend a ton of money and that could not be further from reality.
Most of what is in my home is thrifted or from facebook marketplace and yet I have created a cozy, cottage home on a budget.
There are so many simple things you can do to add beauty to your home.
This week I will be publishing the post I had mentioned a few weeks ago about lighting, so be on the lookout for that.
In the meantime this post about my favorite battery operated lights is great if you are looking for some different options.
Simple Saturday #23 weekly feature.
Every week on Simple Saturdays I feature another blogger and one of their easy ideas for home and life.
This weeks feature, Maria at Simple Nature Decor where she shares her beautiful South Carolina home and decor ideas inspired from nature.
I love this sweet diy and think you are going to love it as well.
You are also going to love her laid back style inspiring decorating ideas, so be sure to give her some love.
Be sure to check back next week for more easy ideas for home and life.
Thank you for stopping by for Simple Saturday #23.
If you have any questions or ideas of what you would like to see, please email an
Till next time
Xoxo
Sonya
Comments
comments