Dreaming of styling your table like all the inspiration you see on pinterest or instagram? But you don't have a rectangle farmhouse table in your dining area. Don't fret, I am sharing how to style a non-traditional round farmhouse table.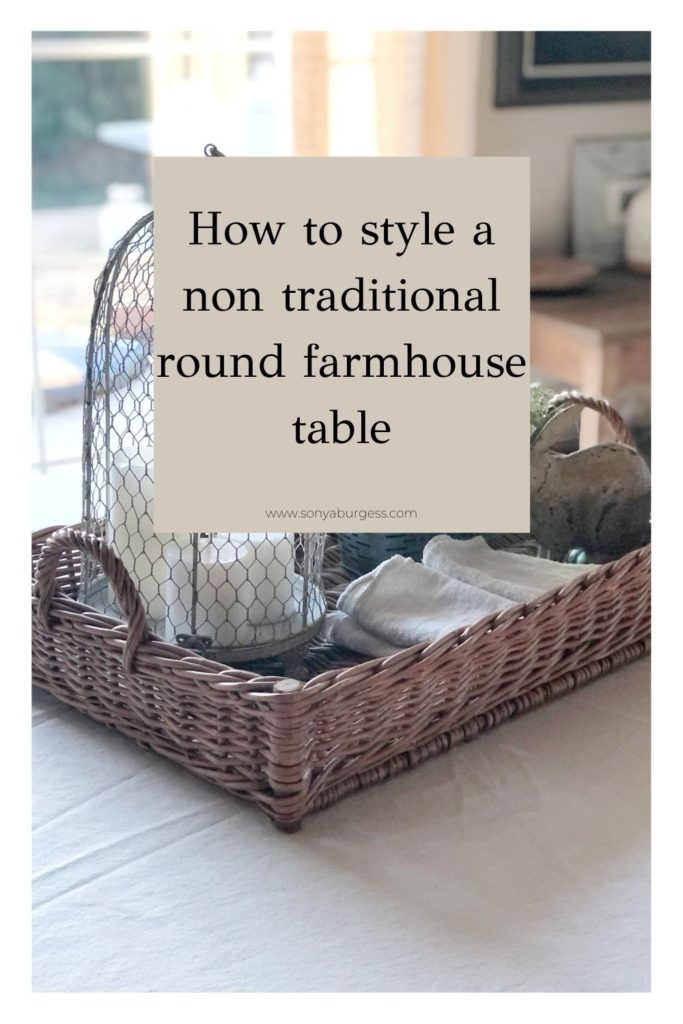 If you have struggled to set a beautiful round table this is for your.
I myself have struggled in the past with creating a tablescape on my smaller scale round table.
Along the way I have discovered through trial and error, what works and what does not when approaching styling a round table.
First I wanted to talk about the things that do not work when you are styling a round table.
What does not work with round tables
Something to consider when designing your table scape with a round table is the diameter of your table.
My particular table is somewhat small at 47 inches diameter so I am styling with that in mind.
When working with a round table it is important not to over crowd or overwhelm the table.
I have tried several times to use chargers, place settings and a center piece and often it just overwhelms the table.
This photo was from Thanksgiving and I loved my tablescape but felt it was a bit much for such a small table.
Some people like the look of filling your table but if you know me you know I prefer simple style.
You can read the post and see more on this table setting here.
One large scale centerpiece is often too much for a smaller round table as well, unless there is nothing else on the table.
Placemats don't typically work on a round table unless they are round as well.
Having a series of small items in the center generally clutter the eye and table unless they are gathered in something.
These are just a few of the things I have found do not work when styling a round farmhouse table.
Don't worry though, there are plenty of things that work beautifully on a round table.
How to approach styling a round table
Of course everyone has their own idea of what works and what does not.
I truly believe that we should make our own rules in decorating our personal spaces and approach things that best fit our styles.
These are simply ideas of what looks best for a small round table.
Some ideas of what works.
wreaths with candles in the center
tall narrow flower arrangements
create layers
separate different shapes
use a rectangle basket
use a tablecloth
table runners that are about 1/3 of the width of your round table
place trays or baskets on a angle
use clear glass vases in the center
a collection of gold or crystal candlesticks
a simple dough bowl with greens
These ideas are to give you as starting point to creating your tablescape with a smaller scale round dining room table.
I shared earlier my fall tablescape that I felt was a bit much for my table.
Now you can see how I styled it recently.
How I styled my round farmhouse table
The first thing I did to style my round farmhouse table was add a thrifted, handmade duck tablecloth.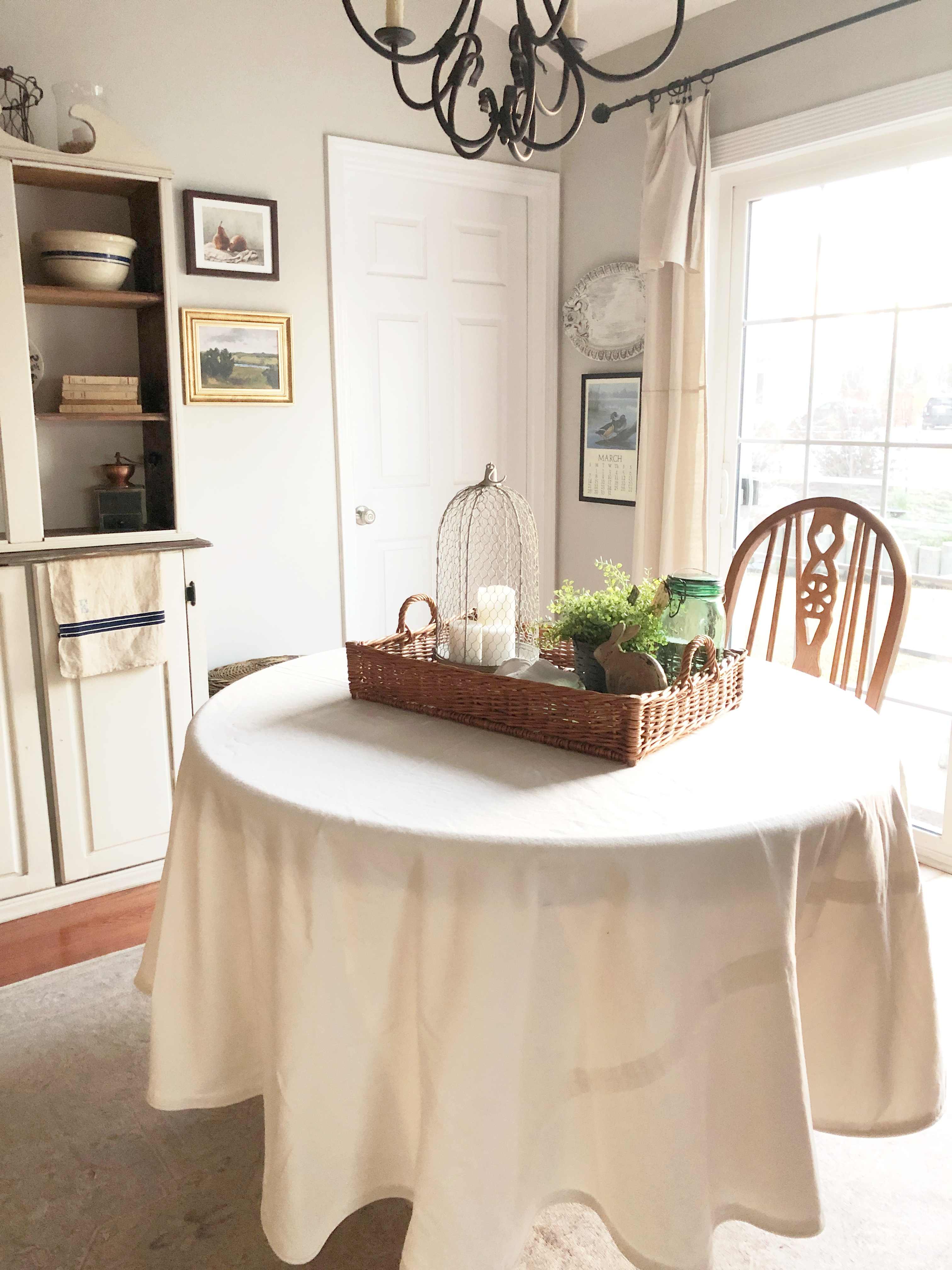 Using a tablecloth adds interest, texture and color without using placemats or chargers.
Then I placed a larger scale vintage rectangle basket tray from The French Farmers wife barn.
When I placed the basket on the table i sat it in an angle.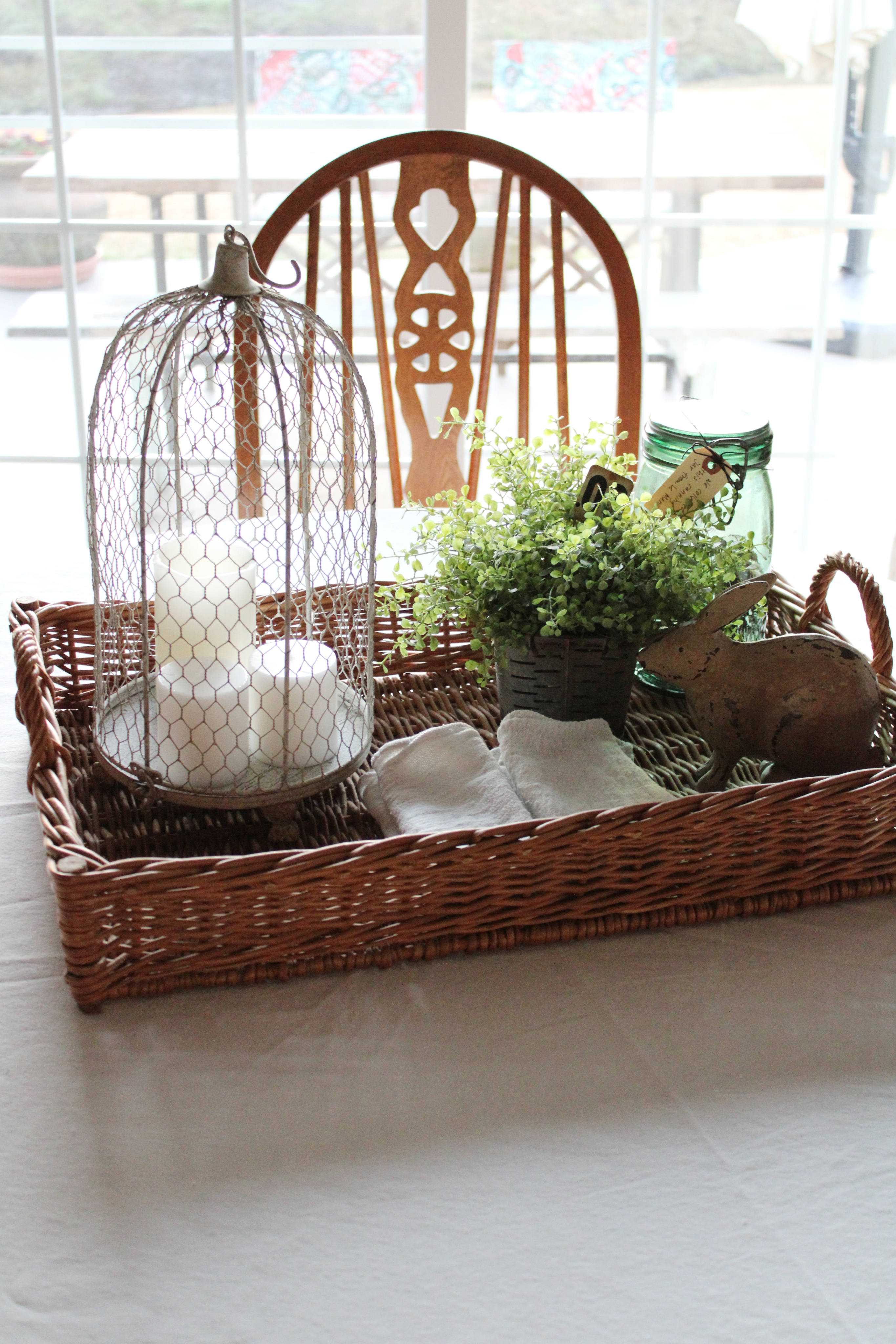 To the basket I added a tall wire cloche with candles, small faux greenery, vintage french canning jar and a favorite bunny.
These simple items created a fresh Spring feel to our round farmhouse table without overwhelming it.
Using items that you can see through helps the table not feel cluttered.
Remember to approach styling your small scale round farmhouse table with the idea of styling it for the size, being sure not to use too many items.
I love that a smaller round table creates a sense of intimacy with those you are seated at the table with.
Gathering at the table is more about the people than the things, but setting a beautiful scene invites our guest into community with us.
Creating a simple approach to style a non traditional round farmhouse table is easy with just a few impactful items.
Happy styling!
Till next time
Xoxo
Sonya
Comments
comments