7 simple ways to add character to your home.
If you are looking to add a little bit of personality to your new or newer home, here are 7 simple ways to add character to your home.
While buying a new home is wonderful and exciting.
Often times buying or building a new home can be over whelming.
When we knew we were relocating we did not even consider purchasing another older home.
We had been living in a brick ranch with two acres.
Over the years while living there we redone most it to get it exactly how we wanted it.
Having never lived in a new home that is what I was obsessed with.
So many things I would have done differently and many times I have made the comment of things I missed in our little old ranch house.
We did choose a lot of upgrades but could not afford many others so our home lacked the character and personality that our older home had.
Today I am sharing 7 simple ways to add character to your home.
I learned these slowly and along the way to creating personality in our home.
Add character with texture
Many times in new build homes all the walls are painted one color throughout with no type of wall treatments.
Builder grade homes often lack character inside and outside because they are dealing within the perimeters of few building plans within a scope.
There are so many ways to add texture and character to your new home with wallpaper, board and batten and shiplap.
With the peel and stick wallpaper it is not the wallpaper of long ago, although you can go that route as well.
Also with MDF products you can do board and batten and treatments like that on a budget.
When it comes to shiplap there are so many different ways to add that to your home and it depends on your specific budget.
Adding these different textures into a home is just one of the 7 ways to add character to your home.
We recently added shiplap to our kitchen and was able to purchase real pine shiplap boards pre-made with spacing.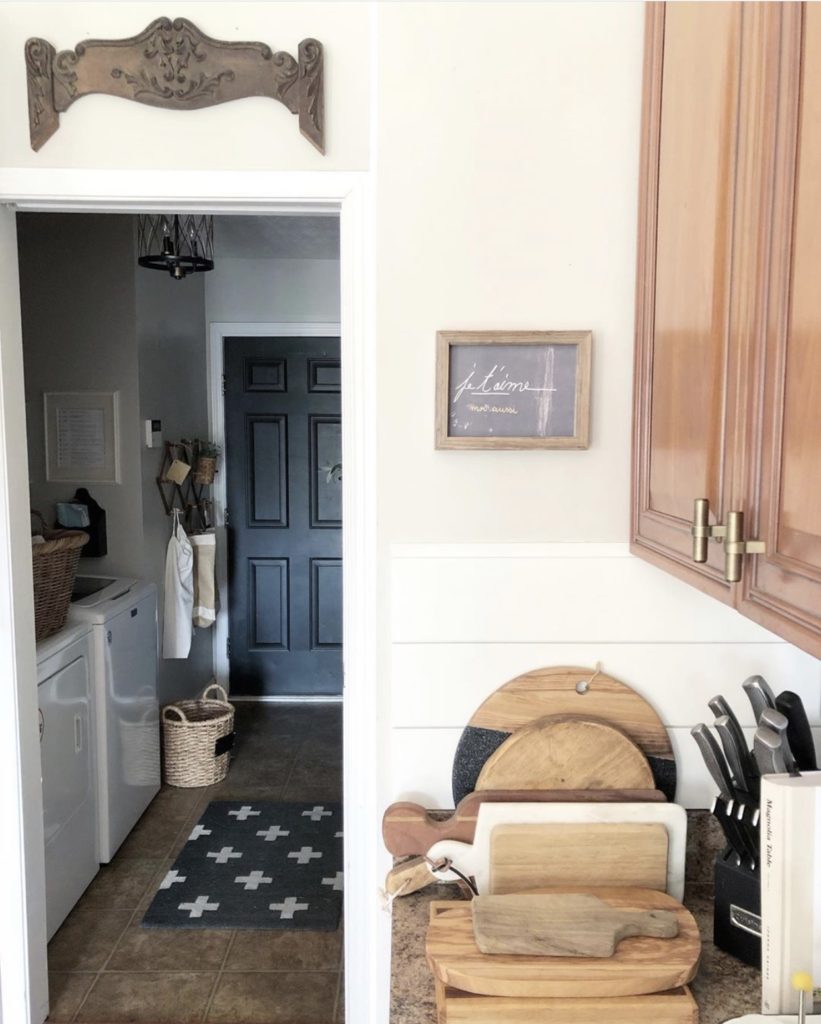 They were not expensive at all, it was a budget friendly makeover you can see here.
The possibilities are endless and it really just depends on your personal style and budget.
Add molding to create instant character
Often times newer homes are built with no trim through out the home.
That means the windows and doorways may not have any trim around them and they somewhat disappear in the space.
You can add trim to your windows and doors to make a huge impact on the character of your home.
There is absolutely nothing wrong with having a builder grade home, we live in one ourselves and love it.
Our particular home has really great molding and baseboards with the exception of one hallway.
To add a touch of personality to that area, I added an antique pediment and it brought in warmth, character and texture.
Adding molding is one of the most important of the 7 ways to add character to your home.
It is like putting on mascara, but in your home.
If your looking for more on shopping vintage check out this post.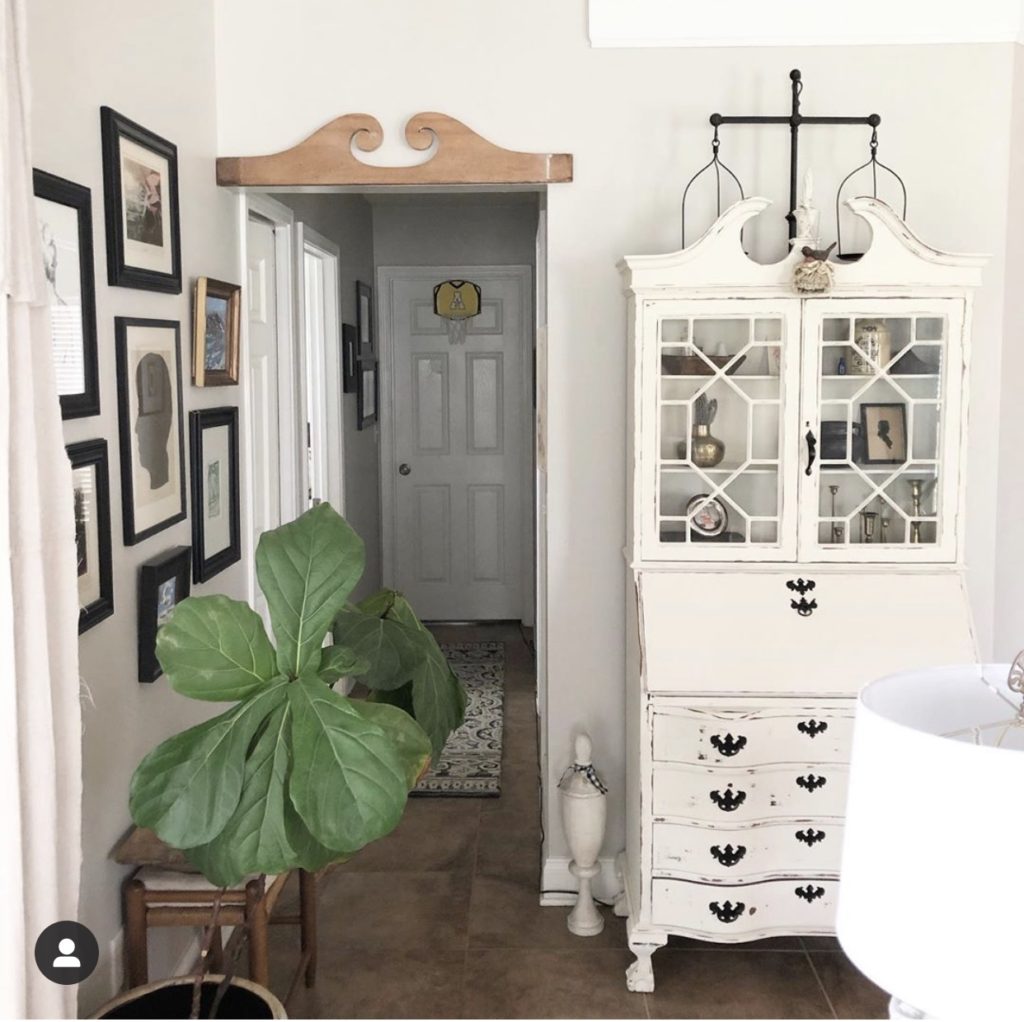 If you are looking to add some pediments to your unframed doorways there are some great places to look for new and old ones like mine.
Another area that usually needs to be changes is lighting.
Change to lighting with personality
Typically , when building a home you are given a lighting budget that you are to stay in when choosing your lights.
Or you purchased a new home where someone else picked the lighting already.
Changing out the lighting is a great way to add some character.
After 17 years of being in our home we are slowly changing out our light fixtures.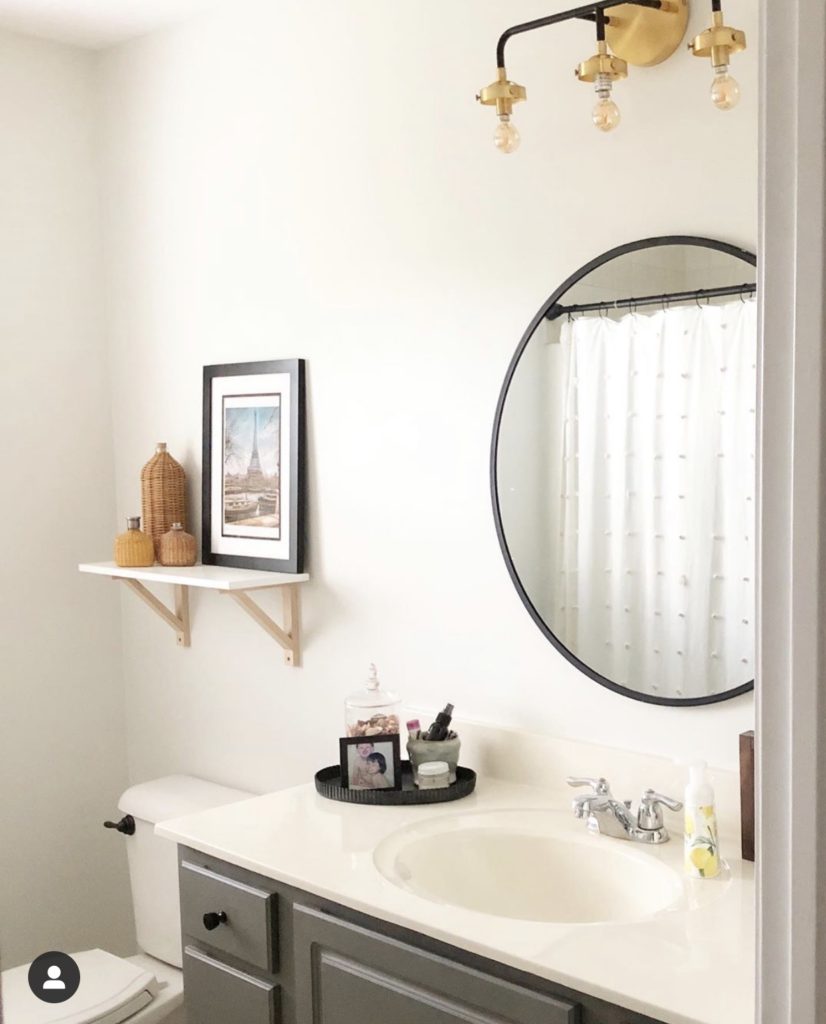 We still have a few boob lights that have to go but the ones we have changed have made such an impact in our space.
There are so many places to get lighting these days and there is something for every taste and budget, it will add a touch of personality to your home.
You will also notice we changed something else in our guest bath.
Add mirrors with character
I never even thought about upgrading mirrors when we built, I am not even sure it was an option.
Usually when homes are built they are built with frameless mirrors in the bathroom.
Sometimes they may have a frame that may not suite your taste.
Switching out your mirrors make the biggest difference in adding some personality.
Mirrors run the range in price so it is easy to find thrifted mirrors, new ones at Target or Wayfair.
There really are no limits to where you can find budget friendly mirrors if that is what you are looking for.
Our guest bath has had a huge detailed vintage mirror and now it has the round black mirror that I simply switched out of the living room.
Taking out and switching the large frameless mirrors in your home is a great way to make a statement and add so much character.
Another fun and easy way to add some character is with paint.
Using paint for fun personality pop
Now I am not simply talking about painting the walls, we all know how to do that.
Though the trend these days to to paint designs that look like wallpaper or arches.
People have become really creative when it comes to adding personality to their spaces.
But I am talking about painting your interior doors.
In most homes the door and the trim are builder white.
Changing out your door color really changes the space and brings in your personality.
Did you notice my laundry room door is black?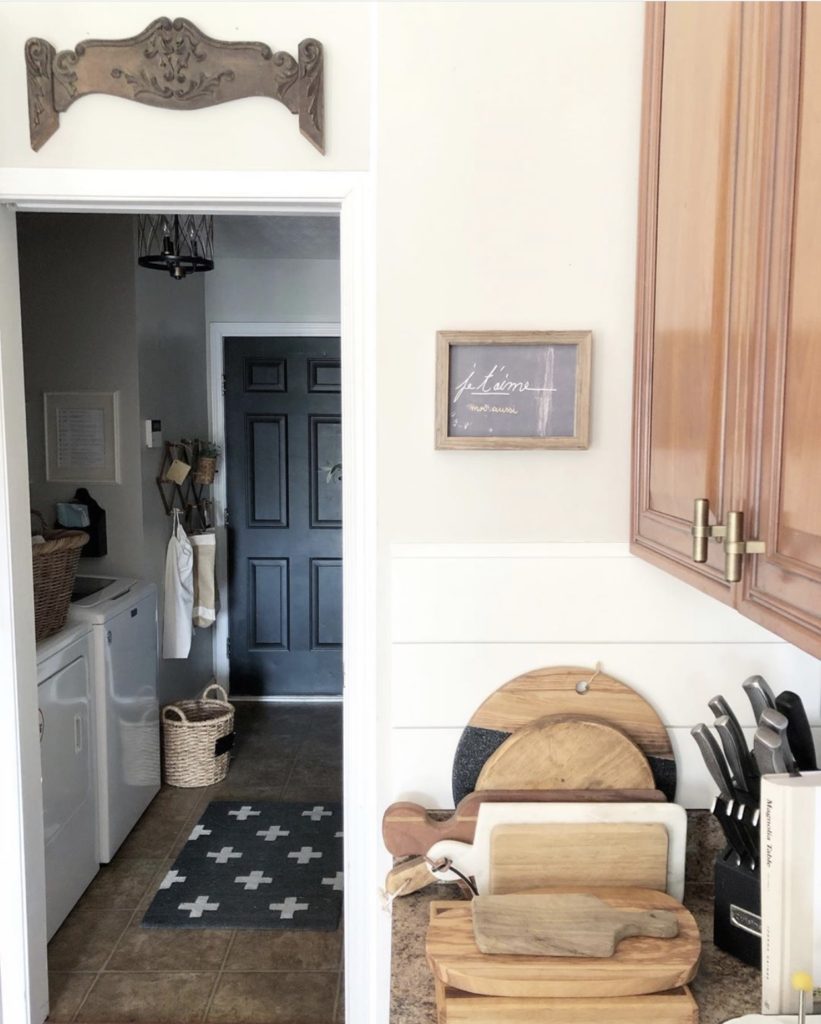 You can go super dark like I did or you can paint with a more neutral color other than white.
A great neutral for doors and trim, is Cameo White from Behr paint.
This is a super simple way to add character to your home with out spending a lot of time or money.
It really does not always have to be big projects to interject a bit of personality into your home.
Speaking of big projects that really create character in a home, I did want to share those as well.
Using tile to create character
Now this is not typically a small task and it can be quite expensive but it will pay off in the end.
Our home had a shower surround, you most likely have them or have seen them.
Switching out those surrounds with tile will not only bring in so much character and personality, but it will add value to your home.
You can take classes at your local hardware or google it and learn how to install tile yourself.
A little over a year and a half ago we gutted our shower and installed the most beautiful stone tile as part of the Jeffrey Court Renovation Challenge, you can see the process here.
You can see the full shower here.
This was a huge project with even better payoff in the end.
Now if a project that big is not in your budget you can look into changing out your floors.
Upgrading floors with more personality
Maybe your home has are hardwoods or engineered wood floors.
If your home does not there are so many great products on the market.
Even if you have engineered floors and are not happy with them but it is not in the cards to replace them.
You can purchase stencils and paint what ever it is you desire to interject character into your home.
There is also a new product called floor pops.
You can easily change out your floors pretty quickly and cheaper than replacing floors all together.
These are simple ways to add character to your home.
Are you looking for more ideas for your home? Head here.
I have linked a few items here for your convenience you can just click on each photo.

Of course there are other ways to add character to your builder grade home, but these 7 are a great place to start.
This post contains affiliate links at no extra cost to you.
Till next time
Xoxo
Sonya
Comments
comments