How to maintain and store vintage linens and quilts
Do you have vintage linens that you are not using because you are scared to wash them? Today I am sharing simple ways to maintain and store vintage linens and quilts.
Do you love using vintage linens in your home? I am sharing how to properly maintain and store those vintage linens and quilts.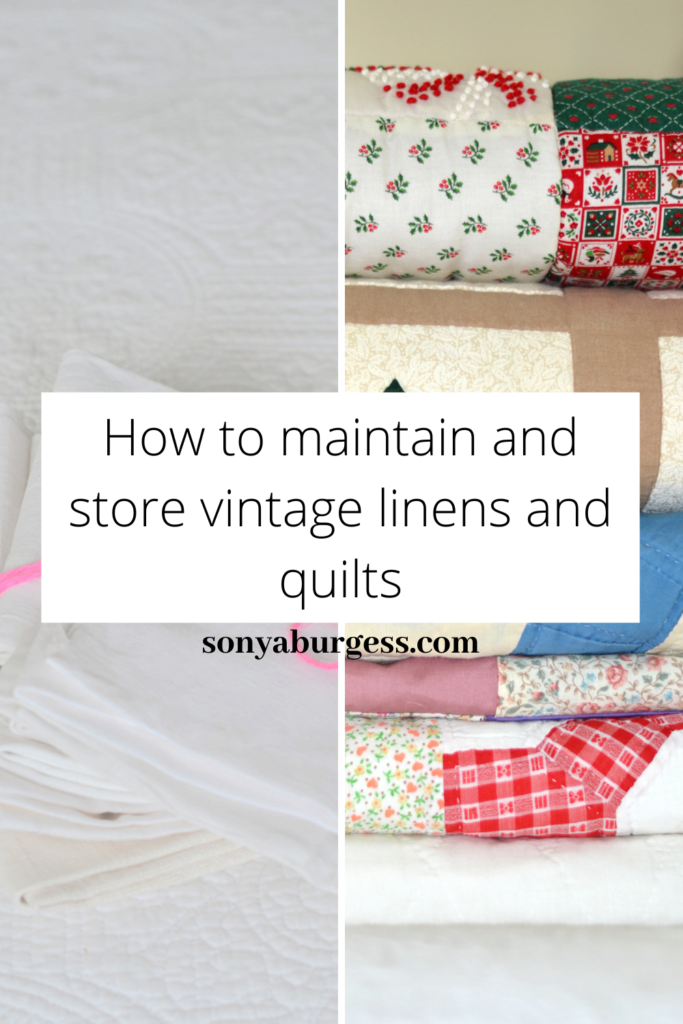 I love using family heirlooms and vintage quilts in my home, but in the past have been fearful of using them as I was not sure how to maintain and store them.
Recently I discovered a few tips and tricks for maintaining and storing my quilts and linens that I'd like to share with you today as these items are meant to be used and enjoyed not stored away and forgotten.
Taking precautions when maintaining and storing your vintage linens and quilts is easier than you may think.
Prepping your vintage linens to be laundered
Using your vintage linens means they will need to be cleaned ocassionally
Follow these simple tips in caring for your vintage linens.
Prior to washing your linens, hold them up to the light.
Look for any visible holes or thinning areas that could quickly become a hole with cleaning.
If there are any visible stains you can gently rub a cut lemon and a little bit of salt over the stain being mindful not to scrub as this can damage the fabric.
Once you are done prepping your linens, it is time to soak them.
Soaking your vintage items
After you have looked thoroughly over your linens you can soak them in warm water for about 15 minutes to remove any surface dirt.
Be sure that the sink or bathtub you are soaking them in is clean and has no harsh chemical residue that could damage your linens.
Once they have soaked 15 minutes, let the water out and gently place your linens on a clean towel.
Be sure not to wring or twist the linens.
Run clean water in the sink or tub in preparation for the actual cleaning.
Washing your linens
Run clean water in the sink and add some mild phosphate free soap to your water.
Add your linens back and gently swish them around with your hands.
When you are done , be sure to rinse them thoroughly remembering not to wring or twist your linens.
Lay your linens on clean towels and roll them up to get the excess water out.
They can be dried by laying them flat on top of a clean towel.
If you have stains that did not come out there is still hope.
Heavily stained linens
There may be old stains that did not come out of your linens.
Do not give up yet.
You can try a product called Engleside's Restorative fabric cleaner and follow the directions on the back.
Once the linens are clean it is time to store them.
Storing your linens
It is important to keep your vintage linens out of direct sun when storing. Ideally, it is best to store in a dark spot.
They need to be laying flat with the heaviest linens on the bottom.
Keeping vintage linens away from wood is best as the acid in woods can leach into your linens and cause stains.
It is also important to not store them in plastic bags or wrapped in plastic, as this can make your linens sticky.
The best storing practice is wrapping your linens in cotton.
If they must be stored in a wood dresser or wardrobe you can line it with acid-free tissue paper and then wrap your vintage linens in cotton.
These methods are great for your vintage table linens, hankies and things of that nature.
If you have large handmade quilts that you use there are simple cleaning and storing methods for those as well.
Maintaining vintage quilts
Much like other vintage linens, it is important to be gentle maintaining your handmade vintage quilts.
You can use a top load washing machine to soak your handmade quilts.
Use the soak cycle to soak for 30 minutes.
After 30 minutes, reset it for gentle with low agitation and low spin if you have that option.
If you have issues with your water or use a softener of some kind you need to be cautious.
I live at the coast with very hard water with heavy iron levels and use a salt water softener system.
Washing my vintage handmade quits in the bathtub is a better option.
Using distilled water in a clean, chemical residue free bathtub wash your quilt with Orvus Paste.
Follow the directions on the back and like other vintage linens be sure to handle handmade quilt carefully.
A word of caution with colorful quilts, use a color catcher as colors tend to bleed.
Be sure not to wring or twist your quilt as you are washing and rinsing out the Orvus Paste.
Rinse the quilt thoroughly removing all the Orvus paste and carefully remove your quilt from the tub.

You can lay your quilt outside in a shady spot on top of cotton sheets to dry.
Do not hang your wet quilt from a clothesline as the weight could cause some damage to the quilt.
You can also place a cotton sheet on top of your bed, then lay your quilt flat to dry. Be sure to use a mattress protector to protect your mattress from moisture.
Fans blowing on the quilt to help it dry quicker.
Cleaning your larger vintage quilts is a bit more cumbersome but is worth the time and effort to maintain your vintage linens for years to come.
Storing your quilts
Now that you have taken the time to carefully clean your vintage quilts you want to be sure to store them properly.
Wrap your quilts in clean cotton sheets or store in acid free boxes.
Be sure to fold them with the backside facing out using as few folds as possible.
If your quilts are not being used, take them out every few months and refold a different way as to not cause staining on the folds.
Now that you know how to maintain and store your vintage linens and quilts I hope you will enjoy using them for years to come.
If you love using vintage pieces in your home, be sure to read here about using them safely.
If you are looking for more information or ideas on shopping vintage, click here.
Till next time
Xoxo
Sonya
Comments
comments