The key to decorating with white
I know you have heard it before, "if you decorate with white your room will be stark and cold". Well I am here to share some things that will be key in decorating with white.
First off you need to know that choosing the right white for your space is no easy task,  Benjamin Moore has more than 250 shades of white.
So when choosing the perfect white for your space here are a few things to consider:
 the undertones of the paint
 natural light in the room
the paint finish
There are many favorite whites, just look it up on Pinterest and you will see everyone has their thoughts on the perfect white.  When looking at suggestions from others just remember the three keys above to help you find the right one for your space.  My all time favorite is Benjamin Moore's White Dove, mixed in Behr Marquee paint, this is the perfect one for our space because we have a lot of natural light that comes in and the undertone of this color is very warm.
You must also consider the look you are trying to achieve with your paint selection,  is it to create a cozy, rustic farmhouse, or a more modern space? A white with warm undertones lends itself to a more rustic, cottage or farmhouse look, while the cooler undertones create the more modern look.
You should be careful when decorating with white that the room does not fall flat due to having a monochromatic scheme or more neutral colors. In order to create that cozy feel be sure to add in warm wood tones, weathered wood, linen and cotton. Texture and pops of color with pillows, rugs and art will help the room feel cozy and inviting. Layering varying tones of white and adding patterns as well as black accents are a great way to add depth to a white space. If you are decorating with a cooler white for a more modern feel, you can add in reflective metals, dark or bold colors, textures and patterns as well for more of a gallery feel.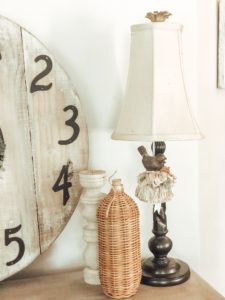 Behr.com has some great tools in their color studio to help you in your journey of finding the perfect color for your space, Regardless of your design style, decorating with white allows you to change your decor easily and to transition from season to season with the smallest of changes for the biggest impact. It lends itself to a multitude of styles and goes with every color, so how could you go wrong with using white paint?
Go ahead tackle that white room and cozy it up, come back and share the color and a picture of  your space, I would love to see it.
Till next time
xoxo
Sonya
Comments
comments