Simple steps to adding Spring touches to your master bedroom
Looking to add a bit of Spring to your home? Today am sharing a few simple steps to adding Spring touches to your master bedroom as part of a Spring bedroom blog hop.
This post contains affiliate links at no extra cost to you. You may read the full disclosure on the disclosure page.
First I wanted to thank Jenn and Vicki at 2Beesinapod for putting this wonderful hop together and including me.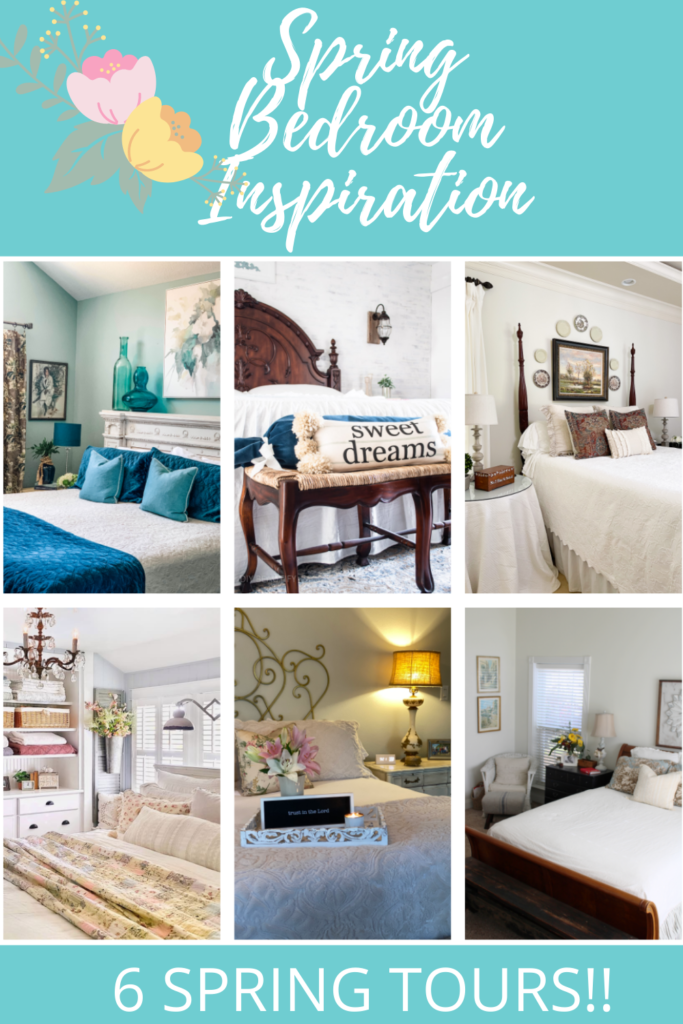 If you are here from Our Southern Home, welcome I am so happy you are here.
I don't know about you but I am so ready for Spring this year.
Winter seemed to last forever so I am so excited to be joining some amazing bloggers today in sharing some Spring master bedroom inspiration.
The master bedroom like every room in my home is a place I enjoy adding simple Spring touches.
Before adding anything to the room I prefer to begin with some basic elements.
Basic simple Spring elements
The first thing I like to start with in adding simple Spring touches is bedding.
Bedding is one of the foundations of any comfortable bedroom.
Sheets are the basis to all your bedding and they should be super comfy and breathable, especially in the warmer months.
When the weather begins to change I really like to bring out my linen sheets.
These particular sheets are new from Target this year.
The ones I had used for several years were ill fitting and it was time for an upgrade without breaking the bank.
Having the lighter sheets helps to stay cool at night which is important for a good night's sleep.
Once the sheets are switched out, I love to pull out a lighter coverlet or blanket.
Adding texture for a simple Spring touch
Adding varying textures is important in the Spring, especially if you are using a neutral pallet.
This year I had to purchase a new coverlet as my other one was completely worn out.
I added this neutral toned coverlet with varying textures of crepe and fringe.
The varying textures create much needed visual interest in an otherwise neutral space.
The small textured pillow is 100% nubby silk that I purchased at a local design store a few years ago on clearance.
Texture is an element that is important in every season but is often harder to add during the warmer months.
These simple textural elements add simple Spring touches to the master bedroom.
Mixing patterns in Spring master bedroom
Using patterns creates visual interest and it is one of my favorite things to do in every season.
The toile shams I found at the local Goodwill store months ago for just a couple of dollars add just enough color to the neutral bedding.
Toile is such a traditional french country element and one I have loved for years.
Mixing design styles is a great way to add interesting elements to a space.
Adding the toile with the subtle patterns of the silk pillow, adds depth and demands the eyes attention.
Mixing patterns, even though they are neutral, creates a cozy vibe.
The bedding is not the only aspect I enjoy switching up for Spring.
I enjoy freshening up the accessories to create a lighter feel.
Fresh accessories on bedside tables
After switching out my bedding I like to take everything off the bedside tables and switch out a few items.
Keeping items on the table to a minimum keep the space feeling fresh and elegant.
Changing out my bedside book to something that adds a pop of color like "Grace Not Perfection" , that I recently began re-reading.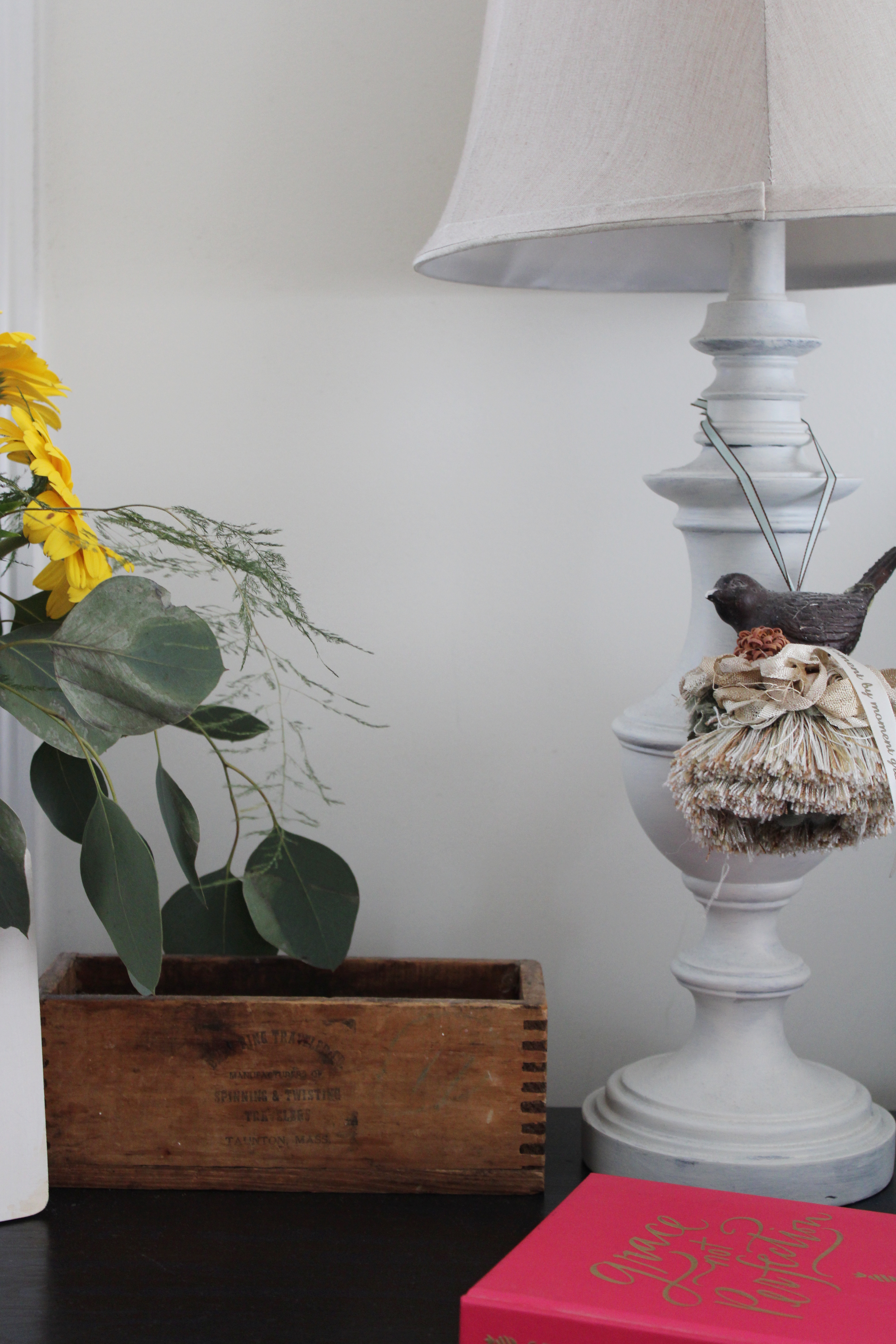 Switching out a few of the decor items on the bedside table to lighter or clear accessories.
Adding nature to Spring decor
As part of my bedside accessories I enjoy having fresh flowers or greenery.
I generally keep fresh flowers in clear vases during the Spring so it doesn't seem heavy.
There is nothing better than rolling over in the morning hearing the birds singing and seeing your fresh bedside flowers.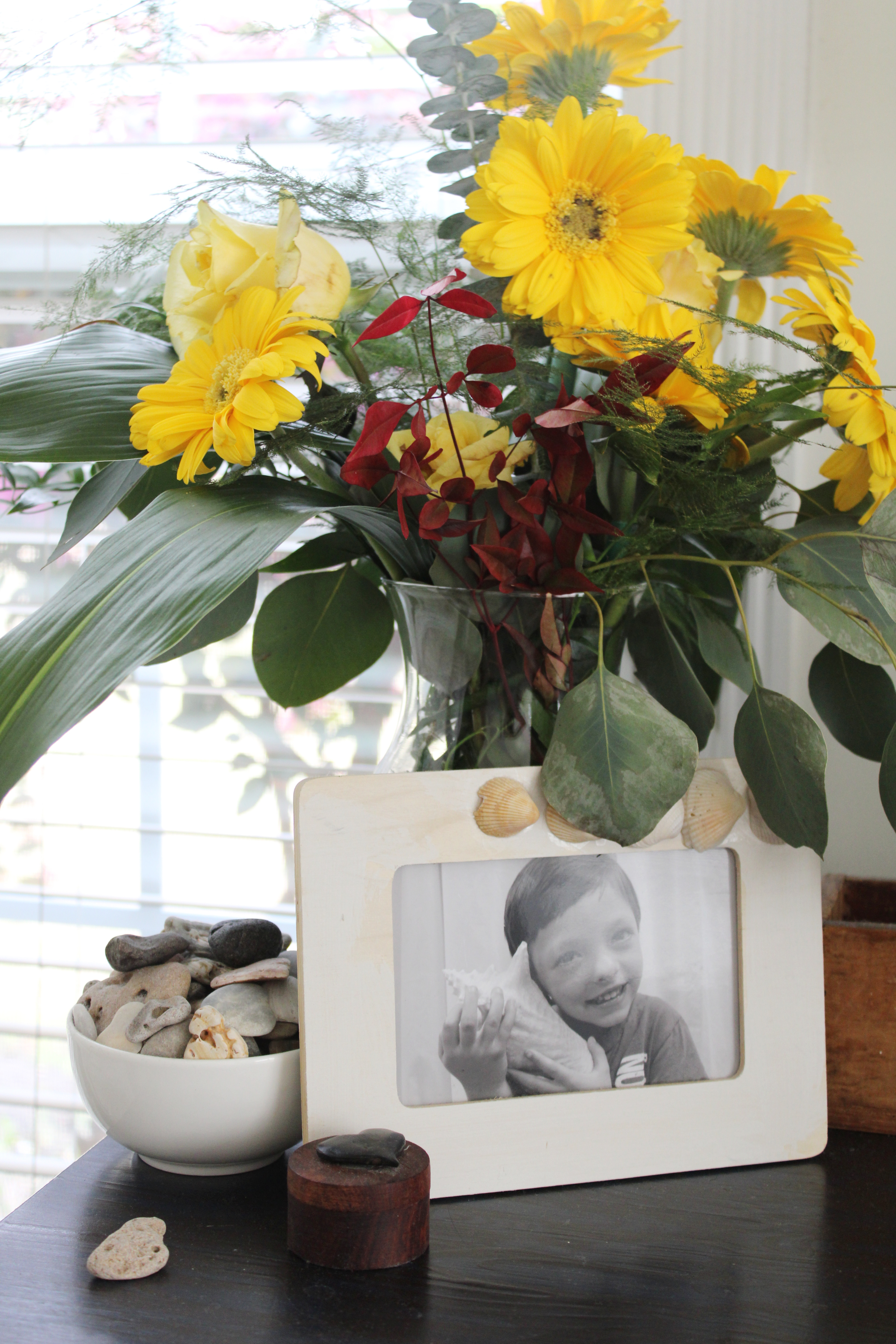 With just these few simple touches you can have the feel of Spring in your master bedroom.
If you love using a minimalist approach to seasonal decor, you can read more here.
Looking for more Spring inspiration for your home, be sure to read here.
Enjoy these simple steps to adding Spring touches to your master bedroom.

Head on over to Shiplap and shells to see her fabulous bedroom.
Be sure to visit the rest of my talented friends in this blog hop for all your master bedroom Spring inspiration.
Click on the links below.
Other Spring Bedroom Ideas
2 Bees in a Pod – How to do a Spring Refresh in the Bedroom
DIY Beautify – Spring Bedroom Refresh
Our Southern Home – Spring Master Bedroom
Sonya Burgess – Simple Steps to Adding Spring Touches to Your Master Bedroom
Shiplap and Seashells – Small Bedroom Retreat Ideas for Spring
Vintage Joyce Marie – Spring Bedroom

Happy Spring!

Xoxo

Sonya
Comments
comments