7 things you need to create a simple fall table scape
Designing a simple table scape does not have to be expensive or difficult. You can create a simple and beautiful tablescape with just a few items. I am sharing 7 things you need to create a simple fall tablescape.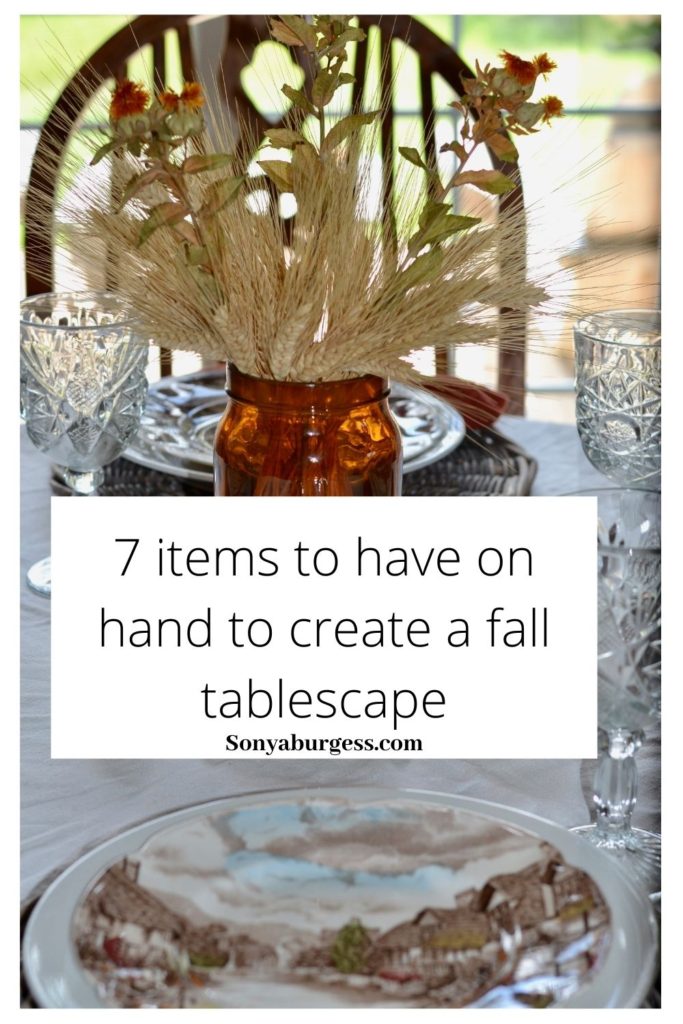 Creating a simple tablescape does not have to be difficult or expensive.
It also should not require you to store bins full of items to create any tablescape.
Even though we are talking about setting a seasonal tablescape, these table setting ideas are good for everyday.
Having these 7 items will help you create your fall tablescape.
Not only that it will have you prepared to design table scapes for all the seasons with just a few extra seasonal touches.
The basics of setting a tablescape
A tablescape is simply a theme based, decorative way to style your table around an event or holiday.
There is also a "table vignette" which is a small, curated statement made of a small group of objects.
Regardless which you choose to do, they each help to create a mood for you and your guest.
To begin with lets start with the very basic need of all table scapes, dinnerware.
I prefer to have white dishes that can serve as a base for all holidays and table settings for everyday.
It is really easy to set a table with white dishes.
Now I do use blue and white dishes everyday and I typcially layer them with my white plates.
Once upon a time I had, china and Christmas dishes and it just took up too much space and they were not being used.
White dishes can be purchased at thrift stores and Goodwill.
They do not have to be from the same set, adding different styles and designs creates lots of interest on your table.
I have twelve white plates that do not match and I love the interest and texture they add to the base of my table scapes.
Having your dinnerware is only the beginning to creating your fall tablescapes, it is important to create layers.
Layering your fall tablescape
The first layer is a tablecloth, a piece of fabric or a small vintage rug.
You can create a unique look by layering a table cloth and smaller piece of fabric together like I did here.
Layering your tablecloths help to create look to your simple fall tablescape.
Once you have created layering with tablecloths and fabric it is time to do some textural layering.
Textural layering
Layering is an important part of creating your tablescape and another great way to lay is by layering textures.
You can create another layer by using chargers underneath your dinnerware.
Underneath white plates use willow charges for added texture and visual interest.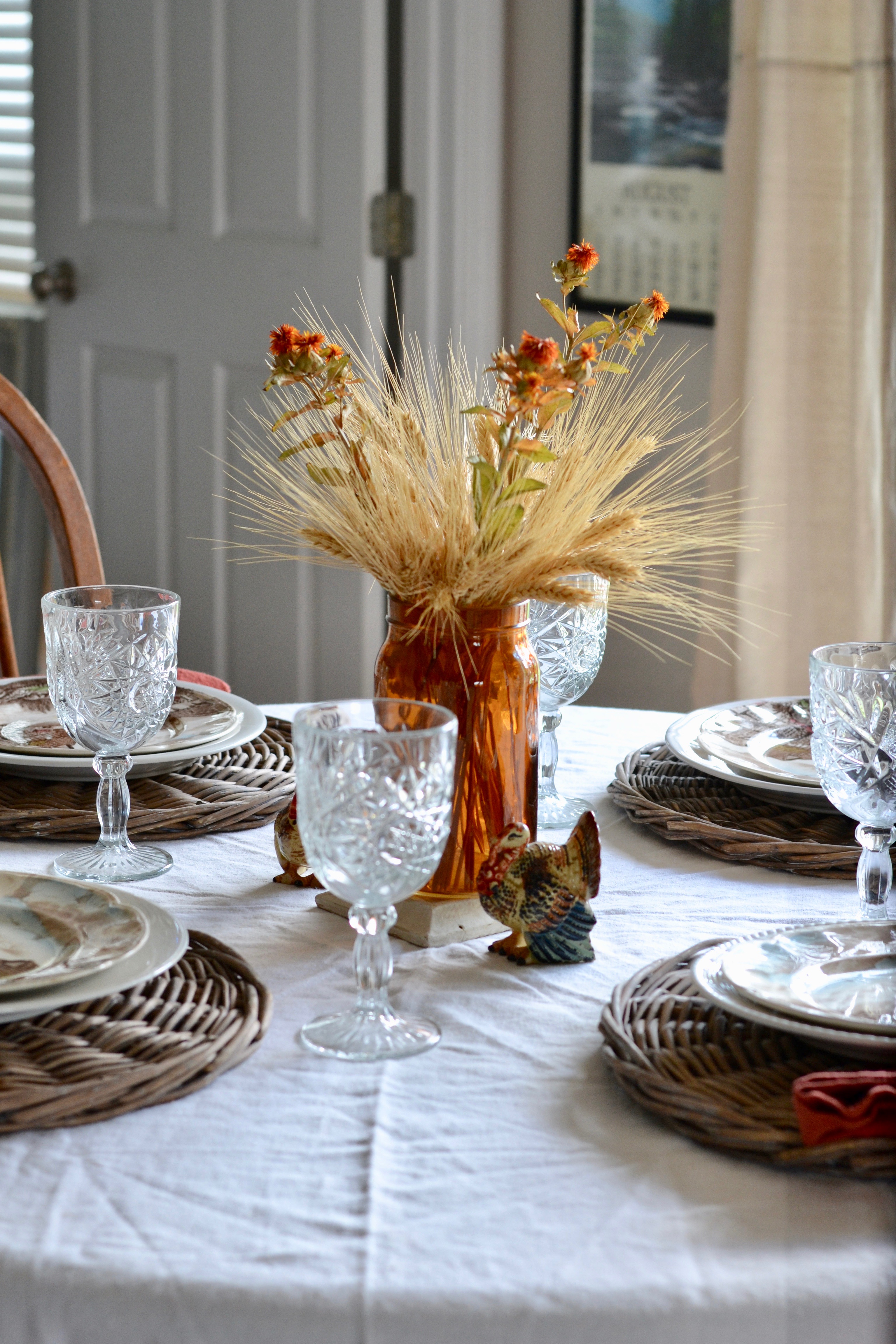 The ones here came from Amazon a few years ago and they work well for any season and simple tablescape ideas.
Recently I purchased the wood looking ones from Dollar Tree and they to can be used for any holiday or every day as well.
Having chargers like these that are versatile help build your supplies for creating simple tablescapes anytime.
Now layer your charger, your white plates and then any other smaller plates you may be using.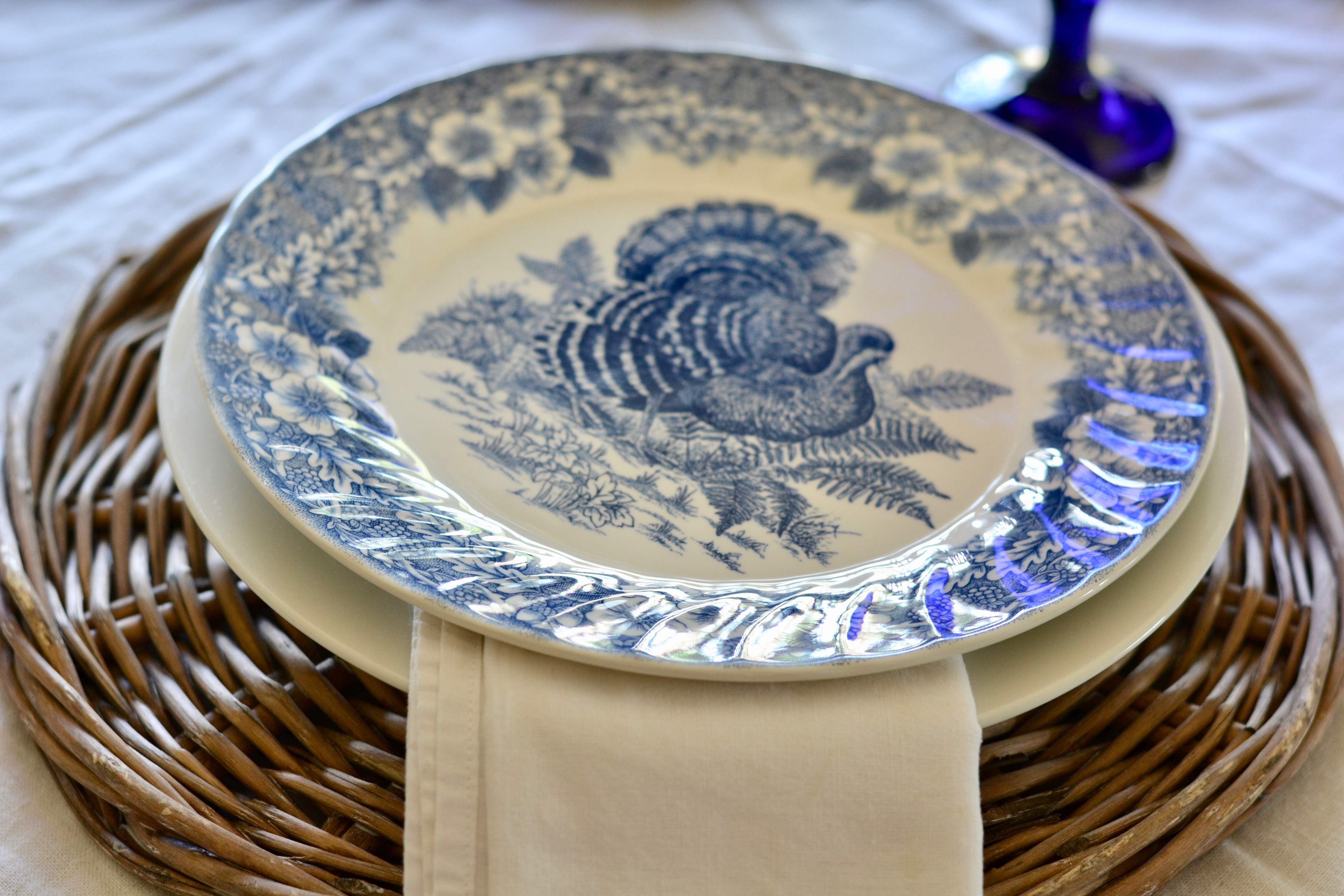 When layering your plates be sure to use different sizes, shapes and colors.
I love mixing patterns to help create another layer of interest for all your tablescapes.
The layering creates visual interest on an otherwise simple table.
Another great way to add another layer to your fall tablescape is by adding pops of color.
Adding a pop of fall color
Our first layers are the charger, plates and then linens.
Adding in a pop of color with cloth napkins, or decorative paper napkins which ever you prefer.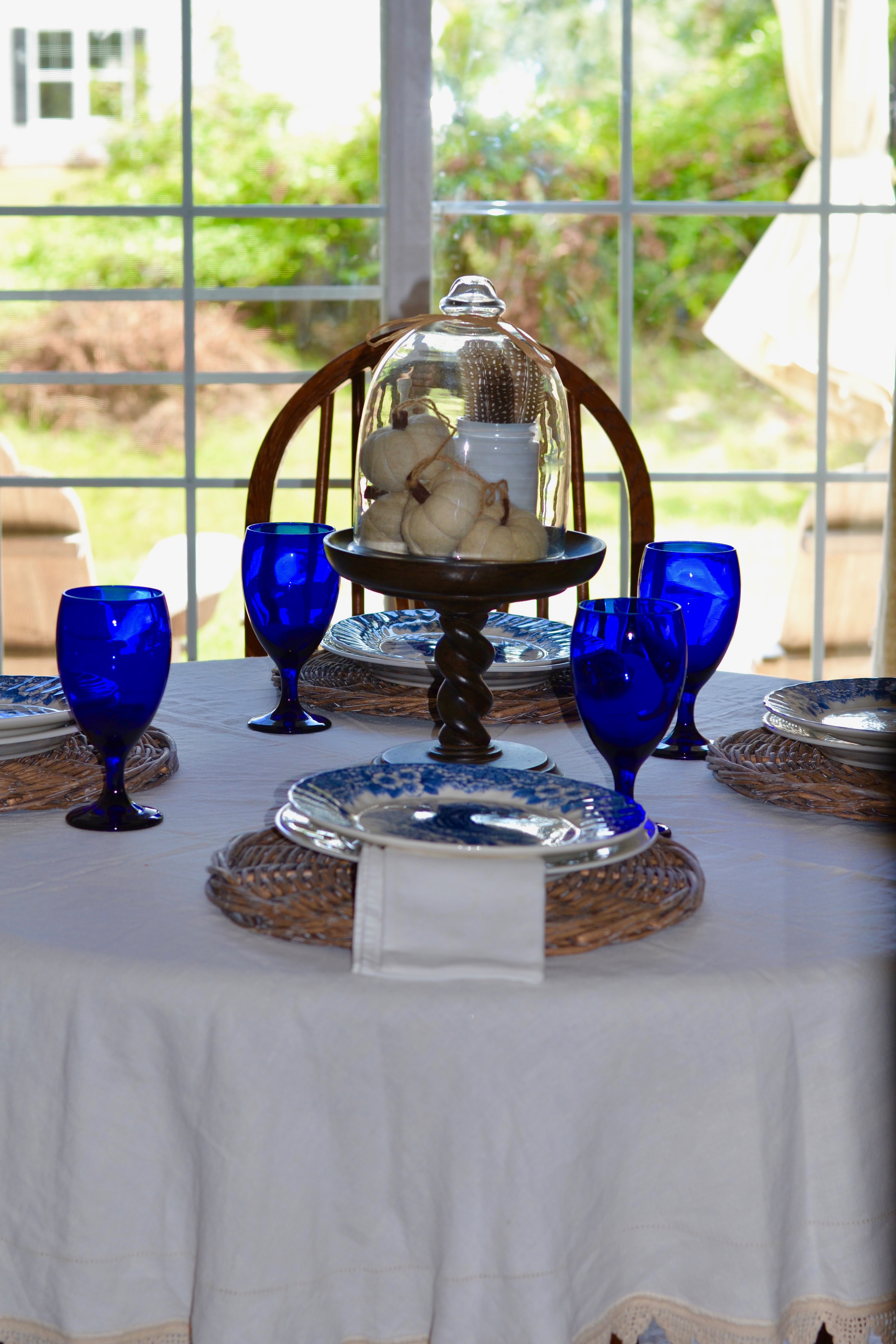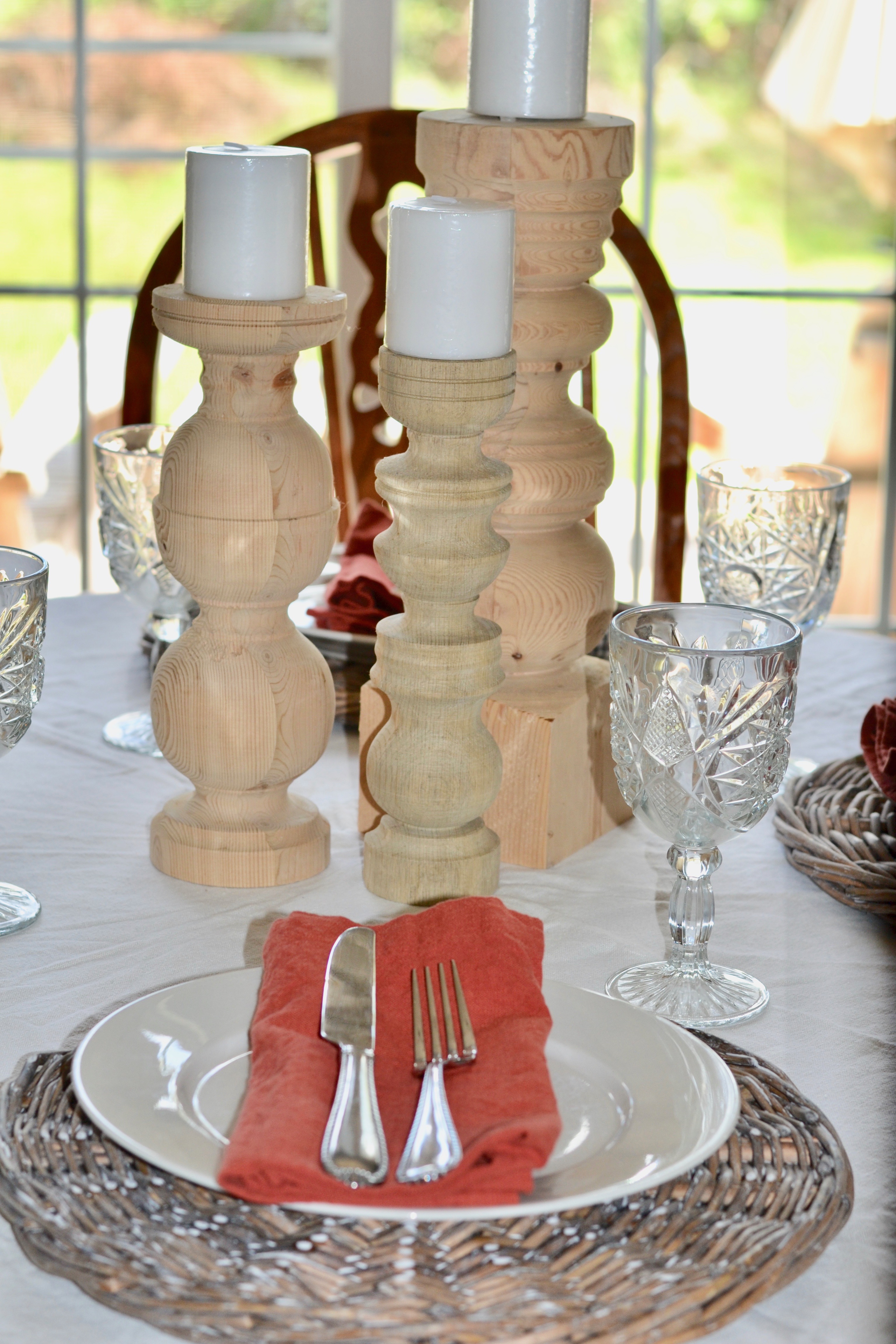 I like to look at thrift stores or Goodwill for vintage cloth napkins or inexpensive cloth napkins.
Having several colors in your collection will help you be able to create simple tablescapes.
Some of my favorites are:
white linen
rust colored
black and white gingham
Having these on hand will help you be prepared to design a tablescape at a minutes notice.
All of these colors can be used all year depending what you tie them with.
With just a few simple tweaks you can change the look of your cloth napkins.
You can also embellish your napkins with items for the season like pinecones, leaves or greenery.
It just depends on your design aesthetic and what is available in your area.
Using items from nature gives you the opportunity to create a beautiful simple tablescape with no need to store items.
Another great way to add a pop of color to your tablescape is by adding colored glasses or colored plates if you have some.
Think outside of the typical seasonal colors, like the blue glasses here.
Now time to add some height to your simple fall tablescape.
Tablescape with candles
Creating ambiance and adding some height to your tablescape is key for any season.
You can do that with these two things, candles and candle holders.
The warm glow of candles burning creates a warm and inviting feel to your table.
One thing to keep in mind is to use unscented candles on your table.
Using scented candles at the table can offend some people or conflict with the smell of what you are serving.
Adding in colored candles for the season or white for a clean, it is really up to you.
I have mostly neutral candles on hand and it is typically something that can found at the thrift stores.
Some great colors to keep on hand are white, black, gold and tan candles.
You can also add in some bright colored candles if that is your decor style.
No need to stick with traditional seasonal colors if that is not what you want.
You can get creative with your candle holders, using brass, silver, glass and wood.
Again, depending on what your seasonal theme or style is.
Adding seasonal items for interest
There are so many things that can be added to your table to create the feeling of fall.
Dark colored drinking glasses is a fun way to add a pop.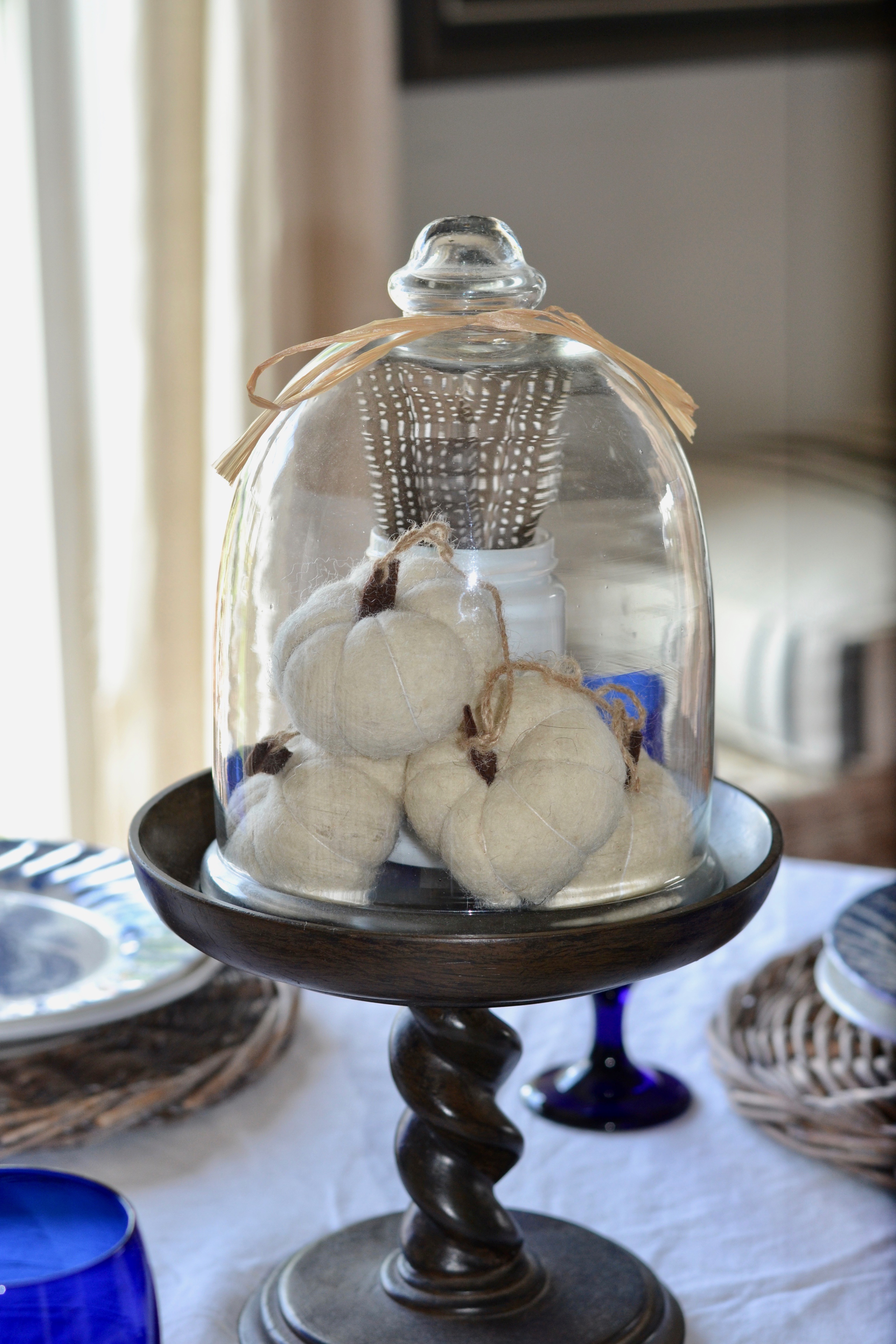 Dried flowers in a amber colored vase really adds in a sense of fall to the table.
Bringing in different textures for center pieces like wood and whicker.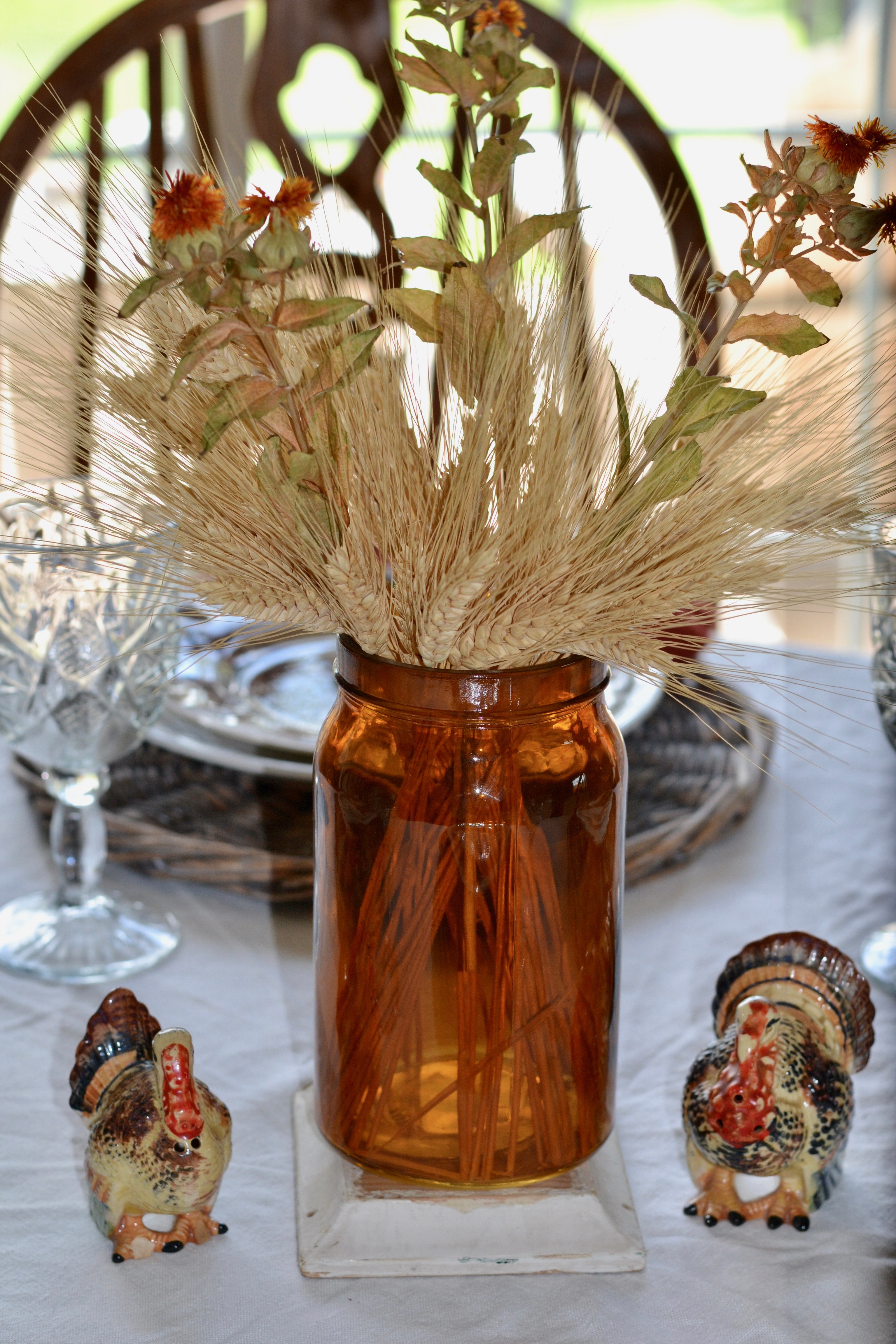 Another fun way to add interest is with collected items that fit the season.
For me that is vintage salt and pepper shakers that belonged to my grandmother.
If you are looking for more simple tablescape ideas read here.
Having these 7 things on hand gives you the flexibility to be able to create a fall tablescape in minutes.
Not only that but you will be prepared to create simple everyday tablescapes.
Here is another great idea for a tablescape.
If you are looking for more fall inspiration be sure to look here.
Happy fall and happy tablescaping friends.
Till next time
Xoxo
Sonya
Comments
comments