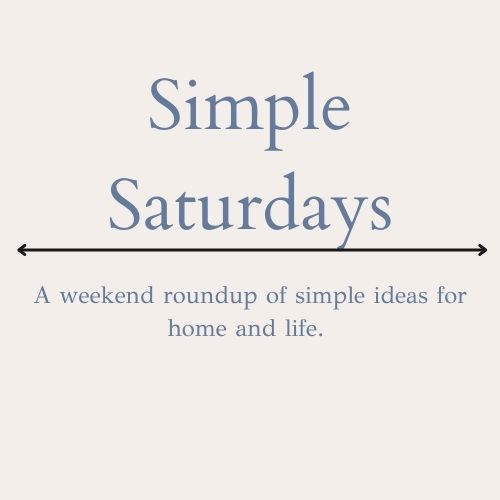 Welcome back to Simple Saturdays #10, the weekly post sharing easy ideas for home and life.
Easy ideas and tips for styling your home, crafts and easy recipes to serve your family and friends.
If you missed last weeks post you can read that here.
As you know each week I feature another blogger and one of their simple ideas for your home.
This week I am featuring Sarah from Sarah Vanessa Living.
She is such a sweet friend and shares her beautiful farmhouse style in her new, old farmhouse in Virginia.
You need to go over and give her a follow so you do not miss any of her easy and fun ideas for your home and kitchen.
From the blog
This week on the blog I am starting Sunday Showcase where I showcase some of my favorite ideas for your home.
The first one is going to be Thanksgiving style ideas for your holiday table, so be sure to check back tomorrow for that fun post.
Also on the blog is an idea for your Thanksgiving table that is easy and budget friendly.
I know we are only a week into the fall season but wanted to share some simple tips on getting your home ready for winter.
Simple home tips
The time to prep your home for winter is now, not when winter is here.
There are some things that every homeowner or renter needs to do in order to prepare for the cold months ahead.
check your heating and air conditioning system to be sure it is in proper working order and change filters
caulk and seal any exterior wood or older windows
clean gutters from debris
have chimney professionally cleaned
cut or order fire wood
test all smoke and carbon monoxide alarms and change batteries
disconnect all outdoor hoses before the first freeze
install your water heater blanket
bring any outdoor pots that could freeze and crack in the cold in for storage
Just a few ideas to be sure you have your home ready for the winter months.
Simple Saturdays weekly feature
Every week on Simple Saturdays I feature another blogger and their easy ideas for home and life.
This week I am sharing my friend Sarah and her amazing fall charcuterie board.
You are going to be so inspired by her home and her kitchen ideas and her charcuterie boards are a fan favorite.
Be sure to check back next week for more easy ideas for your home and life.
Thank you for stopping by for Simple Saturdays #10.
If you have any questions or ideas of what you would like to see, please email and let me know.
Till next time
Xoxo
Sonya
Comments
comments