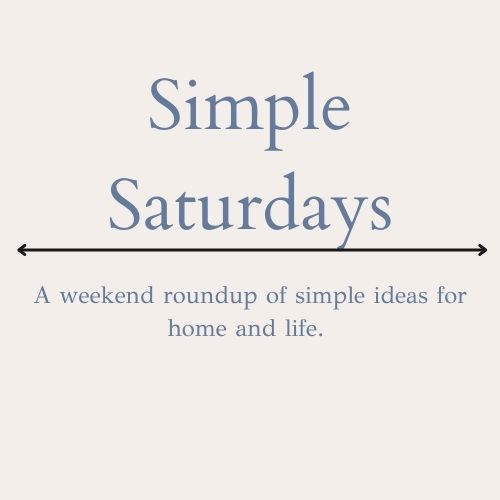 Welcome back to Simple Saturdays #9, the weekly post sharing easy ideas for home and life.
Easy ideas and tips for styling your home, crafts, and easy recipes to serve your family and friends.
If you missed last weeks post you can read that here.
As you know each week I feature another blogger and one of their simple ideas for your home.
This week I am featuring Leslie from Lemon Grove Lane.
She has an amazing eye for details and is an amazing cook who is in the middle of building their home.
You definitely need to go over and give her a follow to see all the amazing things she does.
From the blog
This has been a fun week on the blog sharing all the fall inspiration.
I joined 23 other bloggers in sharing our fall home tours that you don't want to miss.
You can begin here, for all things fall.
Since the weather is beginning to cool off we start thinking of soups to prepare.
With school being in and our schedules being busier I like easy weeknight meals that are simple and delicious.
This quick soup recipe is perfect for a warm weeknight family meal.
Simple Saturdays weekly feature
Every week on Simple Saturdays I feature another blogger and their easy ideas for home and life.
This week I am sharing my friend Leslie and this yummy drink recipe.
Leslie shares amazing recipes and has a keen eye for decor and details.
She is an aesthetician by trade and also shares tips for skin care.
Be sure to give her a follow when you go check out this amazing recipe.
These simple recipes are sure to please your quest and your family and be a favorite for a long time.
Be sure to check back next week for more easy ideas for your home and life.
Thank you for stopping by for Simple Saturdays #9.
If you have any questions or ideas of what you would like to see, please email and let me know.
Till next time
Xoxo
Sonya
Comments
comments