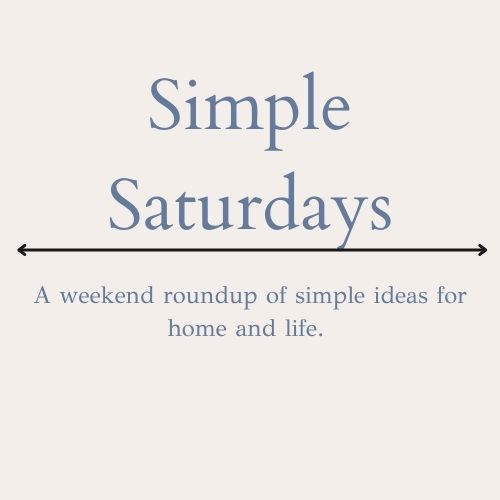 Welcome back to Simple Saturdays #8, the weekly post sharing easy ideas for home and life.
Easy ideas and tips for styling your home, crafts, and easy recipes to serve your family and friends.
If you missed last weeks post you can read that here.
As you know each week I feature another blogger and one of their simple ideas your home.
This week I am featuring my friend Shannon from My Little White Barn. She is one to follow for all things farmhouse.
She has the most beautiful flowers and will inspire you in your home and garden.
From the blog
I hope that you have been enjoying the fall inspired drink I shared last week, it is the perfect easy idea for your simple Saturday.
With the weather slowly changing I am enjoying adding some cozy touches to my spaces.
Adding the feel of the season to your spaces can be quick and easy with just a few simple elements.
Some things to add to your space to cozy it up are lots of texture, fall colors, traditional and non-traditional and scent.
Candles are great but if you want more control over what you use in your home and the ingredients then diffusing your favorite fall scents is a great way to bring the sense of fall into your home.
One of my favorite diffuser blends is 3 drops orange, 2 drops northern lights black spruce and 2 drops ylang ylang.
You can access these Young Living oils here.
There are so many simple ways to add fall into your home and this coming week I am participating in a fall blog hop that is sure to inspire you in your home.
The hop will have many easy ideas for home and life to inspire you to create the feel of fall in your spaces.
Simple Saturdays weekly feature
Every week on Simple Saturdays I feature another blogger and their easy ideas for home and life.
This week I am sharing my friend Shannon and her beautiful fall garden table ideas.
Shannon has the most beautiful ideas for your farmhouse garden and table styling.
Shannon has some great ideas for simple table styling that you are going to love, be sure to head over and give her a follow to stay inspired.
This garden table and the diffuser blend idea is perfect for your simple Saturday.
Be sure to check back next week for more easy ideas for your home and life.
Thank you for stopping by for Simple Saturdays #7.
If you have any questions or ideas of what you would like to see, please send me an email and let me know.
Till next time
Xoxo
Sonya
Comments
comments