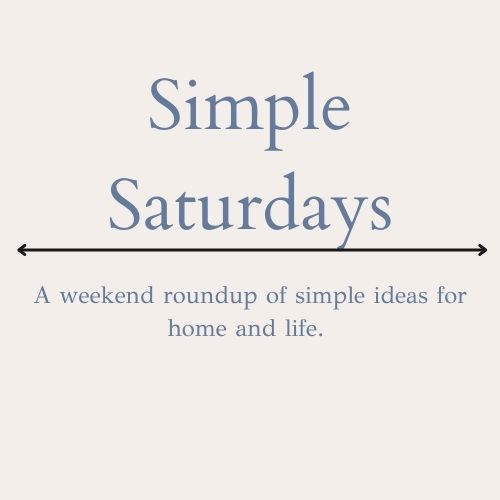 Welcome back to Simple Saturdays, the weekly post sharing easy ideas for home and life.
Easy ideas and tips for styling your home, crafts, and easy recipes to serve your family and friends.
As you know each week I am featuring another blogger and one of their simple ideas for your home.
This week I am featuring my fried Leen from Sand dollar Lane. If you are not already following her you need to be, she is so inspiring and fun.
I actually live in the same town as Leen and taught her youngest at preschool, so we have known each other for quite a while and I just know you will love her.
From the blog
Last week I was not able to do a Simple Saturdays post because I was sick with RSV, but have lots of fun things planned for the next several months.
This week I wanted to share a fun and simple drink that is perfect for autumn and fall.
Now that we are in the month of September I am all things fall around here and think you will love this simple drink.
This simple drink recipe is perfect for those cool evenings when you want something a little extra special that is quick and easy.
Simple Saturdays weekly feature
Every week on Simple Saturdays I feature another blogger and their easy ideas for home and life.
This week I am sharing my friend Leen and her sweet flower wall hanging project.
It always amazes me what you can create in such a short time, just check her craft out.
Leen did such a great job creating this beautiful wall hanging in just minutes. Be sure to click on the photo and head over to see just how she did it.
Simple projects and recipes are perfect for your Simple Saturdays, be sure to check back next week for more easy ideas for your home and life.
Thank you for stopping by for Simple Saturdays #7.
If you have any questions or ideas of what you would like to see , please send me an email and let me know.
Till next time
Xoxo
Sonya
Comments
comments