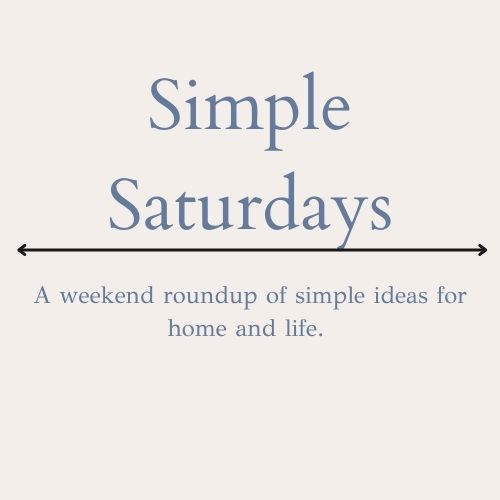 Welcome back to Simple Saturdays #11, the weekly post sharing easy ideas for home and life.
Easy ideas and tips for styling your home, crafts and easy recipes to serve your family and friends.
If you missed last weeks post you can read that here.
As you know each week I feature another blogger and one of their simple ideas for your home.
This week I am featuring Jenny from Fitzgerald Lane.
She is such a sweet friend with so many talents that are going to inspire you to enjoy the everyday moments.
You need to pop over and give her a follow to follow along on her amazing journey.
From the blog
I love sharing easy ideas to make little changes in your home that have a big impact.
It is not always about spending a lot of money but making simple changes to update things.
I think sometimes with social media and all the projects we see we feel that only big budget makeovers is the only way to make changes in your home.
Often times it is the small changes that one makes in their home that bring about the feel of change.
This post here is the perfect idea for making a simple change in your home.
The changing of the seasons gives us the urge to make changes in our homes and I feel that switching things around and making small changes is the way to go in order to keep ourselves within a budget.
There is a time and place for big projects in our home, but that is not feasible for most of us just for changing out our seasonal decor.
Now that it is fall we often change what we are cooking for our family and friends and there are some things we need to do in order to maintain and clean certain pots and pans.
My friend Jenny is sharing a great post on just that.
Simple Saturdays weekly feature
Every week on Simple Saturdays I feature another blogger and their easy ideas for home and life.
This week I am sharing my friend Jenny and her simple way to clean your cast iron pots.
Jenny is a sweet momma, talented artist and cultivator of simple everyday moments in her home.
You are simply going to love her.
I love her tips in this post and have already tried it on my cast iron pots, works like a dream.
Give it a try, I think you will be happy with the results.
Be sure to check back next week for more easy ideas for your home and life.
Thank you for stopping by for Simple Saturdays #11.
If you have any questions or ideas of what you would like to see, please email and let me know.
Till next time
Xoxo
Sonya
Comments
comments