The quickest and easiest way to update a chandelier
If you are in the market for a new chandelier but are finding it difficult to decide or pull the trigger on spending so much for a light. This is one of the quickest and easiest ways to update a chandelier that I have found yet.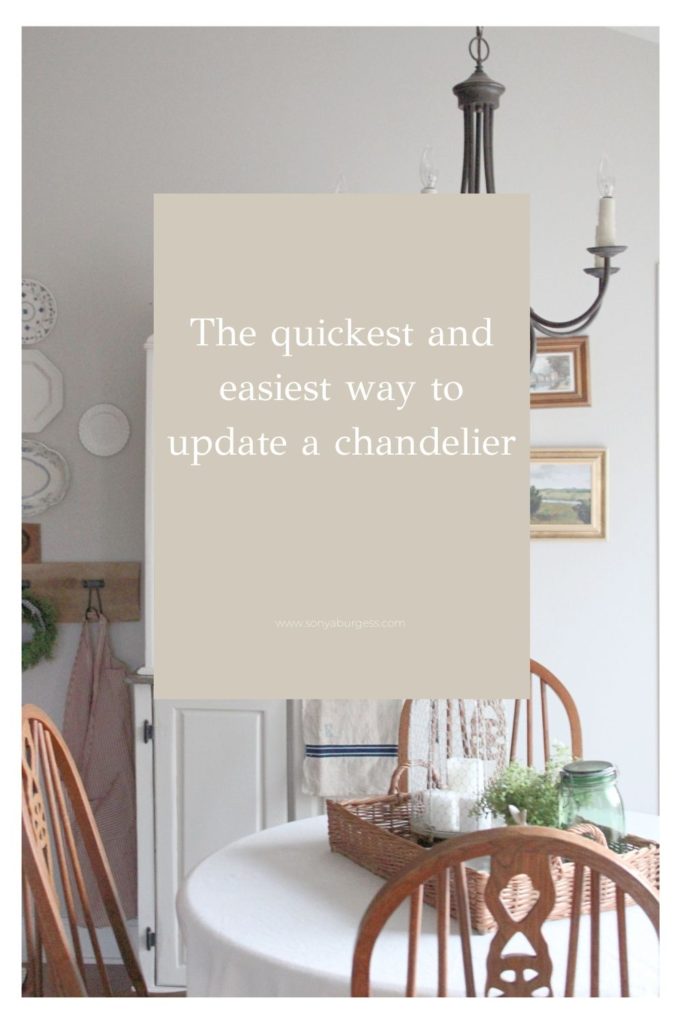 Who would have ever thought that there would be so many choices in lighting as there is these days.
If you have spent any time on facebook or instagram then you have seen all the advertising that comes by on lighting companies and their options.
Lately i have been searching for a new chandelier for over our kitchen table.
I previously had purchased a vintage one on facebook marketplace but it sat for two years, which told me it was not really what I wanted.
Most of the ones I like are just to expensive for my taste so I searched for an alternate option.
Options for updating a chandelier
When searching for alternate options I was thinking of what I could do to update my chandelier.
There have been a few things I have done over the years to make my chandelier seem more up to date.
removed the brown leather shades
put lighter linen shades on
painted the chandelier
used decorative bulbs
Even though I had tried several things, it just was not quite what I was looking for.
That is until I was scrolling Etsy one night and stumbled across something I thought would do the trick.
The quick change
Aside from the other updates, this is the quickest and easiest ways I have found to update a light.
Looking through Etsy I stumbled upon candelabra candle covers from this company.
This was a new concept to me.
Ya'll I never even knew that the piece that covers the wiring on each arm was removeable.
That was life changing for me and my chandelier.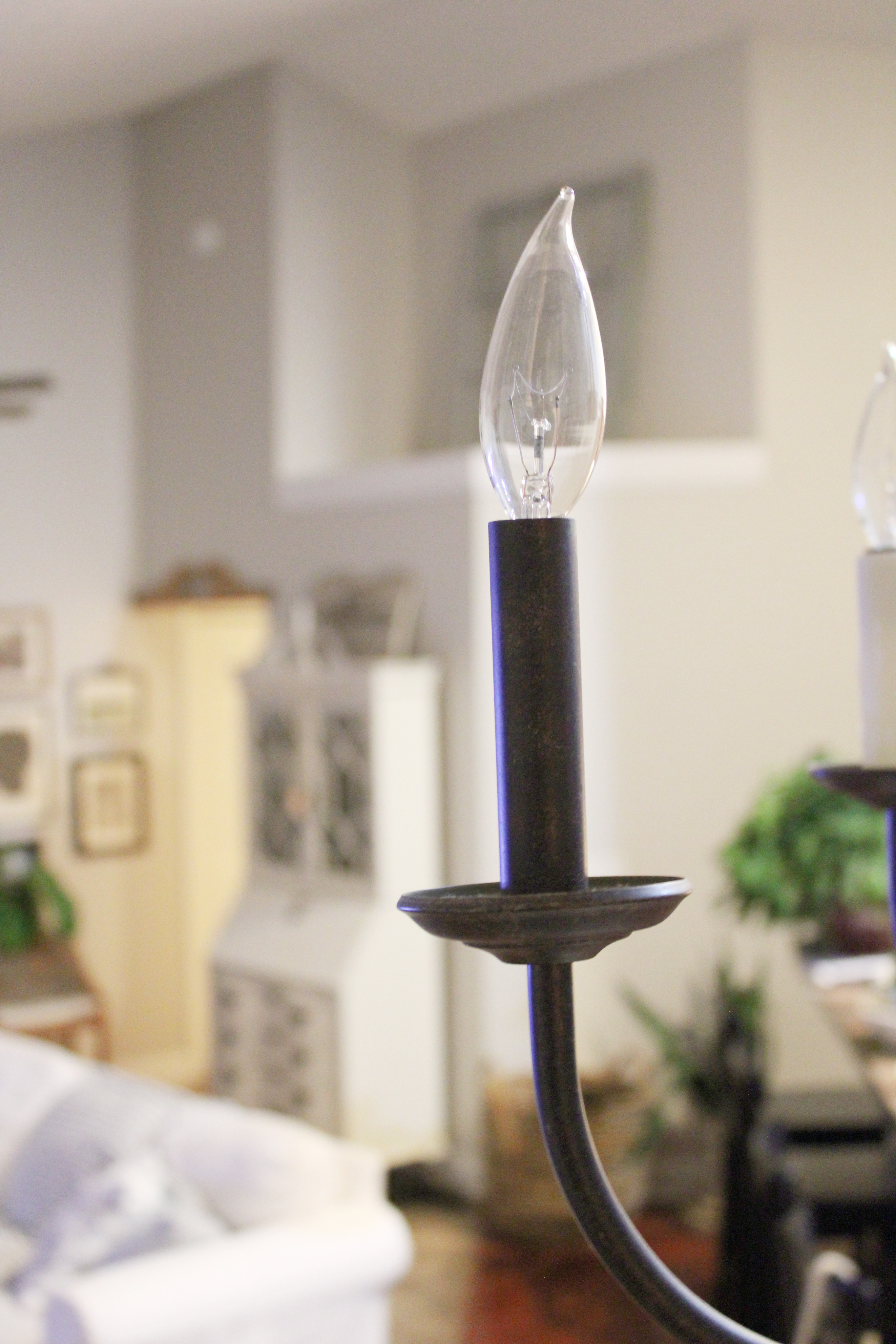 You see in the above picture that the chandelier was monochromatic without the shades.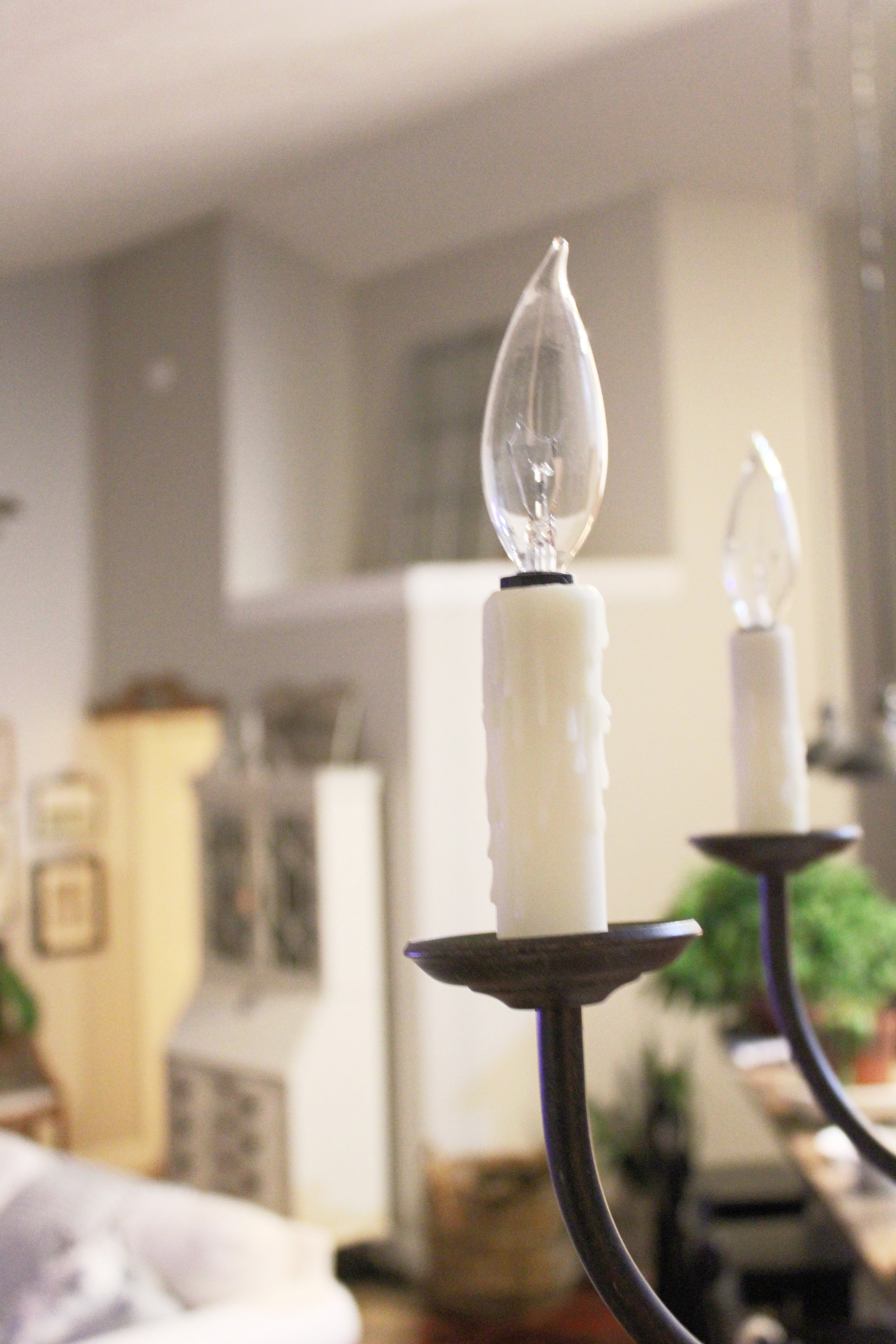 After adding the candle covers, it now has that vintage look to it.
There are several shops on Etsy that have chandelier candle covers and there is even a few antique candle covers to choose from.
Just search chandelier candle covers and you will see something that fits your taste and budget.
Effortless change to your chandelier
Not only was this the easiest and quickest way but the most cost effective way to make a change.
It cost less than $40.00 to update my chandelier.
Inexpensive and it only took a few minutes to take the old sleeves off and put the new ones on.
I wish my hall light was a chandelier that I could update this way.
Unfortunately it is not, but I was able to purchase another vintage chandelier for the entryway and you can see that chandelier here.
Another great thing about this quick and easy chandelier update is when I am craving a change I can easily change out these candle covers and create a new look.
Just goes to show that you can quickly and easily change a space without a complete overhaul or tons of money.
Till next time
Xoxo
Sonya
Comments
comments