Three tips for buying antique or vintage lighting
Antique and vintage chandeliers are all the rage these days but there are many reproductions out there that make it difficult to be sure you are getting the real deal.I wanted to share with you three tips for buying antique or vintage lighting.
If you are a facebook marketplace buyer like myself then you have seen many antique chandeliers listed.
Antique and vintage chandeliers and other lighting have become the coveted decor item in recent years.
The problem is there are many more modern reproductions that make it difficult to tell the difference unless you know these three tips.
Recently I purchased a beautiful chandelier from marketplace.
This particular chandelier was listed as an antique.
The price was right and exactly what I had been searching for.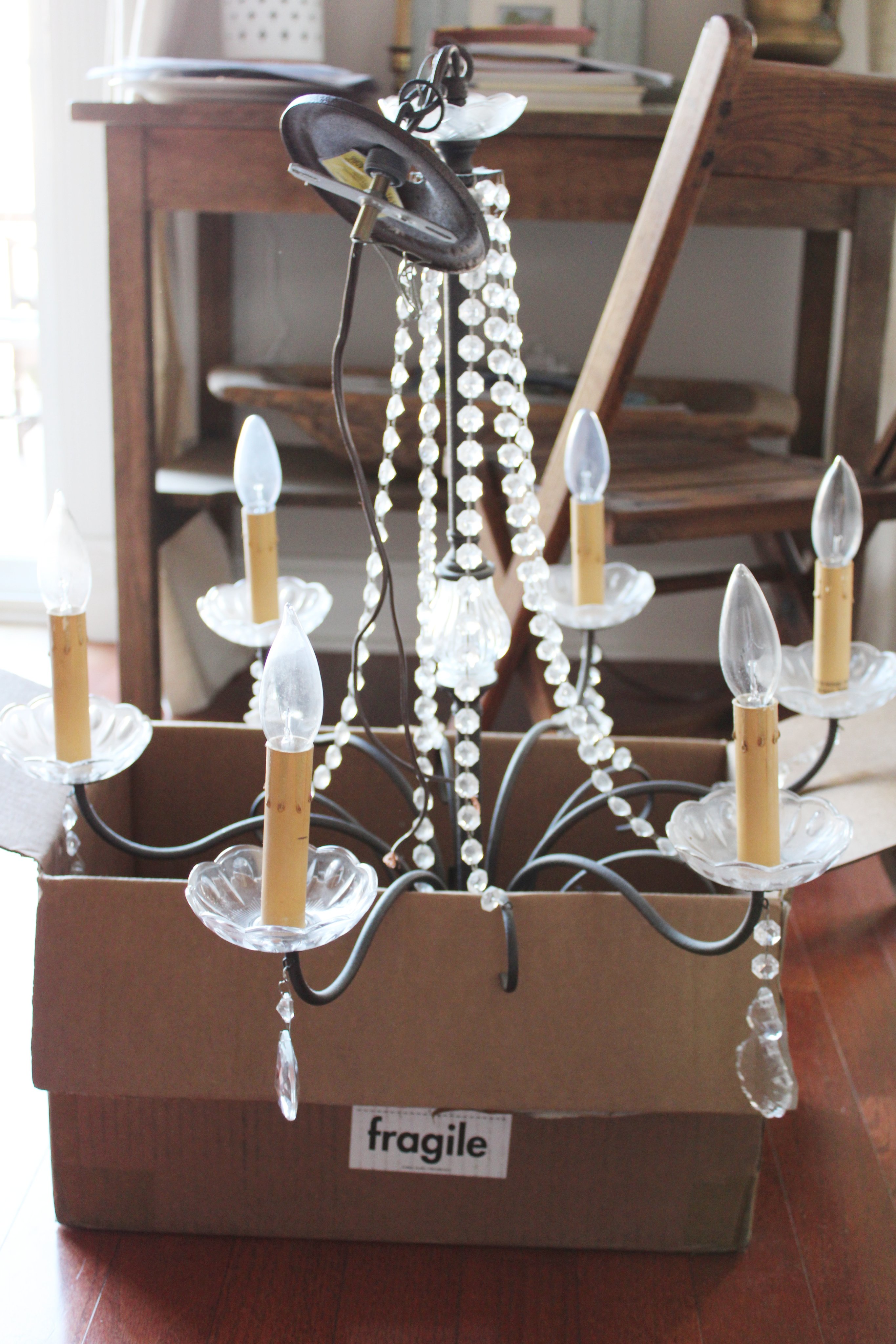 Once I went to pick up the light I knew almost immediately that it was not actually antique, but a vintage chandelier.
I personally did not care that the light was not an antique because the style was something i had been searching for a while.
Another thing I did was research the home the light came out of.
Looking through real estate listings for information on the house.
Through the research I was able to find out the chandelier in 1961.
I able to find pictures of the light in the home and felt comfortable in knowing what I was getting.
Here are some tips if you are in the market for antique or vintage lighting.
First tip in buying antique or vintage lighting
The very first thing you should look for when purchasing antique or vintage lighting is the actual wiring.
Originally when antique chandeliers were made the wiring would have been covered with a cloth like material.
Not the plastic covering of the modern lighting in more recent years.
Of course, if a chandelier has been rewired it would have the modern plastic covering, making it a little more difficult to know if it is a true antique.
There are a few other tips of what to look for when purchasing antique or vintage lighting.
Second tip for purchasing antique lighting
Another great tip is to look for the substance the antique or vintage light is made of.
Antique chandeliers were often made of brass, copper or bronze and were very heavy.
Reproduction chandeliers after the 1950's were not as heavy as their antique counterparts.
Pick up the light if at all possible to see how it feels.
If you are able to figure out the date a chandelier of course you would know if it is truly an antique.
Third tip in purchasing antique or vintage lighting
Another thing to look for when looking to purchase antique or vintage lighting is to look carefully at the light socket.
Laws that required electrical codes did not come into existence until 1899.
If no codes are seen, It is possible that a light may be dated prior to the 1900's if no codes are seen.
Sockets from 1899-1910 were rated for candle power.
These would possibly have a code of 50 c.p. stamped on it.
This was a code for candlepower.
After 1910 all sockets have a wattage rating on them and should be easy to see.
What to do before using your antique lighting
If you purchased and plan on using vintage lighting in your home there are some things to note.
One thing to note is that if you have a vintage chandelier or other light, you plan on putting in a new build it will not pass inspection as is.
If the light has original wiring it should be rewired prior to installation.
This will get the light to code as well as making it safe for modern use.
You want to be able to enjoy your new antique or vintage lighting safely.
Here are more ideas on using vintage decor safely.
Looking for more tips on shopping vintage for your home, read here.
These three tips for purchasing antique or vintage lighting will be helpful on your search for the perfect lighting for your home.
One last thought to leave you with.
If you are looking at an antique chandelier and it looks new, it most likely is new.
I can't wait to see what you get.
Till next time
Xoxo
Sonya
Comments
comments