Come on in and get to know a little about me
Hey guys, it has been a while since we have chatted. Since I was recently nominated in the blogging challenge, called Blue Sky Tag by another writer/blogger and friend, Dedra of DedraDaviswrites.com, I thought this was the perfect way to break the ice. This is a challenge where I was asked specific questions by Dedra that will help you guys get to know me better as well as other writers/bloggers that have been tagged and or nominated. Sit back and enjoy.
How long have I been blogging: Well, I created this blog a year ago but have actually only blogged a few times (I can count on one hand), so I am by all accounts a new blogger.
What have I learned about myself through blogging: That I am great at putting things off because of fear. That is what has help me back the most from really being active in the blogging world.
Where would I live if I had nothing stopping me: I really had to think about this because there are several places that I would love to live around the world, Paris, Italy or Vermont just to name a few. But when I really sat down and thought about what was really in my heart and not just some romantic vision of where I would live, I would have to say living on a farm is my dream home place.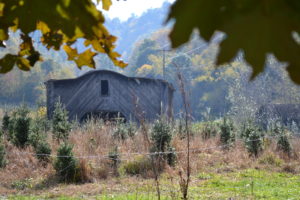 Where is my dream spot to write: Great question, but another one where I have a ton of visions in my head about where the perfect place to write would be, but I would have to say right here in the town where I live because I live near the beach and to me that is the dream spot for writing. Sitting with my toes in the sand, listening to the muffled roar of the waves rolling to the shore, while looking out over the water, is a mystical place to write.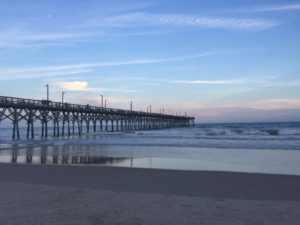 </emWhat do I hope my readers gain from reading my blog: My hope is that my readers find everyday encouragement as well as a meaningful break from the trials of life. That they can take something from my blog and make it into something of their own with their spin on it, be it home decor ideas, raising kids, diy projects, marriage or faith.
What is my favorite city in my home state of North Carolina: Hands down my favorite city in North Carolina is West Jefferson, NC. It is nestled in the mountains and is the most quaint little town with neat restaurants and shopping.
What is my favorite quote: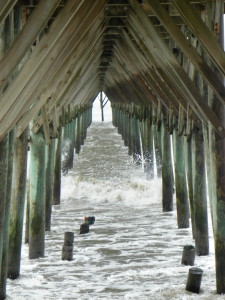 My favorite quote is from the introduction of Edie Wadsworth's Memoire, All the Pretty Things
"Come on, my sister. Don't wait umtil your not afraid-jump scared."
This has been my mantra for 2017 because I have let fear hold me back from doing many things through the years and I figured it was time to just jump in. Jumping right in to the next question Dedra asked.
<em>What goals have I met in 2017: My main goal for the year was to work through some fears and do some things that I had been afraid to do. Recently I went on a mission trip which was one of my goals, and even though I did not leave the country , it was an amazing experience and I hope and pray that I have the opportunity to serve again. While on that trip I went white water rafting. That was very difficult for me at first because I did not think I was adventurous at all, but after getting started on the river and hitting that first class 4 rapid, wow, I was hooked. I loved every minute of it. So excited to do that again with my family.
</em>What is my favorite blog to read: There are several blogs that I read daily or at least check for updates daily. I love Erin of Cottonstem.com and Edie from Lifeingraceblog.com, these two are hands down my favorite and most encouraging blogs. They blog about many different subjects and offer life encouragement, you ought to look them up and get to know them.
What is my favorite social media:/strong>: Has to be Instragram, I absolutely love it as well as the insta stories. There are several people that I love to follow on there and some are repeats of my favorite blogs, Cottonstem, kellyejensen, gracelaced and thedowntownaly just to name a few.
I hope that you guys have enjoyed reading a little about me and thank you Dedra of Dedradaviswrites.com for nominating me, You guys should go check out her blog and get to know her as well.
Till next time
xoxo
Comments
comments