5 ways to shop for vintage items for your home
Shopping for vintage items can be overwhelming so I wanted to share my top 5 ways to shop for vintage items for your home.
If you love to use vintage items in your home like I do, my top 5 ways to shop for vintage items for your home will help you in your search.
Vintage items are all the rage these days.
I have always had a love for using vintage items in my home, even before it was the popular thing to to.
Recently the most common question I am on asked on instagram is where and how do i find the vintage pieces I have in my home.
There are 5 different places I frequently look at depending on what type of pieces I am searching for.
I have found some amazing pieces online and wanted to share where I search for items.
Search facebook for vintage pieces
I have to admit that I used to be intimidated by shopping facebook until I got the hang of it.
The marketplace has turned out to be one of my favorite ways to shop for vintage pieces.
I have found the best prices and pieces through facebook.
It has become one of the most popular ways to shop with over 800 million others shopping it monthly.
When shopping facebook marketplace you can enter the specific items your are searching for.
Often times the person listing the item may not know the specific name so vary your search terms, ex:vintage cabinet, vintage furniture, antique .
Be sure to expand your search area, you do that by changing the mileage you are willing to travel for a piece.
I have found the best deals by doing this and being willing to drive at least an hour to get something .
Over the summer I drove an hour to pick up this piece that I had been looking for.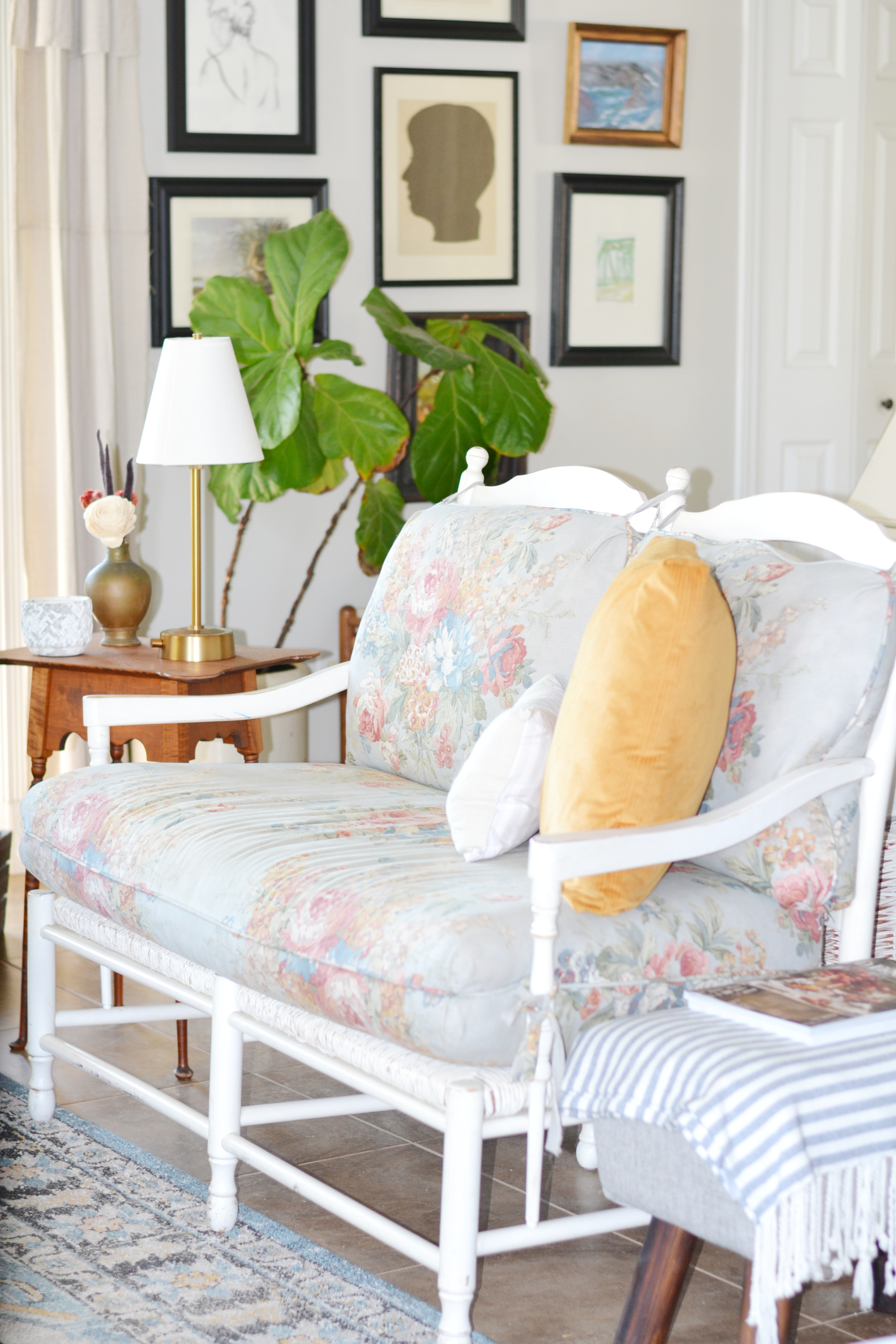 This is just one of the pieces I have found on marketplace.
Martketplace is just one of my favorite places to search for vintage pieces.
Shopping vintage at yard sales
Good old fashioned yard sales is a great place to find vintage items at reasonable prices.
Often times people are purging or updating and price their pieces to sell.
Due to the pandemic there have not been a lot of yard sales over the last few months.
In my area there is a really neat store called "Our Yard Your Sale" and it is like an indoor yard sale.
They have a ton of vintage items in individual booths.
You can search and see if your area has something like it.
Yard sales are great for finding vintage pieces like french canning jars and dishes.
Dishes and jars are also often available at thrift stores.
Shopping local thrift stores
I happen to love our local thrift stores and have found some wonderful pieces.
They often have pieces to my Churchill vintage dishes.
Thrift stores are a great place to find vintage solid brass candles and copper pieces.
One time I went to my local thrift store and they had a ton of copper, I wanted it all but left some for others.
Here are a few pieces of french copper I have purchased at the local thrift store.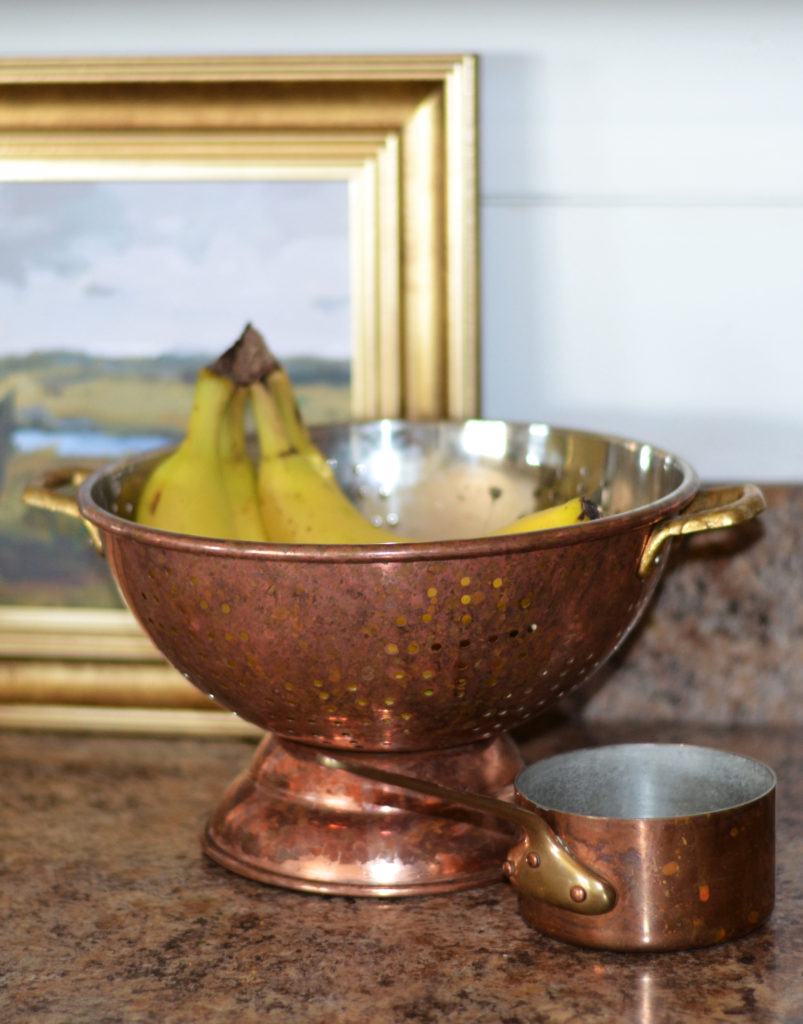 As you see it is possible to find some amazing things at thrift stores, but there are a few other favorites ways I have to shop vintage.
Shopping Habitat for Humanity
Much like a thrift store but with a larger variety of products.
I have purchased vintage lamps, furniture, ironstone and stoneware.
The possibilities are really endless with the Habitat store.
You can also feel good knowing that part of your proceeds are helping others in your local community when you make a purchase.
Try to visit the Habitat store weekly if you have time because items go fast.
The last place I love searching for vintage is Etsy.
Searching for vintage on Etsy
Shopping on Etsy can be very fruitful if you narrow down your searches to specifics.
It is a great resource for smaller scale vintage items such as rugs, art, dishes and demijohns.
Be sure to always check the shipping cost.
European vintage items can sometimes come with high shipping fees.
Sometimes the shipping can cost more than the item you may want to purchase.
Often you can find free shipping on Etsy so just be sure you pay attention.
I have found many wonderful vintage items on Etsy and continue to look at it frequently.
Tips for shopping vintage online
Just a few things to remember when shopping vintage online.
narrow your search terms
be specific
expand your search radius
pack your patience if looking for specific pieces
double check shipping cost
check for items frequently
There are some key things to know when redoing vintage furniture, read here.
Shopping frequently regardless if your shopping online or in person as items tend to rotate often and sell quickly.
If you are looking for reasons to use vintage in your home, read this post.
Till next time
Xoxo
Sonya
Comments
comments