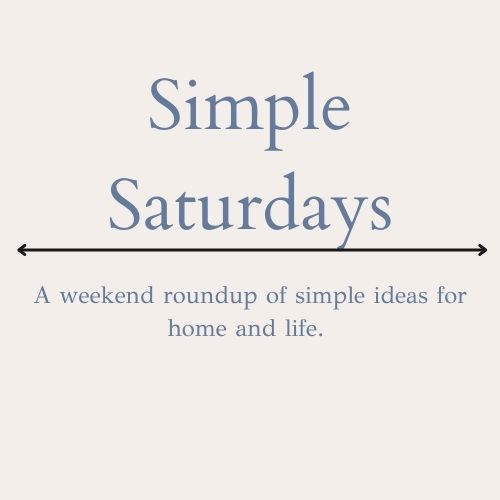 Welcome back to Simple SAturdays #4, the weekly post sharing easy ideas for all things home.
Easy ideas and tips for styling your home, crafts, and easy recipes to serve your family and friends.
As you know each week I am featuring another blogger and one of their simple ideas for your home.
This week I am featuring a sweet friend I made on instagram, Cynthia at Vintage And Grace Living who is a budget decorator and DIY'er like me.
She has a great sense of humor and a beautiful home filled with sweet littles, so if your not already following her journey go check her out.
From the blog
Last week I shared a few simple patriotic DIY's that you can read here
This week I have fall on the brain, even though it is still in the 90's here at the coast.
When school starts it makes my mind switch from summer to fall regardless of the temperature.
I return to the classroom on Monday so fall it is.
I love bringing the feel of autumn into my home in simple ways and this year will be no different.
If you are looking for a simple tablescape tips https://www.sonyaburgess.com/7-things-you-need-to-be-to-create-a-simple-fall-tablescape/, this one is perfect.
Simple Saturdays weekly feature
This week Cynthia is sharing an easy and budget friendly DIY if you have a bathroom that needs updating you have to read her post.
The project is perfect for those that don't have large budgets for home projects and is beautiful as well.
Seriously such a simple thing can make the biggest difference in any space.
If you are a budget decorator like Cynthia and myself then sign up for our weekly newsletters so you will always be up to date on what is happening on the budget decorating front.
Remember it does not take a lot of time or money to make your home beautiful in a simple way.
Thank you for stopping by today for Simple Saturdays #4.
If you have any questions or ideas of what you would like to see, please send me an email to let me know.
Till next time
Xoxo
Sonya
Comments
comments