Welcome back to Simple Saturdays #22, the weekly post sharing easy ideas for home and life.
Easy ideas and tips for styling your home, crafts and easy recipe to serve your family and friends.
If you missed last weeks post you can read that here or if you missed any of the weekly post you can start here.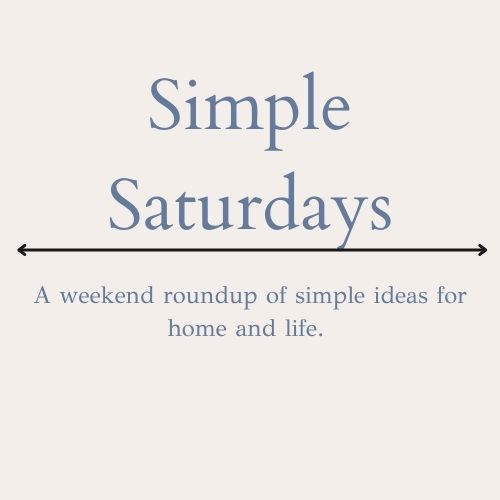 As you know each week I feature another blogger and one of their simple ideas for your home.
This week I am featuring another blogging friend Cindy at Diy Beautify.
From the blog
You know I love simple things for the home and that is why I started Simple Saturday to share easy ideas for home and life.
Keeping things simple help to keep my life uncluttered physically and mentally.
Hopefully you are all settled into the groove of the new year and working on any goals you may have set for your home and life.
I wanted to speak a bit about decor and design trends for 2023 and simple ways to incorporate those into your home if you are one to follow trends or just sprinkle them throughout your home.
You have probably already noticed that moody is in and all white interiors are a thing of the past.
What I have to say about that is regardless of what the design rules are you should design and style your home according to what speaks to you and your family.
If you want to add in moody colors but maintain an all white base, that can be done simply with moody color throws and pillows.
Upcycling is continuing to be big in style and design and I am all for purchasing vintage and antique and making it work for you spaces.
When purchasing those types of pieces you are not only helping the environment but more than likely purchasing solid wood, well made pieces.
Another trend that I am here for is individual creativity in homes.
Gone are the days of everyone having the same style, accessories and pieces in their home.
Our homes should be a reflection of us and our families instead of what is popular in social media and big box stores.
I believe that we don't have to follow design trends and there are only a few rules in designing a space that we should truly follow.
Creating a well lived in and loved home where we can welcome friends and family is what is truly important.
Simple Saturday is about keeping our homes and lives simple and not complicate things.
Keeping up with trends often times creates a feeling of stress that is not necessary.
Simple Saturday #21 weekly feature.
Every week on Simple Saturdays I feature another blogger and one of their easy ideas for home and life.
This weeks feature, Cindy has a beautiful home and shares some of the cutest diy's.
If you are not quite ready to take down that tree, this sweet diy is perfect for Valentine's day.
Be sure to click on the photo above to see how Cindy created this beautiful Valentine's Day tree.
Be sure to check back next week for more easy ideas for home and life.
Thank you for stopping by for Simple Saturday #21.
If you have any questions or ideas of what you would like to see, please email and let me know.
Till next time
Xoxo
Sonya
Comments
comments