Budget friendly minimalist Fall decor
Welcome to our fall blog hop! if you're coming over from Shea at www.thefogueabode.com, welcome!
So glad you are here friends,can you believe that the fall season is upon us?  Even if it is still hot where you are, it is time to start thinking about and planning your fall decor.  This year I decided that it was time to take a more budget friendly minimalist approach to fall decor and I hope this inspires your fall decor.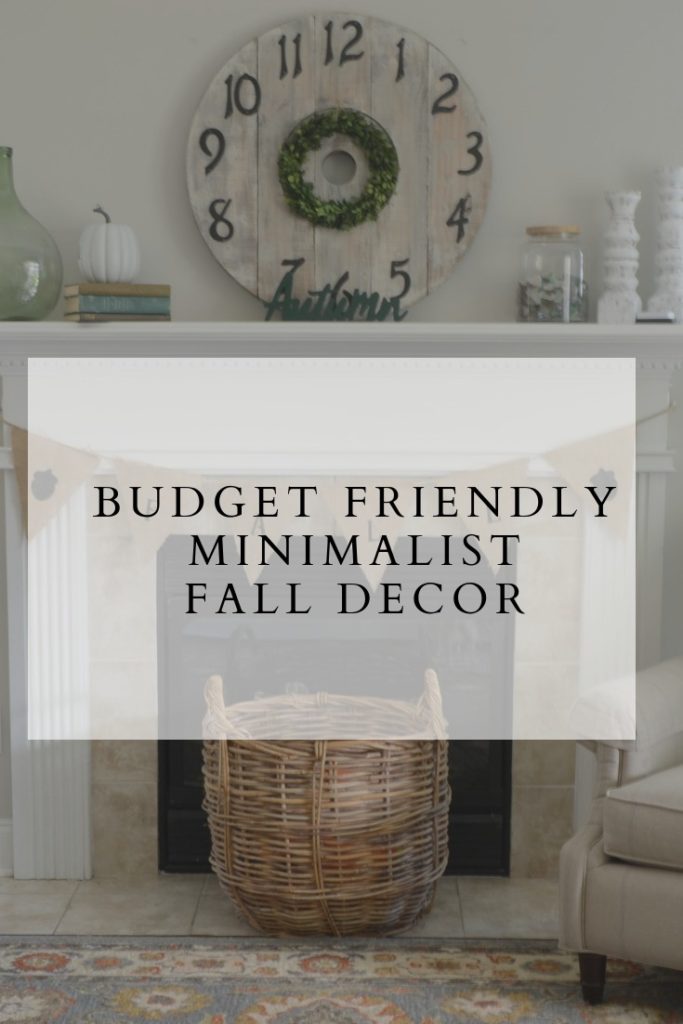 When you think of minimalist decor, do you think sparse, cold, lack of detail and uninviting? Well I certainly hope not, I want you to think about this in terms of paying attention to shapes, colors and textures in your design elements. Adding seasonal items, while using these elements in small quantities can make a home inviting, welcoming and cozy.
A few years ago I starting purging most of my seasonal decor, and ya'll I had a ton. My entire attic space was filled to the brim with decor items for every single holiday, big and small. I would be embarrassed to show you the excess decor I was hoarding in there.
Every time I had to get into the attic to get something there were a ton of bins that needed to be moved or taken out for me to find what I thought I needed. This only caused me stress and frustration instead of excitement for the next season. The time had come for me to change the way I approached seasonal decor while still being a good steward of our money.
After all the purging my approach to seasonal decor  changed to more of a budget friendly minimalist approach. Fall has always been my favorite season and I enjoy scrolling through Pinterest and Instagram for inspiration with the few things that I do put out for the season. Most of what I used this year are items that I have had for a while,  with a few exceptions.
The little green sign on the mantel above was purchased from the dollar store last year. Originally it was blue and really did not stand out, so I spray painted it with a can of "Kale" Colorshot paint I received in the mail from the Haven Conference. Now I love my little dollar store autumn sign and it fits right in with the rest of the home.
In order to stay within a budget and because I enjoy being creative, I often make things for my seasonal decor like I did the fall banner on the mantel. This is a simple, quick little textural  project that is minimalist in style, and makes a statement without over powering the decor. ( DIY banner tutorial to follow in another post.) Scrapbook paper banners are another budget friendly way to add minimalist style to your fall decor, like this one I added to a sign that always hangs in our family room.  The colors,patterns and textures are endless when it come to scrapbook paper and fabric.
Pumpkins are a staple for fall decor and can be quite expensive. As for adding pumpkins for fall, I love adding them, but living in a coastal area that is very humid, they rot quickly, so I typically bring out my favorite faux pumpkins.
This year I added the one little pumpkin on the mantel that I found at Target for 1.00, definitely budget friendly. There are a total of four pumpkins through out our home in varying shapes, but mostly white or green.  When it gets closer to Halloween I typically purchase a real , orange pumpkin to carve for the porch, but that is it.
If you have pumpkins from previous years and feel they don't meet your current style or desire, paint them. Paint is the most budget friendly way to switch up your decor for any season.
My daughter who loves to decorate as well, wanted to add a little style to the table on the landing of her stairway.  She added a little white velvet pumpkin that she has had for a while, adding the perfect touch of texture while the white vase adds great shape and no money was spent to add this.
I love adding a few fall like touches throughout areas of our home, like the front hall, where I added a cozy large scarf blanket, dark floral bag and some flowers in a basket. All of these items were things I already had on hand and they fulfill the shape, color and texture of minimalist style.
Ways to add minimal budget friendly decor:
grocery store flowers
dollar store tapered candles
spray paint to change the color of old seasonal items
textured throw blankets
seasonal pillow covers from Amazon (www.amazon.com)
rearrange your furniture
print out some free seasonal art and frame
essential oils
seasonal scented soaps (I usually make my own)
make changes to an old wreath to refresh it
go on a nature walk and pick up pine cones, branches or magnolia leaves
There are so many creative ways to make changes to your home decor in a budget friendly minimalist style for fall. Often the smallest changes can have the biggest affect on your homes aesthetic.  The nature of minimalist style is to decorate your home in a manner that does not clutter your mind or your space, while adding color, shape and texture.
Being creative in how I minimally add decor or change an existing piece,  is always fun and keeps me excited about decorating our home while helping me to stay within a budget.
I don't know about you, but we do not have a large budget for decor, nor would I want to spend a large amount on seasonal purchases. Decorating in a budget friendly minimalist style may be a challenge at times, but the list above gives you some simple ideas to get you started.
Below you will find a complete list of all the amazing blogs that are participating in this fall decor party, but first, go say hi to Laura at www.harperhomedesigns.com.
http://www.haydenscharrer.com/
https://thefogueabode.com/2018/10/fall-blog-hop.html/
https://www.colorjoyinteriors.com/dollar-store-diy-fall-wreath-tutorial/
http://lailabelles.com/fall-into-our-homes-blog-hop/
https://piperathome.com/blues-and-greens-for-fall/
http://alifeunfolding.com/2018/10/01/simple-fall-decorating-my-fall-home-tour
https://www.atlaneandhigh.com/fall-home-tour-bringing-nature-into-home/
http://thethirdwhitehouse.com/2018/10/01/fall-decor-at-the-third-white-house/
http://crystalsandcleats.com/2018/09/27/fall-decorating-with-something-old-something-new-and-something-from-the-target-dollar-spot/
http://fiddleleafblog.com/?p=1088&preview=true
Till next time
xoxo
Sonya
Comments
comments