Ways to combat stress during these difficult times.
These are no doubt difficult times for everyone. With the added stress of not knowing when this will get better it is important to have the skills to maintain our stress levels. Today I wanted to share some simple tips and technique to combat the stress of these difficult times.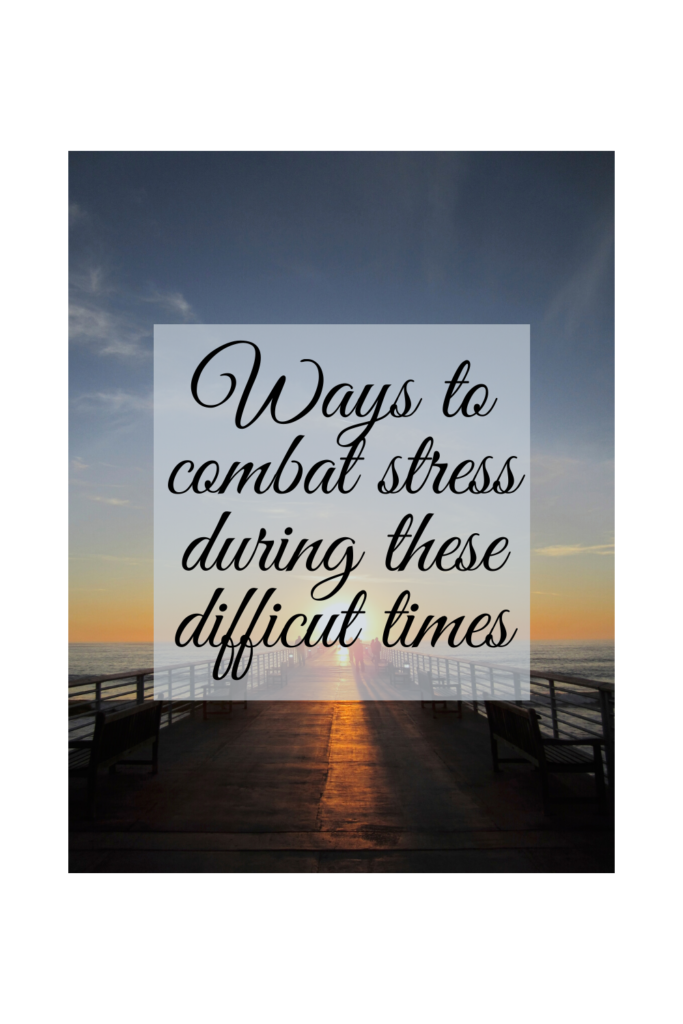 Now a days we are all looking for ways to handle what is going on in our homes and the country.
Many of us, me included have lost our jobs, have had to help our children maneuver distance learning along with all the things we normally do as caretakers and household managers.
These simple strategies will help anyone wether you have children at home or are going through quarantine at home alone to combat stress during these difficult times.
Eating healthy during difficult times
Sounds so simple, right?
But when we are in times of stress it will trigger certain cravings from the increased levels of cortisol.
This is what causes cravings for sugary or fatty foods.
When you eat or drink those things throughout the day , you get an immediate rush only to crash a short time later unless you consume those items again.
This creates an eating cycle that is hard to break, especially during difficult times.
It is important during increased levels of stress to try your best to eat healthy non-sugary foods to help combat the stress.
I realize that some stores may be out of certain healthier foods at this time, so just do your best to take in fruits and vegetables instead of processed foods.
It is also important to keep your caffeine and alcohol intake low, instead drink water.
Water consumption aides in resisting stress
Consuming water every day is so important for energy, and also helps to fight stress by reducing dehydration which leads to increased cortisol levels.
Drinking water has so many other benefits, it delivers oxygen throughout the body, boost skin health, cushions the brain and helps maintain blood pressure to name a few other benefits.
Another important tool is participating in some type of exercise or physical activity every day.
Exercise to combat stress
Be sure to continue to exercise or start adding it in if your were not before.
Exercise pumps your endorphins that can help with mood and energy levels .
This can be an at home workout, a walk or a run.
There are so many free workouts you can stream on Youtube, Hulu and Sling.
If you are looking for something to join with others from home my friend Joelle does online group workouts with BeachBody streaming.
I do these every morning by myself and love it and have kept it up during this stay at home order even though on some days I did not want to.
Eating better, drinking your water and working out will also help you to sleep better at night.
Getting your sleep to resit stress
Getting enough sleep is as important as eating right and exercise.
Sleep can help one cope with stress better, regulates mood, restores the body and helps with judgement and decision making.
Having a stress filled life can create issues with sleep.
Stress and sleep go hand in hand feeding one another so it is important to do activities that will help with both.
If you are having trouble sleeping try and write in your journal at bedtime and practice some deep breathing exerises to help calm you down so that you may sleep.
In 2019 I did a wellness series that would be great to take a look at, Wellness Wednesday.
Having trouble with breathing?
Try this exercise.
Breathing exercises for relaxation to combat stress
Breathing exercises are a great tool for helping you relax and reduce stress.
sit or lie down, make sure you are comfortable
put one hand on your stomach and the other on your chest
take a deep breath in through your nose, and let your belly push you hand out.
breathe out through your mouth with lips pushed together as if to whistle
repeat this breathing technique 3-4 times ( you can find other breathing techniques online)
At the end of the exercise you should feel calmer.
Do this any time you are feeling stressed, especially at bed time.
You can also add specific relaxation techniques to help you manage stress.
Relaxation technique
When you think of relaxing do you think of lying on the sofa, sleeping or just generally being lazy?
None of those things are actually considered relaxing.
I am sharing a youtube video that was recommended by the Autism Society and this technique is good for anyone dealing with stress.
This is a 6 minute video that you can do every day.
If you do this practice daily it will help you tremendously in combatting stress.
Some final thoughts ways to combat stress during difficult times.
Final tips to combat stress
learning to say no to unnecessary stresses
voice your feeling by talking with someone
manage your time
plan ahead
accept things you can not change
see challenges as opportunities
Changing your mindset and outlook on things can have a huge affect on how certain situations affect you.
By doing all of these things you can help decrease the stress in your life regardless of external circumstances.
These tips and techniques are not just good for now, rather are important life skills for managing stress.
Till next time
Xoxo
Sonya
Comments
comments