Welcome back to our Wellness Wednesday, I am so glad you are here.
When you think about your over all wellness, do you think about your exposure to toxins in your home?
Decreasing the toxins in our home has an impact on our overall wellness.
Now I know that we live in a culture of many various forms of toxins, but I am going to be discussing those that are most likely in your home.
Cosmetics and Xenoestrogens
I wanted to begin with our cosmetics because most women wear some kind of makeup, moisturizers and or sunscreen daily. If your not already using toxin free products, then you are most likely being exposed to Xenoestrogens.
Xenoestrogens are endocrine disruptors, meaning they disrupt the normal function of hormones , that are stored in fat cells and not biodegradeable.
Women in Balance organization, states that , "build up of such disruptors have been indicated in many conditions: breast, prostate,testicular cancer, obesity, infertility, endometreosis, early onset puberty, miscarriages and diabetes."
Other symptoms of being exposed to these hormone disruptors are , hair loss, fatigue, lethargy and irregular menstral cycles, according to Healthyfocus.org
We are exposed to more xenoestrogens than ever before because it is in so many of our every day products and food.
Labels
I found that the EU has banned approximately 1328 chemicals from cosmetics alone due to their known or suspected cause of cancer, genetic mutation, reproductive harm or birth defects. In comparison , the US FDA has only banned or restricted 30 chemicals from cosmetics.
EU law requires pre-market safety assessments of cosmetics, madortory registration of cosmetic products, government authorization for the use of nanomaterials and prohibits animal testing for cosmetic purposes.
The US requires labels to list ingredients except for fragrance or flavor ingedients because they are considered trade secrets and are not required to give that information.
In order to be mindful of our wellness and to take better care of ourselves it is important that we educate ourselves on what we are bringing into our homes.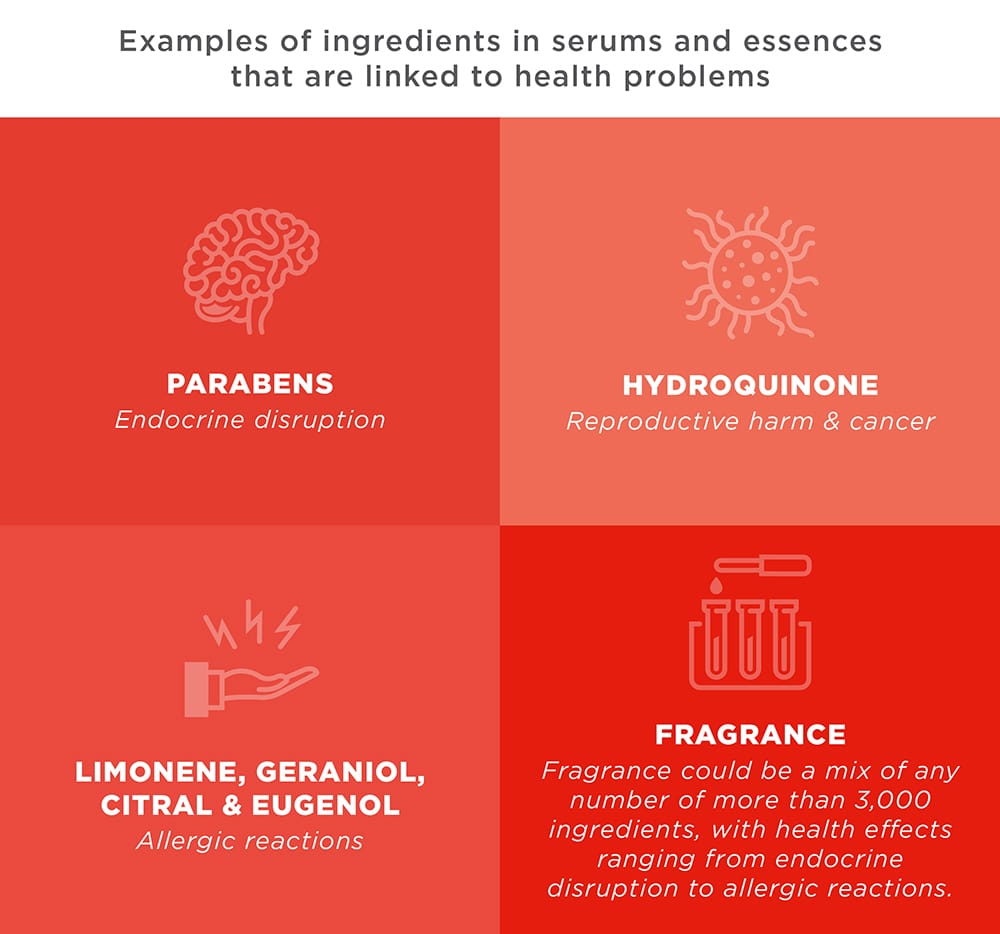 These are just a few of the things we should be trying to have minimal or no exposure to if at all possible.
One way to decrease your exposure is by switching out your cosmetics and skin care for more natural brands. There are several on the market that you can try to see which one works best for you.
Savvy Minerals by Young Living
Here are a few places that you can research your current cosmetics, shampoos and personal care products for safety.
I have switched out most of my products over the last several years, especially since I have an autoimmune disease, in hopes of decreasing my exposure.
Cleaning products
Another way that you can decrease your exposure to toxins in your home is to use more natural cleaners.
The American Lung Association states "that household cleaners, soaps, polishes and grooming products contain harmful chemicals. Some products that claim to be "green" or "clean" may also contain ingredients that may cause health problems. "
They list some examples of products to stay away from:
Air fresheners
chlorine bleach
oven cleaners
rug and upholstery cleaners
dry cleaning chemicals
furniture and floor polishes
It is important to read the labels or the products you use in your home, if you feel you must use a certain product follow the instructions as stated on the label.
Try to use products that have low or no VOC's – volatile organic compounds, fragrances, irritants and any flammable ingredients. A few of the more common VOC's are benzene, formaldehyde and toluene.
Research
You can research the products you are currently using at the U.S. Environment Protection Agency where they have a Safer Choice list.
For the past two years I have been making my own cleaning products or using Thieves cleaner from Young Living. I love knowing that what I am using is safe for everyone in my home and we are decreasing our toxin exposure.
Alternative cleaning products
There are alternative products that you can use to clean, such as warm water and natural soap for general cleaning. Baking soda is great for scrubbing, a mixture of vinegar and distilled water to clean windows.
If you are looking for a great homemade scrubbing recipe here is a great one to try. This is good for your sinks and tubs.
Homemade Scrub
1 cup baking soda
3 caps of Thieves cleaner (or any all natural all purpose cleaner)
10 drops of lemon essential oil
1 tablespoon of vinegar
Stir all the ingredients together making a paste (this can be kept in an old jelly jar).
Our wellness journey is so much more than the obvious, exercise and eating right. Making sure that we are doing all we can to create a safe home environment for our wellness is as important as the obvious.
This journey began two weeks ago, if you need to go back here are the links:
If you have ideas on decreasing the toxins in your home, please share with me. We are here to help each other along the wellness way.
Till next Wednesday..
Be well
xoxo
Sonya
Comments
comments