How your home environment affects your overall wellness.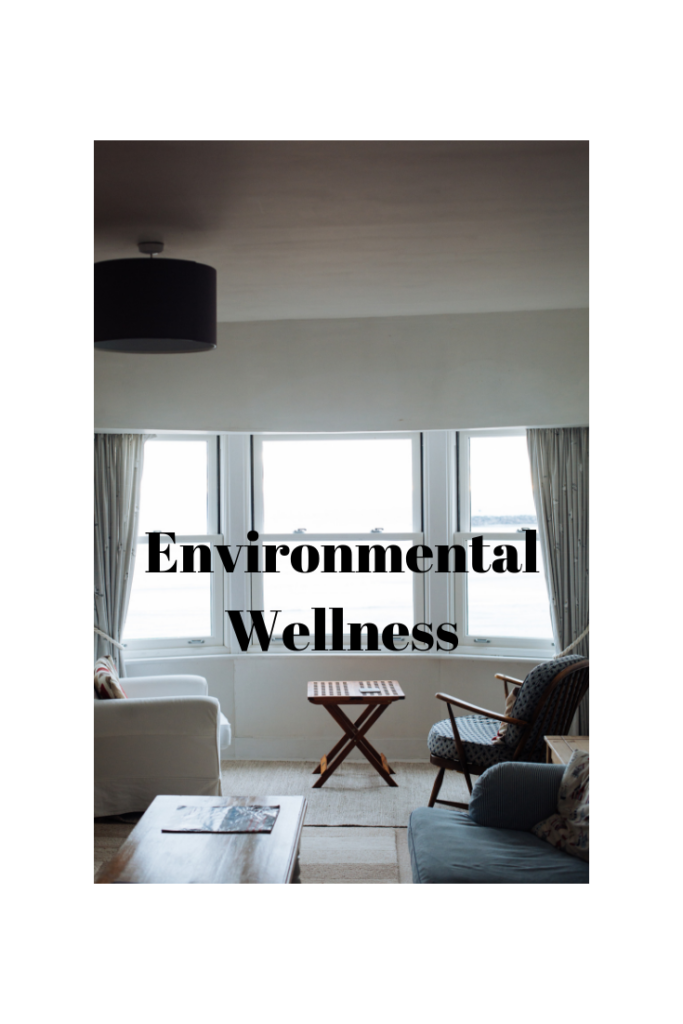 Welcome back for week two of our wellness journey.
This week we are focusing on our environmental wellness.
We are concentrating on our immediate environment, our home.
Now you may not have thought about how your home affects your wellness, but it does affect how you feel and face the day.
Our homes should be our retreat, a place for respit, relaxation and renewal.
The daily habits in our home and how we maintain it sets the tone for our day.
Do you feel anxious or overwhelmed by a particular space in your home?
If so then it is time to asses your home environment.
Some things to assess:
comfort level
lighting
clutter
noise
decor
toxins (Part 2)
Comfort
Start by walking through your home and noting how you feel when you are in each room.
Take note of what is comfortable and cozy in the space.
Is there a comfortable place to sit, read, watch television or visit with family members.
If you note that a room does not feel comfortable, see if you can figure out what about it makes it feel otherwise.
Maybe your room feels cold and not lived in. Make sure that the spaces in your home are able to be used.
Gone are the days of the formal room that the kids can't go into and only gets used once or twice a year.
These days every room in your home is most likely used daily, so it is important to be sure the spaces are comfortable.
Here are a few elements of comfort that may be added to a space:
fuzzy, soft blankets
fluffy textural pillows
a comfortable chair
an ottoman
favorite books
making sure the room temperature meets your needs
if you have hardwood floors or tile floors, soften and add warmth by adding an area rug.
having task and ambient lighting
Lighting
Lack of proper lighting in our homes can contribute to depression and vitamin D deficiencies, while proper lighting is known to improve mood and energy levels.
According to Lights.com lighting can affect circadian rhythms.
Circadian rhythms "are physical, mental and behavorial changes that follow a daily cycle, they respond to light and dark in the environment."
The type or level of lighting you have in your home contributes to your alertness and awakeness in the mornings. It can make you feel tired or keep you awake at night.
Brighter lights are best used in the mornings or day time hours to make you feel fully awake.
Dim lights are best for evening use.
Reversing the use of such lights can confuse the rhythm, interrupt your sleep schedule or make it difficult to have energy during the day.
The lighting you use in your home and how it is used is so important in this journey.
Clutter
According to Psychology Today, having a cluttered home can lead to feelings of being unsatisfied with life and how we preceive our home. "It can create a dysfunctional home environment and lead to personal distress and feelings of displacement."
A cluttered home leads to a cluttered mind making it difficult to function in a positive manner and leads to stress.
If your home is cluttered you can start with one small area at a time to clear out a space. Work in small areas so that you will be successful with the process and in turn feel encouraged to continue the task.
Going through your home and getting rid of all the excess things you have not only creates a more comfortable environment, it unclutters your mind.
January is the month of decluttering so I am not going to repeat the things you have probably already been reading or hearing.
There are so many resources for de-cluttering your home but my favorite right now is the new series on Netflix with Marie Kondo.
If you have Netflix I would highly recommend watching the series to help you get started on your de-cluterring journey if that is what you need.
Below are also some links to a few great decluttering printables and blog post about the subject.
https://www.squirrelsofafeather.com/comprehensive-konmari-checklist/
https://sarahjoyblog.com/five-winter-decluttering-tips-printable/
https://www.squirrelsofafeather.com/konmari-toys/
Noise
Another important aspect of creating environmental wellness in your home is to consider the roar in your home. Though not as conventional as some of the other topics for creating wellness, none the less important.
Noise pollution can lead to hypertension, stress, sleep issues, and general health problems.
Some current examples of noise pollution in or homes are gaming systems, computers, televisions, sound systems and cell phones.
Think about it. When your home, do you always have background noise on? I have certainly been guilty of this and am trying to be more mindful of it.
Some things you can do to cut down on the noise in or around your home:
turn your cell phone to vibrate when you are home
turn your television off
plant trees around your home to reduce outside noise if you live in an urban area
use natural sounds like water or birds to mask outside noise
use curtains on the windows to help with outside noise reduction
Cutting down on the noise in your home will reduce the stress and add to the comfort level in your home, while giving you the opportunity to enjoy the silence.
Decor
Your home decor and design influences your mental and physical health every day.
It is no secret that the colors you use in your home decor greatly affect your mood and emotions.
Psychological research shows that certain colors create a calming effect while others can create a negative response.
Some examples:
Blue – has been found to reduce blood pressure, heart rate and relieve stress
Yellow – can increase creativity and energy
Green – may increase creativity
Red – has been linked to stress or excitement and may increase blood pressure.
Gray – universally calming
It is important to consider your relationship and experiences with these colors as well, to truly determine your emotions in relation to each color.
If a color you have associated fond memories with is also a bright color that in most would not be calming, use that color.
Having things you love and that have meaning in your decor can greatly affect your mood and bring about feelings of comfort and security.
These may seem basic in the scheme of life but how you maintain and design your home has a distinct psychological impact on your subconscious and your mental health.
If your home is uncomfortable, cluttered, poorly lit and noisey, you are not going to be successful in the every day task it takes to maintain you home or your life.
Our home environment has a huge part in our wellness plan and making the necessary changes will aide in our success.
I can't wait for you to come back next week to talk about toxins in your home.
Till then
xoxo
Sonya
Comments
comments