Thoughtful ideas for mother's day gifts
Time to start planning for those mother's day gifts, especially if you are planning on mailing something. I am sharing some thoughtful ideas for Mother's day gifts this year.
This post may contain affiliate links at no extra cost to you. You can read the disclosure statement on the disclosure page.
This past year plus has been so hard for so many, especially moms.
Because of that I wanted to share a few thoughtful ideas for Mother's Day gifts this year to make it even more special for those mommas in your life.
I love giving thoughtful gifts for special occasions and mother's day is no different.
Several of these are from small shops that would be so blessed if you made a purchase from their shops.
Gift idea number one
The first thing I wanted to share is an awesome pillow from my friend Blair at Maples and Dickerson.
I will tell you that she does not have an actual shop but does limited releases on instagram of her pillows.
This is the one I got for my mother for the Mother's Day.
You can follow her instagram page to be notified of her releases and hopefully you will be lucky enough to grab one for that special mother in your life.
If you are not able to get one of her fabulous quilts made from old quilts that needed new life, then let's talk about candles.
Candles for gift number two
Most people like to have their home smelling fresh and clean but not like cleaners or anything to strong.
That is why I wanted to share my friend Deb of Seeking Lavender Lane and her amazing french inspired candles.
Deb started the small candle line at Fleur and Flame so you can experience a touch of European living.
These candles are not only beautiful but the scents are just the perfect amount of scent without being overpowering.
She has several different scents to choose from, depending on the individual you are purchasing them for.
French inspired scents like lemon & thyme, lavender, english rose, european fig and rosemary eucalyptus.
Each scent has a beautiful portrait style lid and an available Spotify playlist that correlates.
This creates quite the European experience, perfect for current times of not much travel.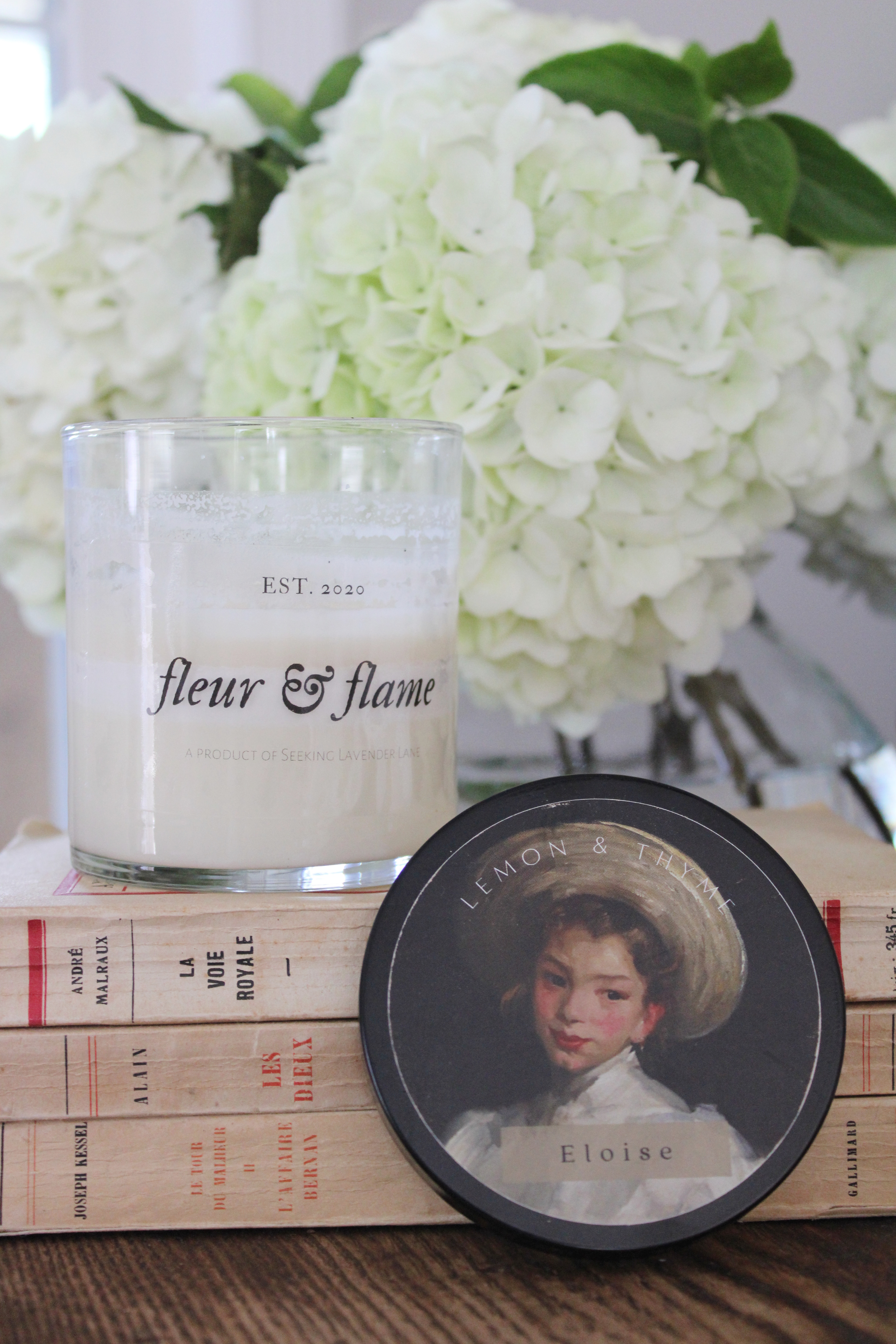 Deb is working on candles right now to restock her small shop, so be sure and give her a follow on instagram to be updated of their release.
These make a perfect gift for any mother on your list this year.
Another thing I like to give for Mother's day are books.
Gift idea number three
Emily Lex just published a new book, "Freely and Lightly".
This book would make a perfect gift for younger mom who may be experiencing overwhelm, feeling overlooked and undone.
In her book you will find encouragement and her beautiful watercolor art.
I think books always make a great gift for any holiday and Mother's day is a great time to give a book of encouragement.
There is also a gift that is perfect to encourage mom's in their homes.
Gift idea number four
If the mother in your life needs some help with decorating their home or just enjoys receiving home decor goodies The Nested Crate is a wonderful gift.
My friend Carena of The Accidental Dreamhouse has created a limited edition a Mama Bird crate that is perfect for Mother's Day.
This is a new small business and I just love helping to support female owned small businesses any chance I get.
Even if you are unable to purchase a crate, be sure to give Carena a follow on instagram to see what she is up to with her crates.
Last but not least is a gift that I think is perfect for older moms.
Mother's day gift idea number five
Now I can not take credit for this gift idea, but it is such a good one I had to share.
I found out about this idea from my life long friends, Terri and Vickie who are sisters.
Have you heard of Storyworth?
Storyworth is a way to give your mother a way to share her story.
Sharing memories by answering questions over several months and at the end of that time a book is put together.
Giving them the ability to put into print answers about their life that can be shared with other family members.
My favorite and most thoughtful gift idea for this Mother's day.
This is a gift that will give to your mother and her children in years to come.
If you are looking for ideas that you can DIY, read here.
Till next time
Xoxo
Sonya
Comments
comments