I don't know about you but summer time means simple, no fuss and carefree living. We love having friends over during the warmer months and enjoy having a beautiful, yet simple summer tablescape.
Summer time is when I think about outdoor barbecues, smore's and opening our home to others.
Along with summer weather is a slower pace schedule and time to enjoy longer days.
When we have guest over I love creating a simple, budget friendly, summer tablescape.
The goal here is to use what you have with the exception of fresh flowers.
Creating the layered table runner
This particular tablescape I used some extra fabric that I had left over from making our curtains and a burlap table runner I purchased from Pier One several years ago.
For the fabric I simply folded it in half instead of cutting it so that I may use it for future projects.
After folding it to the size I needed I placed it under the burlap runner with about three inches showing on each side.
Next step was layering the plates. For this I used my white mismatched dinner plates, my blue willow salad plates along with blue goblets that are 25 years old, for a casual look.
You can use what ever plates you have to coordinate with your particular color scheme.
Folding white cloth dinner napkins
The white napkins I used for this tablescape I have had for around 10 years, but I have linked similar ones here. If you happen to look closely you might see the age of mine but they are still usable.
Simple steps to folding napkins:
fold the napkin in half bottom to top
fold top piece down in half
flip the napkin over
fold it in half right to left
fold it in half right to left again creating a pocket
Here is a video showing how to follow along with the steps.
This is a super easy way to fold your napkin to place in the center of your plate.
Add a flower, greenery or what ever it is you desire in the pocket.
For this particular place setting I just cut a few branches from a bush in our yard to stick in each one of the pockets.
Accessories for your napkin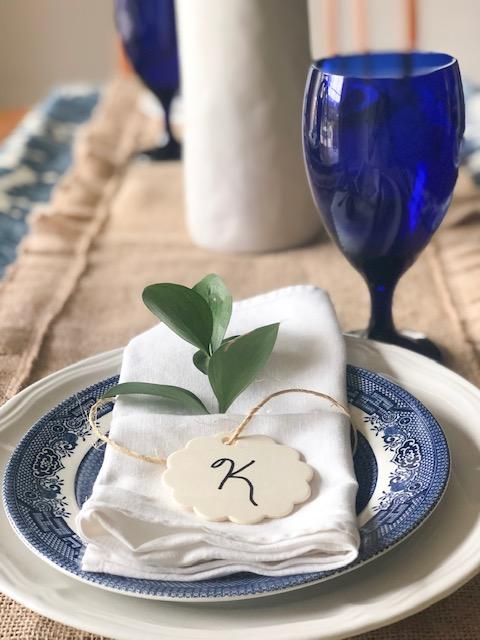 This post may contain affiliate links, at no additional cost to you.
Grab some twine and tie it around your napkin or put it through some wooden gift tags, these are similar to the ones I used.
The possibilities are endless with how your accessorize your napkins, see if you can do it without spending any money for supplies.
Keep it simple, easy and budget friendly for this summer tablescape.
Adding simple beauty with fresh flowers
Fresh flowers are one of my favorite things to add to a summer tablescape and there are a few places I love getting them.
Traders Joe's is a great budget friendly store to get fresh flowers if you have one near.
If you do not try to visit your local farmer's market, I think most towns have them now and the local flowers are typically inexpensive and you are supporting local farmers.
Another great option would be to cut flowers or just simple greenery from your own yard if you have some.
Goes to show that it does not have to be elaborate or expensive to set a beautiful, simple summer tablescape.
With that in mind t is not too early to start thinking about the upcoming holidays and start making a plan for your fall tablescapes.
Here is one I did last Thanksgiving to give you some inpsiration.
Till next time
Xoxo
Sonya
Comments
comments