A french country Christmas home tour
Welcome to the Celebrating Christmas Blog Tour.
Thank you Leen at Sanddollarlane.com for putting this blog hop together for the past few years.
If you are coming here from Vicki's blog 2beesinapod.com welcome , I am so happy you stopped by.
I have been so excited to decorate for the holidays and am sharing my take on a french country holiday home tour.
What is french country holiday decor?
You may be wondering exactly what french country holiday decor is.
When I think of french country decor I think of farmhouse with a bit of rustic, vintage elegance.
You can see last years holiday home tour here.
White lights, gold and vintage decor items are perfect to create a french feel.
Some french country holiday decor can be very elaborate, but for me and my home I like to keep things simple.
Here are a few examples of french inspired homes from blogs that I love.
My friend Deb at Seekinglavendarlane.com does french decor like no one else and is always so inspiring.
Another great example of french country decorating is from Courtney at Frenchcountrycottage.net.
Both of these blogs do an amazing job with french decor but each in their own way, so be sure to check them out.
The fun thing about decor if finding a style you love and putting your interpretation and spin on it to create your unique look.
That is exactly what I did for my simple french inspired holiday decor.
For my simple french holiday home tour I decorated the new sitting room.
Simple french inspired holiday element
The first and most important part of this space is the King of Christmas 6ft. Noble Fir tree that I was gifted.
All on its own this tree is stunning and the perfect statement piece.
This tree is simple in design so I used tiny gold battery operated lights that could be hid well in the branches.
Because the tree itself is beautiful all on its own I did not want to overwhelm the tree with lots of ornaments.
I added simple black and white striped ribbon and white ribbon tied in bows on the branches.
Once those were added I then put green ribbon on mini mercury ornaments from the Vintage Society Co.
Those few additions helped to create a simple, yet beautiful french country tree.
Once the tree was done I was able to add in a few additional french inspired pieces.
Adding simple rustic, vintage elements
Several years ago I found this vintage grapevine tree on a rustic iron stand.
The tree has gotten a little misshapen over the years which i think adds a bit of rustic whimsy so I left it alone.
I have the tree and stand on top of an antique column base that has been stripped down to the raw wood.
The rustic, natural, feel of each piece lends easily to the french country feel.
Another rustic piece is the wooden table with iron legs that sits next to the tree.
In the french country bench I added a simple script Merry Christmas white, linen pillow.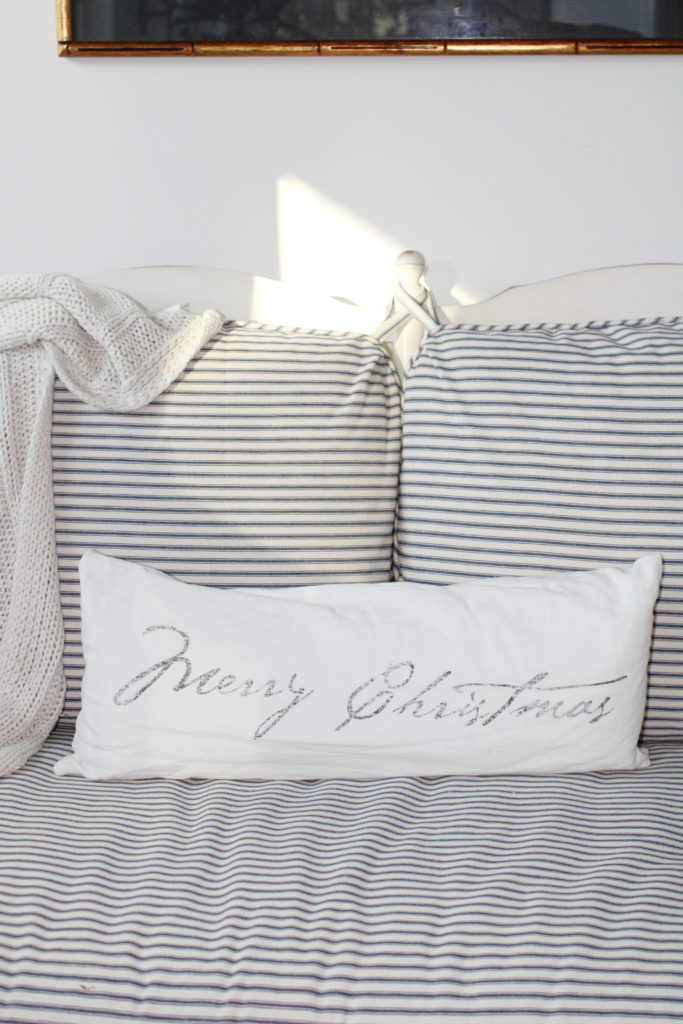 Each of these pieces add a bit of rustic simplicity.
Looking for more neutral holiday inspiration, click here.
There are a few pieces in the space that are only vintage inspired and not true vintage pieces.
Vintage inspired holiday decor
Not every piece in this space are true vintage pieces and that is ok.
Throughout my home I have a mix of antique, vintage, new and vintage inspired pieces and the holidays are no different.
Two of my favorite vintage inspired pieces are these mercury glass snowmen.
Can you believe that those came from CVS, a local drug store?
A girlfriend gave me one as a gift and I purchased the other for myself.
They add just a touch of color in an otherwise neutral holiday space.
One more simple touch and this french country holiday home tour is complete.
Adding simple greenery
I found this artwork at my local favorite thrift store recently and thought it would be perfect for the holidays.
The gold frame lends to a bit of french elegance and the simple faux greenery is the perfect touch.
Using faux greenery allows me to decorate for the holidays early until I am able to get real greenery.
Once I get real greenery the faux will get put away or be used in another space if needed.
The greenery is very natural looking and simple in design which is perfect addition in my simple space.
Just these few simple, well thought out pieces helped to create the simple french country holiday home I was wanting.
Be sure to visit Suzy at Worthingcourtblog.com and the other amazing bloggers on the Celebration Christmas Home
Tour.
Till next time
Xoxo
Sonya
Comments
comments