Tiny home adventure through Airbnb
With things opening up more over the summer more and more people were beginning to travel again, including our family. We decided that we wanted a unique experience that was truly restful and intentional.
I wanted to share our tiny home adventure through Airbnb.
I feel certain that you have heard of and most likely have used Airbnb for your vacation destinations.
Airbnb has quickly become one of the top ways to travel and is continuing to grow.
According to The Zebra, "Airbnb has roughly 5.6 million active listings in 200 countries".
With so many unique choices you can create a personalized, one of a kind vacation experience.
If you have never used Airbnb for your traveling needs here are a few things to consider before searching.
Things to consider prior to searching for your destination
It can be very overwhelming when you first begin your Airbnb search.
Be sure to write down exactly what type of vacation you are looking for, is it adventure, hiking, rest, or a mix if both?
Be very specific in your search filters and your location and time frame.
Create the accommodation budget you wish to stick with.
Be sure to read reviews of the accommodations to be sure you know what to expect.
For our particular destination, we had to watch this particular house for over a year before we were able to book a stay.
It is an extremely popular home and is somewhat difficult to book.
Without further ado, I am really excited to share the Cozy Owl Cottage with you.
One of a kind travel accommodations
This cottage was small in size but not in comfort and beauty.
Staying at the tiny house was an adventure in itself.
No detail was left out in making guest feel welcome and pampered.
The cottage was well appointed with amazing yet simple decor.
Now I could go on forever about my new favorite spot in the woods, but I feel like the pictures will tell the story so much better.
Unique Airbnb tiny a-frame home
The home was a small a-frame in the woods.
You literally pulled right up to the door and it was magical.
Here is a look at the front of the home from the yard.
From the moment you walk in you are greeted with amazing attention to detail.
The owners did an amazing job decorating the cottage while keeping it simple.
We all felt that we had plenty of room in the small a-frame vacation home.
There were four of us using the two bedrooms and one bath.
The main living area was small but just enough for us.
You can see that in the main living area.
Small a-frame living space
The living room and kitchen area were open with glass doors looking out on the deck and forest.
One of our favorite things about the location was the view of the lush green forest and creek.
We enjoyed hanging out in the main living area and felt completely at home.
I can't wait to try and visit the Cozy Owl Cottage in the colder months so I can use this adorable mini wood stove.
You can see through the photos that there was so much attention to detail.
The kitchen was open to the main living area and was absolutely adorable.
It had everything needed to cook a fabulous meal.
Tiny house kitchen
I loved the kitchen design and decor.
The owners had coffee, tea and honey sticks for us to enjoy.
We cooked several meals comfortably and enjoyed every minute of being there.
After doing some reading up on the home, I realized that the owners built the table and it had a really cool arrow design in the center.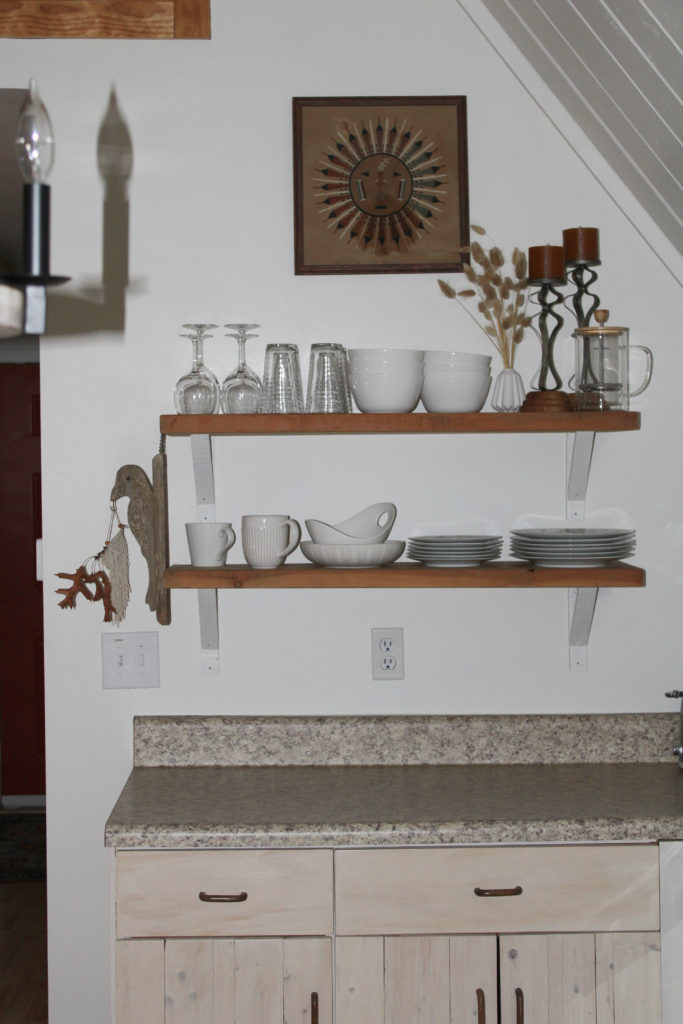 The bedrooms did not disappoint either.
Tiny house bedroom
There were two bedrooms and both were a nice mix of new and vintage and you know I truly love that.
For a tiny home with minimal square footage, there was such an impact with how the spaces were done.
One bedroom was downstairs with a large closet and room for a nice size dresser and chair.
The bedrooms had plenty of room and everything needed to be comfortable.
Now the upstairs bedroom was the favorite of each of us.
It was a lofted bedroom that overlooked the living area and when you rolled over the view on both sides was the forest.
I will say the stairs going up were steep but the owners had warned of that and for that reason do not rent to families with young children for safety.
As you can see the loft was such a neat place to sleep with amazing views.
I hope you enjoyed my recap of our tiny home adventure with Airbnb.
If you are looking to stay in Boone, North Carolina in an a-frame, boho dream check this one out.
Traveling with kids? Check out these fun car games to keep them entertained.
We are already looking to book here again in the near future.
Comments
comments