Thrifty facebook marketplace furniture makeover
This post may contain affiliate links at no extra cost to you. The full disclosure can be read on the disclosure page.
It is the time of year when everyone is feeling the need to refresh their spaces. Unfortunately everything seems to be getting more expensive and it is more of a challenge for frugal decorating. For that reason I want to share with you a thrifty facebook marketplace furniture makeover.
This makeover will help you see that you to can have and create a beautiful home on a budget with patience.
So I headed to facebook marketplace to find some french style dining room chairs and you will not believe what I found.
Often times french style furniture can be very expensive but with some persistence and patience I was able to find what I had been looking for.
I love the french cottage or french farmhouse look but I like to find budget friendly classic furniture pieces to add to my home.
Before I share with you what I got, I wanted to share a few tips with you to find items that fit your style on a budget.
How to search facebook marketplace
When it comes to shopping facebook marketplace there are a few things that can help you in your search.
Just in case you have never shopped facebook marketplace, here is a link.
Shopping marketplace can be overwhelming if you do not try to narrow down your search with some particulars.
-search daily
-search early
-save liked items so facebook learns your taste
-use terms such as vintage, antique, old, heavy and solid wood
-search by your specific design style like french country, french provincial, rustic farmhouse, traditional, modern, cottage
-vary your radius from time to time to see different items
Using these tips will help you weed through thousands of items that do not fit your budget, style or area.
After narrowing down my search to french country furniture I came across the most amazing deal.
French country dining chairs
I had been searching for french country dining chairs for quite some time on facebook marketplace to makeover but had not been able to find any within my budget.
Finally after several months I was able to find exactly what I had been wanting and I am excited to share my thrifty facebook marketplace furniture makeover.
Using the tips and terms in searching I was able to find 5 french country style vintage chairs for $40.00
The structure of these chairs was sound and getting them for such a great price was a steal.
Originally the ad was for four but they had put one in the dumpster that I had them pull out.
Four of the chairs were in perfect condition with the 5th one had a tear in the back caned back.
These particular chairs were made were made by Heritage furniture in Morganton, North Carolina.
This is a well known furniture manufacturer so I knew I was getting quality pieces.
I also loved that they were made in the state I live in.
You may be wondering what my plan is for these french country style chairs.
Plan for facebook marketplace chairs
Like with most of my makeovers, I prefer to keep it on a budget.
Even though the chairs are structurally sound, the fabric is not so pretty.
As for the fabric I may use some blue and white fabric I already have so that I will only have to purchase some caning.
The color is not bad on the chairs but they appear to look dingy so my plan is to paint them white.
Before getting started there are a few steps I take prior to beginning any furniture project.
Steps to take prior to makeover
There are a few things I do prior to any furniture makeover.
First thing I do when I get the furniture pieces home are keep them outside in the garage for a few days to be sure there are no bugs or anything to be concerned about.
Once they have sat in the garage a few days I will dust off the furniture pieces
Then wipe down the furniture with warm water and a mild detergent.
After these few steps the furniture makeover is ready to begin.
Thrifty dining chairs makeover
Now that the chair are cleaned thoroughly it is time to start taking the chairs apart.
First thing I did was take the fabric pieces off the reveal the caned backs of each chair.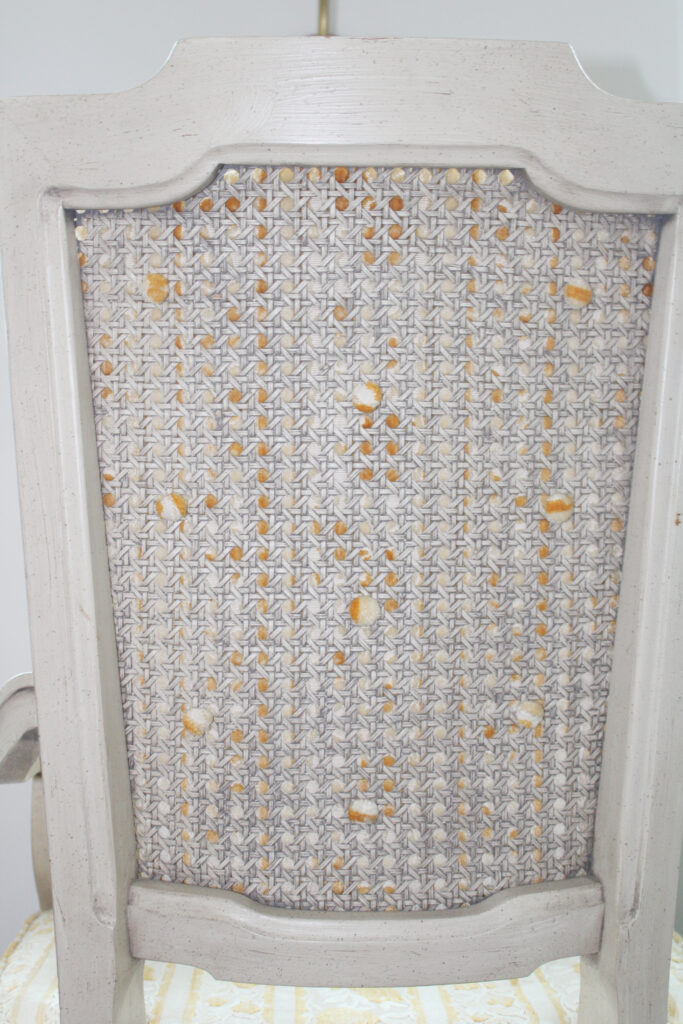 Then I removed each seat cushion leaving just the structure of each chair with seat.
I cleaned the chairs again to get rid of any fabric dust that was on the chairs after removing the cushions.
The color of the chairs was not bad but it did have a bit of a dingy look to them so I decided to paint them white.
I used paint I already had at the time which was a Magnolia, "Shiplap" paint.
Usually I use chalk paint but decided since I did not have any to stay on budget I would use things I already had to to this dining chair makeover.
I painted the first coat of paint onto each chair and lightly sanded in between those coats.
At this point I am planning on doing one more coat before redoing the seat cushion.
For the seat cushion I am also planning on using some fabric from another project.
Frugal decorating is my favorite thing, not because I can't afford it but because I love a challenge.
This thrifty facebook marketplace furniture makeover is the perfect example of frugal decorating.
Here is the project I did originally with the fabric I am thinking of using for these chairs.
I also did this with a little bit of the same fabric.
Until then, remember never underestimate what you may find on facebook marketplace.
Facebook marketplace is the perfect place for all your frugal decorating needs.
Need more tips for shopping vintage on facebook marketplace? Read here.
Stay tuned for the actual painting process and recovering the seat cushions, you won't want to miss how they turn out.
Till then
Xoxo
Sonya
Comments
comments