How to make a simple super bowl sweet snack
Can you believe the Super Bowl is one week away?
If you like me you are already planning your food for the game.
Maybe you are looking for a simple and lite snack, well I have a great one perfect for game day.
This simple super bowl sweet snack is perfect to make ahead so you can spend time with friends and family enjoying the game.
Typically super bowl snacks are chips, dips, veggies and chicken wings.
Why not add a little something sweet to the game day table.
These lite cinnamon crisps are the perfect snack to go along with all those heavy dips you will be eating next Sunday.
With only a few ingredients and a little time, you can make these the day before and store in an airtight container to keep fresh for game day.
Ingredients
With a few simple ingredients you can begin making this simple super bowl sweet snack.
1 c. sugar
1 tsp. ground cinnamon
1/4 tsp. nutmeg
10 flour tortillas
vegetable oil
Once you have everything together it is time to get started with your simple and lite game day snack.
Instructions for simple and lite game day snack
Combine all your dry ingredients together in a class container of some kind.
Make sure to stir your ingredients thoroughly to combine.
After you have mixed the dry ingredients you can begin cutting your tortillas into 2 x 3 strips or.
Be sure to keep the triangles about the same size so they cook evenly.
Once you have cut all your tortillas into strips or triangles, cover the bottom of your pan with vegetable oil and heat.
When the oil is ready you can put 6-7 tortillas pieces into the pan to cook until light golden brown.
Turn over as soon as you see them begin to brown.
Pull each piece out and place on a plate covered with a napkin to soak up excess oil.
Place each piece into the dry ingredient mixture, making sure to coat each side.
Once covered place each piece immediately on a plate to completely cool.
Repeat the cooking process until all tortillas have been cooked and coated.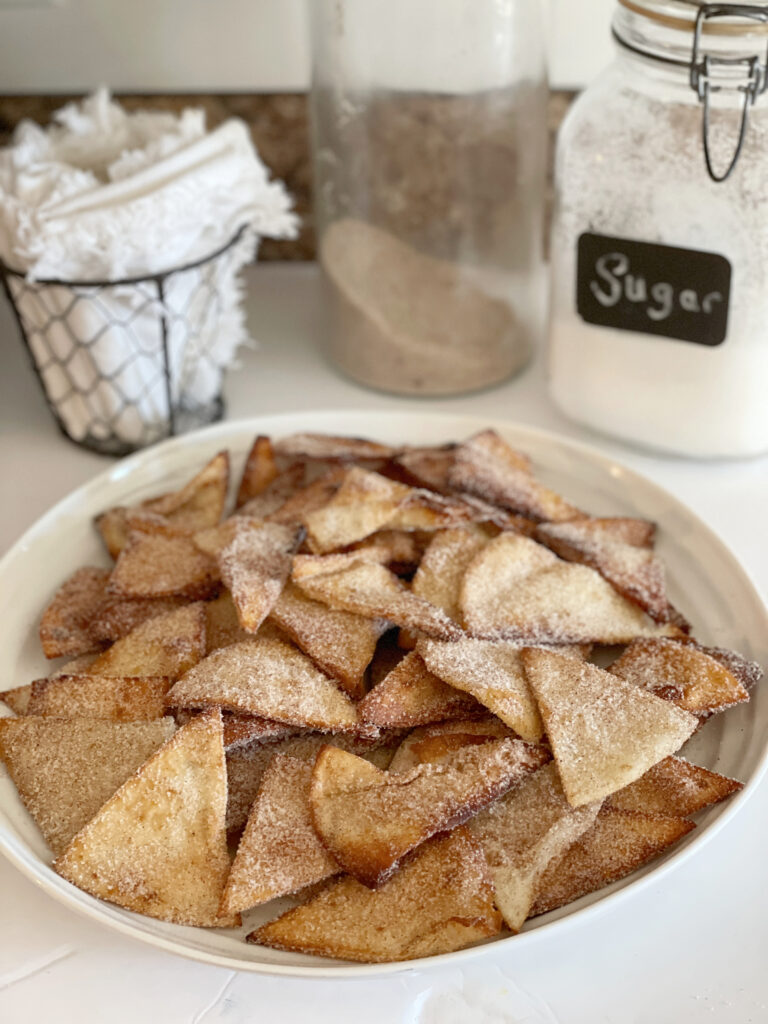 When all the cinnamon crisps have cooled you can place them in an airtight container to keep them fresh for your Super bowl party.
These make the perfect game day snack as well as a fun Valentine's Day treat.
Looking for another simple game day snack?
Here is a quick and easy homemade salsa recipe that would be perfect.
Enjoy the super bowl and may your favorite team win.
Till next time
Xoxo
Sonya
Comments
comments