How to make a simple pepper jelly
With fall on the horizon it is time to do something with the last of your garden harvest. This simple pepper jelly is perfect for charcuterie boards, holiday gift giving and all your holiday parties.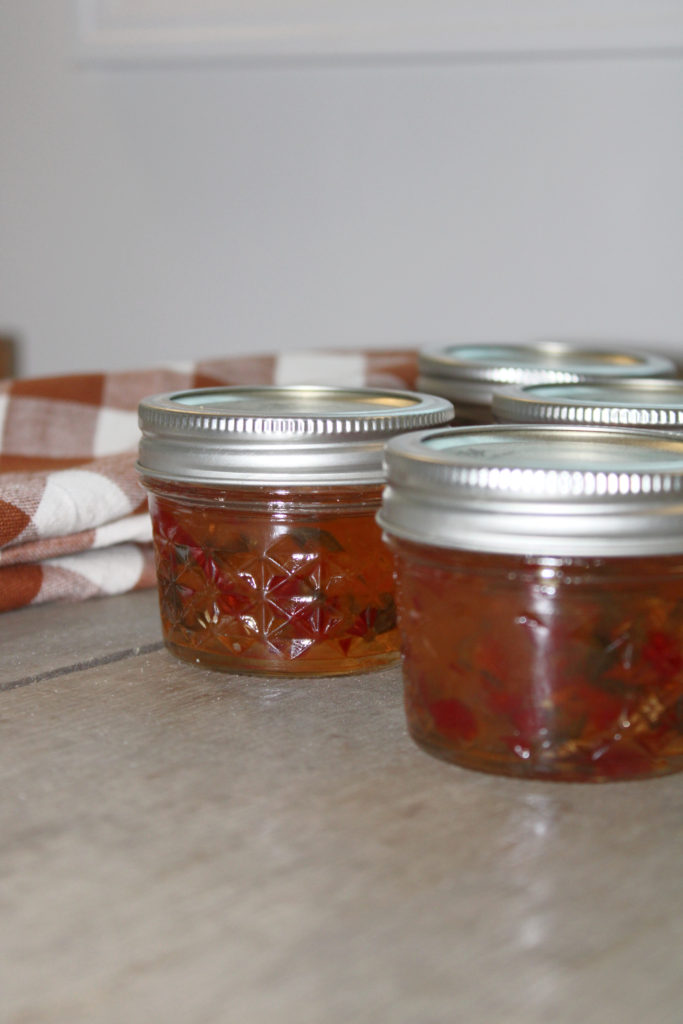 This post may contain affiliate links at no extra cost to you, you may read the disclosure here.
I don't know about you but I have always had a fascination with canning, especially after watching my grandmother do it.
But if I am completely honest, I have always been scared of it for some reason.
Until this summer, when I watched a friend do some canning.
We had a ton of banana peppers and green peppers that needed to be used in some way.
I decided that I would try my hand at canning pepper jelly and use them for the holidays as part of little gift baskets.
Now if you are thinking you need a large kitchen to can, you are completely wrong.
Have a look at my kitchen with very little counter space.
Regardless of the space you have, you too can start canning in your kitchen.
Supplies needed for canning
First you will need a water bath canning system like the one I used.
For this particular recipe I used 4oz Ball canning jars specifically for gift giving.
There are also a few other tools that help to make canning super easy and safe.
Tools like a jar lifter, jar funnel for pouring and a lid magnet.
All of these tools help to make the process easy and are listed below for your convenience.

That is it, nothing complicated about it.
Just a few simple products and you are ready to make this simple pepper jelly.
First steps prior to canning
First thing you need to do prior to canning is to wash and dry all your jars and lids.
Once they are dry, sterilize them by boiling them in a water bath for 10 minutes.
You can do this step while you are cooking your other ingredients.
Sit them aside once they boil for the recommended time.
Recipe for simple pepper jelly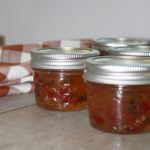 Print
Simple Pepper Jelly
Easy to make pepper jelly
Equipment
water bath canner

jar lifter

lid magnet

jar funnel

4 oz Ball jars with lids and rings
Ingredients
1.5

cups

green peppers,banana peppers and red peppers

if you prefer hot you can add jalepeno peppers

3

cups

sugar

3/4

cups

apple cider vinegar

1

packet

liquid pectin
Instructions
combine your 1.5 cups of combined peppers in food processor and process to small pieces

In a large stainless steel pot combine your processed peppers, sugar and vinegar

Boil at high heat, being sure to stir constantly for 1 minute

Add in the liquid pectin and boil for one more minute

Remove from heat and directly put into sterilized jars

Put on lids and rings, being sure to screw tight

Process in boiling water bath for 10 minutes

Remove from canner and allow to cool for 10 minutes or so

Be sure to listen for the lips popping which signifies they have properly sealed
Notes
Be sure to turn your jars upside down so that the bits of peppers will be disbursed throughout the jelly and not settle to the top or bottom.
If your jars do not seal properly they can be used immediately.
Process after canning
When filling each jar be sure to leave some room at the top by filling only to the bottom of the jar neck.
This is also known as leaving head space.
Since this recipe has actual pieces of pepper in the jelly it is important to flip your jars upside down a few times while cooling.
This will keep the pepper pieces disbursed throughout the entire jar of jelly.
Be sure to listen for all the lids to pop so you know they have sealed properly for storage.
If a jar does not seal, it is fine to go ahead and use that one now.
Ideas for using your simple pepper jelly
I was first introduced to pepper jelly at a holiday party years ago.
Honestly, at first I thought it sounded a little disgusting but when I tried it on a cracker with some cream cheese, I was hooked.
It makes the perfect party appetizer.
Another great way to use pepper jelly is on a brie and turkey sandwhich for a little something extra.
You can get creative with cooking with your simple pepper jelly as well.
Let your imagination flow here and create some new recipes yourself with your pepper jelly.
This recipe is a little sweet with a kick but not over powering heat.
Remember, if you want yours really hot you can add jalapeno peppers or habaneros.
This simple pepper jelly also makes great gifts.
Creating holiday gifts with your pepper jelly
Canning and preserving your harvest is the perfect way to create a thoughtful holiday gift.
Take your little jar of pepper jelly tie and pretty bow on it.
Add a piece of fabric over the lid and add it to a basket.
In the basket with crackers, cream cheese and a sweet little cheese knife and towel and you have created a simple holiday gift or housewarming gift.
These are great for teachers gifts, hostess gifts or thoughtful gifts for friends and family.
Here are a few other great homemade holiday gift ideas you might enjoy.
How ever you use your simple pepper jelly I hope it brings your much joy and that you continue on your canning journey.
If you are still not convinced canning is simple you can try these refrigerator pickles, no canning necessary.
Till next time
Xoxo
Sonya
Comments
comments