How to make a simple blackened fish for Sunday supper
Welcome to another Sunday supper. This week we are sharing how to make a simple blackened fish for Sunday supper. A simple recipe that is good with any kind of firm fish, fresh or frozen.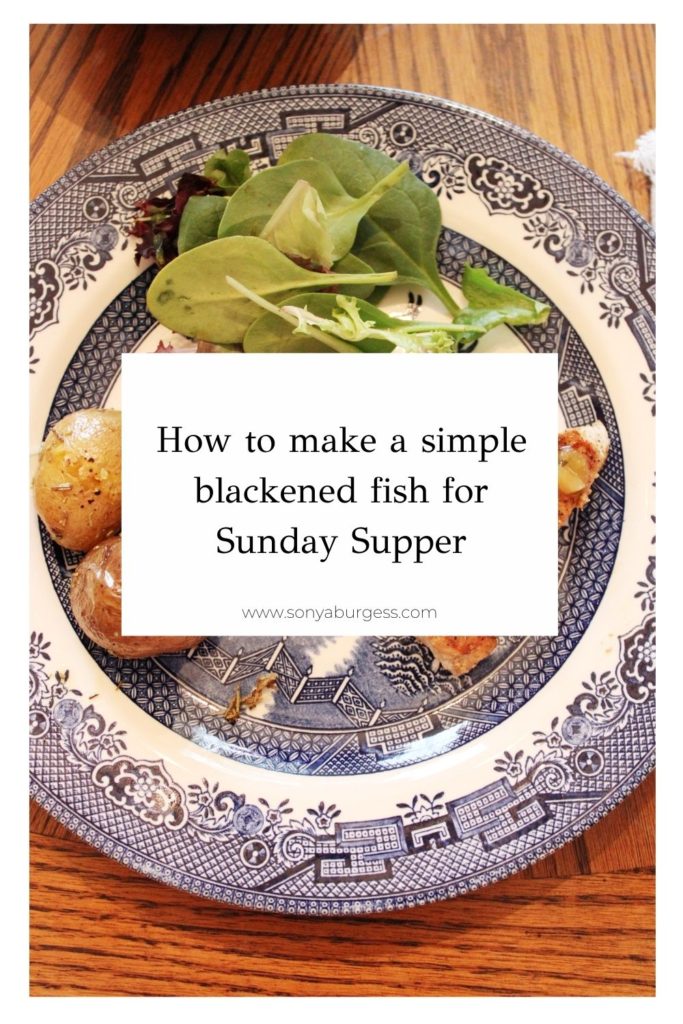 Living at the coast my husband and son deep sea fish and pier fish often.
This helps us to often have fresh or frozen fish most of the year.
If you do not have good fresh fish where you are there are some really good alternatives that I have found for out of season.
One alternative is Costco.
Their wild caught Mahi Mahi is perfect for when you can not get local fresh fish.
Another great option is Trader Joe's frozen fish and it works wonderfully for this simple blackened tuna.
For this particular simple spicy recipe we used Tuna.
You can also use flounder, Mahi Mahi or any fish that you prefer or is local to your area.
Ingredients needed for Sunday supper
4 fish steaks
1 tsp garlic powder
1/2 tsp paprika
1/4 tsp cayenne pepper
combine 1/2 tsp black pepper
1/2 tsp sea salt
1/2 tsp onion salt
2 tbsp olive oil
Directions for blackened fish
Add all your dry ingredients together, sprinkle and pat into each piece of fish being sure to cover all sides.
Use the olive oil to the pan for searing, being sure to brown on both sides.
You can make homemade mango salsa or purchase a premade one like we did.
The specific one we used was Taste of Inspirations Mango Pineapple salsa.
Using the salsa elevates and cools down the heat of the simple blackened fish.
Putting it all together
After putting the mango pineapple salsa on each piece, plate small potatoes and salad greens and you have a wonderful, simple Sunday supper.
Creating a simple dinner with fresh or fresh frozen fish.
Ingredients
4 fish filets
1 tsp garlic salt
1/2 tsp sea salt
1/2 tsp onion salt
1/4 tsp cayenne pepper
1/2 tsp paprika
1/2 tsp black pepper
olive oil
Instructions
combine all the dry ingredients together and sprinkle and pat into the fish filets.
Pour olive oil into the pan set on medium heat and sear on each side and cooking until done to your likeness.
Once the fish is done put a tablespoon of Mango Pineapple salsa
Notes
You use Mahi Mahi, tuna or any other firm fish.
Nutrition Information:
Yield:
4
Serving Size:
1
Amount Per Serving:
Calories:

207
Total Fat:

5g
Saturated Fat:

1g
Trans Fat:

0g
Unsaturated Fat:

3g
Cholesterol:

149mg
Sodium:

1091mg
Carbohydrates:

1g
Fiber:

0g
Sugar:

0g
Protein:

38g
I am not a nutritionist, the nutritional information was automatically calculated.
Enjoy this simple blackened fish for Sunday supper or any day of the week.
If you are looking for another Sunday supper check out last week's recipe.
I love simple recipes this is another good one to try.
Till next time
Xoxo
Sonya
Comments
comments