My top three resources for affordable linen sheets
Now that the warmer months are here, I love using linen sheets on my bed to help keep me cool at night. If you have ever searched for linen sheets you may know that finding affordable ones is difficult so I am sharing my top three resources for affordable linen sheets.
This post contains affiliate links at no additional cost to you. You can read the disclosure statement on the disclosure page.
Once the weather starts to warm up I love to bring out my linen sheets to help keep me cool at night.
Nighttime is generally the time that I get the most heated inside and linen sheets are a great option for keeping me cooler.
Recently I was looking for more budget conscious options for linen sheets and they are few and far between.
As a matter of fact when I tried to google them the options that came up under affordable options were several hundred dollars.
I don't know about you, but spending 300-700 dollars on sheets is not within my budget.
So I searched and found two other options for you along with the budget friendly option I have on my bed at this moment.
Budget conscious option 1
I wanted to start with the most budget friendly option for linen sheets and that is the set I have from Target.
These sheets actually have a little cotton in them so they wash beautifully.
Linen sheets do get wrinkled but that does not bother me at all, I like the relaxed feel of the wrinkles in linen.
With every wash these affordable linen sheets get softer and softer.
I have been using mine since last year and absolutely love them.
They were a great budget conscious option for me.
If you are looking for 100% linen there is another affordable option.
Affordable option 2
The second affordable option for linen sheets are from The Company Store.
These linen sheets are purchased individually.
Each piece is currently on sale and they a varying colors to meet any decor color.
For me I prefer white bedding for ease of washing but if you prefer a color they do have several in which to choose from.
I do not know how long these will be on sale but while they are on sale they are more affordable than normal.
Now for our last option, is also the most expensive of our affordable linen sheets.
Budget friendly option 3
These last set of sheets are the priciest option of all three but still under 200.00 for the stipe version.
The solid version are more than 200.00 so I did not include those here.
This is a build your own set of European flax linen bedding.
In this set there is a duvet/coverlet, shams, flat and fitted sheets and pillowcases.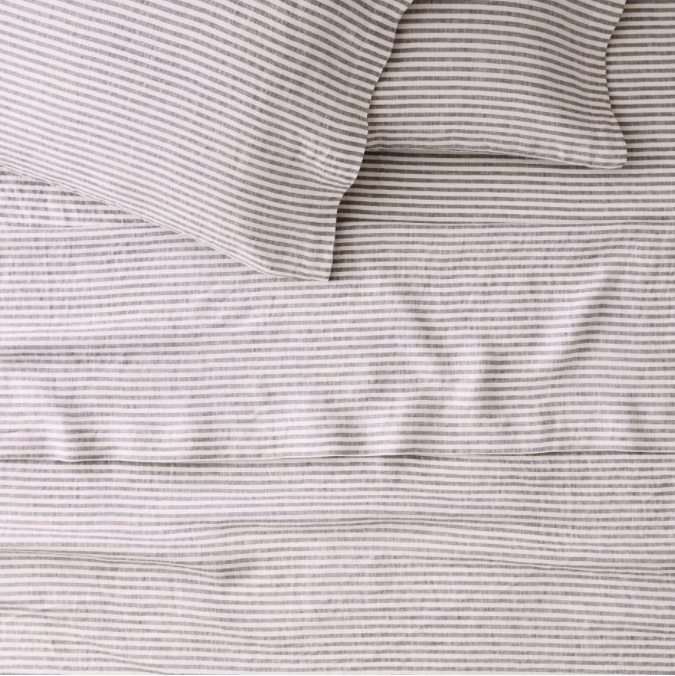 With all that included in the set it is not as expensive as it first appears.
Actually the build your own set at West Elm is an excellent price.
All three of these sets are great resources for affordable linen sheets.

With any one of these three budget conscious option you can create a beautiful and cooler bed for the warmer months.
Comments
comments