Favorite small shop Mother's Day gift guide
Today is May , so it is time to plan for Mother's Day. I love supporting small shops including those online. I am sharing my favorite small shop Mother's Day gift guide.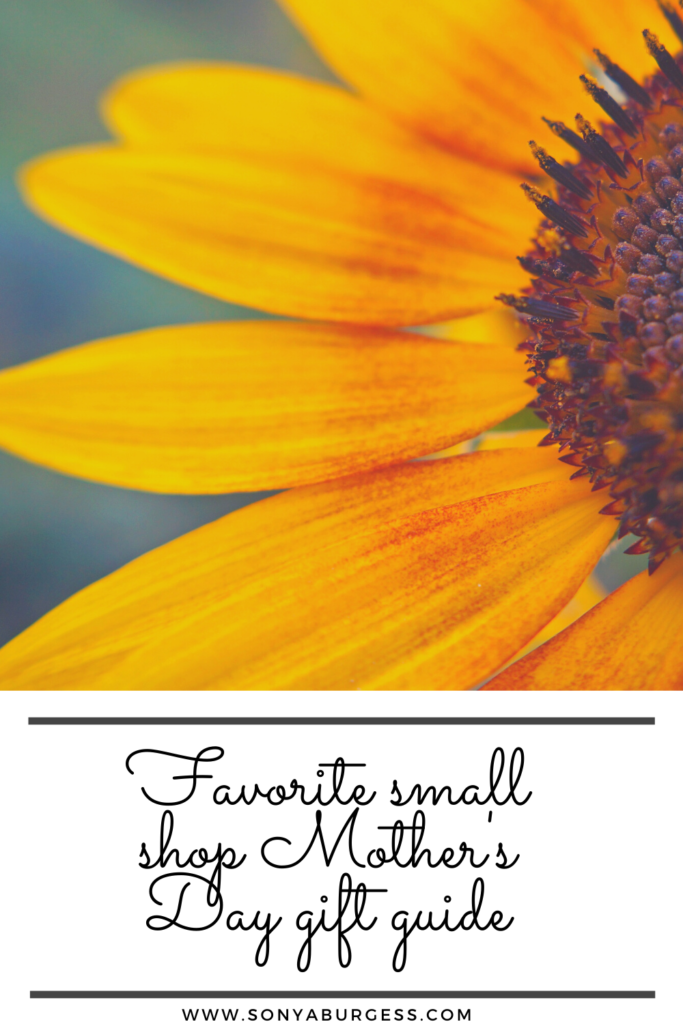 Mother's Day is a time to celebrate our moms, motherhood and those special women in our lives, often times by giving a present of some kind.
Though I feel we should celebrate these things every day, this is just an added bonus to give some extra love and attention.
This Mother's Day I really wanted to highlight some women owned small businesses, especially during these uncertain times.
Enjoy my favorite small shop Mother's Day gift guide.
Send inspiration
I love to send meaningful or inspirational gifts to my mother and those special women in my life for Mother's Day.
One thing that would make an amazing gift is a subscription to The Joyful Life Magazine.
This is a quarterly christian publication.
It is not just a magazine, it is more like a book.
There are no advertisements and it is filled with so much inspiration and stunning photography.
Each issue has a three month bible reading plan included.
I have every issue since they began, trust me whom ever receives this as a gift will want to do the same.
The Joyful Life, "Heart and Home inspiration for Christian Women."
Subscriptions can be purchased at Joyfullifemagazine.com.
Another beautiful gift would be to send flowers.
Flowers are the perfect present
Everybody loves receiving flowers regardless of the season or celebration.
There are lots of online larger florist but one of my favorite women owned online florist is Farmgirl Flowers.
Not only do they have amazing flowers at great prices, but they use ethically grown flowers.
They are women owned small business that support farmers who avoid harsh chemicals and offer benefits to their employees.
Flowers from Farmgirl are unlike anything you see at the grocery store or typical florist.
They create designer quality bouquets using seasonal flowers to create a stunning burlap wrapped gift for your loved ones.
Sending one of their bouquets as a present is sure to put a smile on someone's face on Mother's Day.
Bouquets can be ordered at farmgirlflowers.com
Speaking of bringing a smile for Mother's Day, why not send a sign made with love.
Send a personalized sign for Mother's Day
I know we all love signs, especially when they are personalized in some way.
Sending a special sign would make a special Mother's Day gift that they can treasure for years to come.
Katrina at PNWFarmhouse Designs Co makes such amazing signs with lots of love and care.
I have had the opportunity to meet her in person and can honestly say she is one of the most genuine people you will ever meet.
She makes her signs in her small shop at her home and can customize anything you need.
Here is just one example of a sign you could send someone for Mother's Day.
Her shop is located on Etsy.com I will include a link here.
The shop is full of so many different types of designs and she will work with you to get the look you desire for your gift.
These are just three choices from my favorite small shop Mother's Day gift guide.
I did not want to overwhelm you with choices as we all have so much going on these days with the current situation in the US.
Rather I wanted to share some small shops that have beautiful products and would make the perfect Mother's Day present.
None of these are affiliate links, just links to boutique type small shops that I believe in and love supporting and feel that you would love them as well.
Whatever you do for Mother's Day I hope that it is a blessed day.
Till next time.
Xoxo
Sonya
Comments
comments