The ultimate dorm room checklist
Are you preparing to move a child into their first college dorm? After moving two children into college dorms I have learned a thing or two about what really is essential. I compiled a list of the ultimate dorm room designs with a printable checklist for items that are essential for dorm living.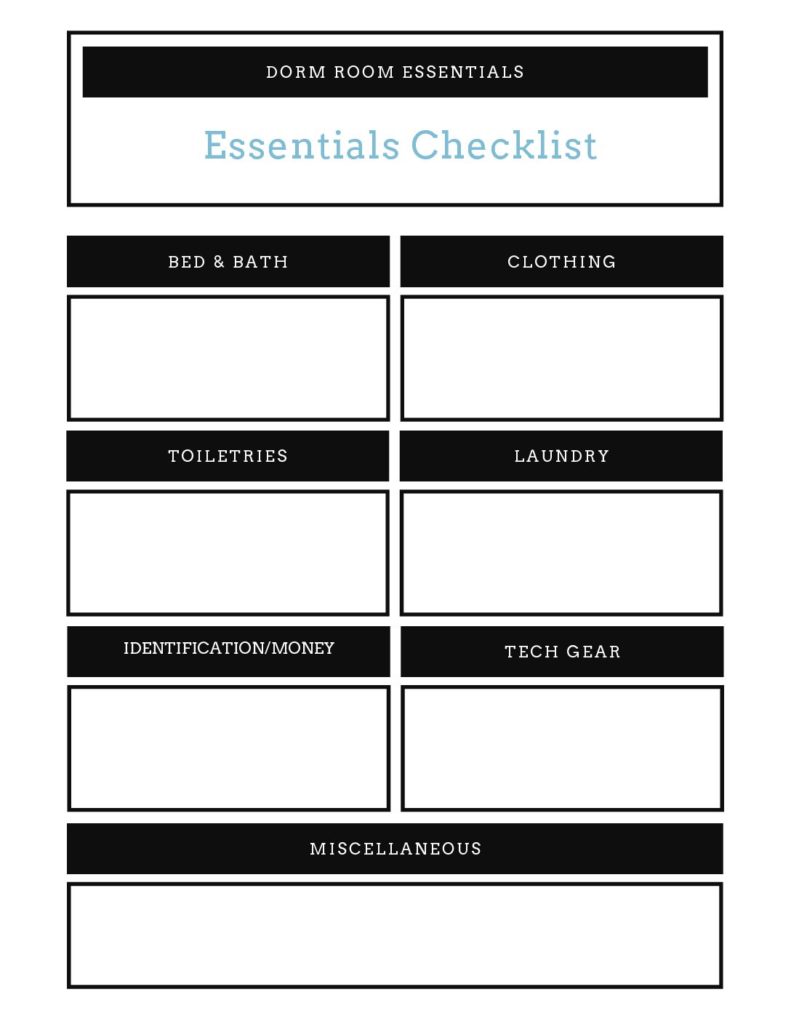 Four years ago I moved my oldest child into their dorm for the first time. To say it was overwhelming, is an understatement.
Not only is it an overwhelming and exciting time but it is an emotional time, making it easy to forget a few essentials.
For that reason I created the college dorm design checklist to ease some of the overwhelm.
Preparing for a college dorm
Wow, summer is going by so quickly.
It is hard to believe that it is time to begin preparing for sending kids off to college.
Sometimes when sending our kids off to school we purchase items that really are not essential and that end up just taking up valuable space in a dorm room.
It is really important that we send our kids off to start on the right foot with the essentials for dorm living.
Not overwhelming them with too much stuff.
I have separated it into sections to make it easier for you to keep up with and included a printable for your convenience at the end of this post.
Here are a few other post about dorm room decorating and other items to decorate a dorm with.
Here is one about the perfect plants for dorm room.
Another post sharing these simple steps to creating a cozy dorm room.
Now onto dorm design checklist.
Recommended bed and bath essentials:
Some of the needs may vary according to which style dorm room your child will live in and wether they have a private or shared bathroom.
These are the items that both of my college kids needed when they were in a dorm with community shared bathrooms.
Bed and bath essentials
Bed and Bath
extra-long twin sheets
comforter
mattress pad
egg crate padding
pillows and pillow cases
blanket
towels and washcloths (only enough for a few days due to lack of storage)
shower shoes/flip flops
shower caddy
area rug to cover hard floors
desk lamp (extra bulbs) check your particular dorm room some provide these
hangers
full length mirror , check your particular dorm as some have these already
plastic bed risers

Laundry essentials
Laundry supplies
detergent
dryer sheets or essential oils and dryer balls
drying rack (only if necessary)
laundry bag
Personal care essentials
Personal hygiene products/toiletries
soap/shampoo
toothbrush/toothpaste
shaving accessories
girls may need a hair dryer/curling iron/straightener
prescription medication if needed
Identification essentials
Identification/money
ATM card
driver license
insurance cards
jar coins for washers/dryers is needed, most dorms now use a school card for incidentals
Electronic essentials
Electronics
cell phone/charger
laptop/charger/cables
ethernet cable
gaming system (if your child is a gamer)
power strip with surge protector (UL approved)
computer paper
headphones or earbuds
Miscellaneous essentials
Miscellaneous
waterproof backpack
pens/pencils
scissors/stapler
tape/post-its
dictionary/thesaurus
3m(tm) Command ™ adhesive products
calendar
message board
flashlight
plastic food storage containers with sealing lids
plastic forks and spoons
can opener
umbrella/rain gear
trunk for storage if there is room if not clear plastic bins with rollers for underbed storage
sports equipment
sunglasses
small fan
dorm fridge/microwave if not provided
k-cup single coffee maker per dorm specs
lap desk for doing work on their bed
Those are the dorm room essentials, now onto the fun essentials of creating that home like feel.
Dorm room design ideas
Another good idea is to send your child with some framed photos of friends and family.
Regardless of how excited they may be to leave home, they will most likely get homesick and those photos may offer some comfort.
Find out what the policy is for decorating their room and from there decide on what to hang on the walls.
For our daughters dorm the walls were a yellow cynderblock, yuck.
We used teachers putty to hang everything on the walls from lighted garland to family photos and posters.
This helped to distract from the ugly walls and helped to create some much needed light.
Because the walls were bumpy and porous we could not use peel and stick wallpaper but in some dorm rooms you can.
For my son's dorm room all he wanted was a giant flag from his university and we again used teachers putty.
It is important to let your student design their own space so that they feel at home.
Something else to consider is to have your child contact their future roommate so that they may coordinate items they are bringing.
This will cut out duplicates of items they can share if they feel comfortable.
Essentials that vary for each university
Furthermore, some universities require that their students supply their own dorm refrigerator, that may be something to add to your list.
We were lucky in that our child's university supplied dorm refrigerators for each room to be shared.
While there are still few weeks, in the interest of time I have utilized the www.ocm.com website so that you can order all that is needed for a dorm room in one click to have it delivered to their school.
I can not speak to the quality of these items as I have never used them but it is super convenient.

I feel it is important to say as much as we mommas want to be in charge of decorating their rooms to feel like home.
It is their home away from home and they should be the ones deciding on style of decor and such.
They have to be comfortable in their own space, this is such a big transition for them and it is really key for them to feel at home as much as possible.
There are a few sites like the fore mentioned that sells college dorm bedding sets that include all the necessities of home, you may want to check with your child's particular school as they all have different requirements, therefore, they may have a different site to use.
Shopping resources for design essentials
Shopping at your local Marshalls and TJMaxx are also great resources for dorm room essentials.
They usually have a wide variety of styles to choose from but you have to shop early, especially this year when supply seems to be low with most things.
Another great resource for shopping for desktop essential would be 5 Below if you have those in your area.
That is a great place to get budget friendly, yet cute things needed to corral all the desktop items.
You can print my room essential checklist off and/or the blank one and add your own items if you would prefer that.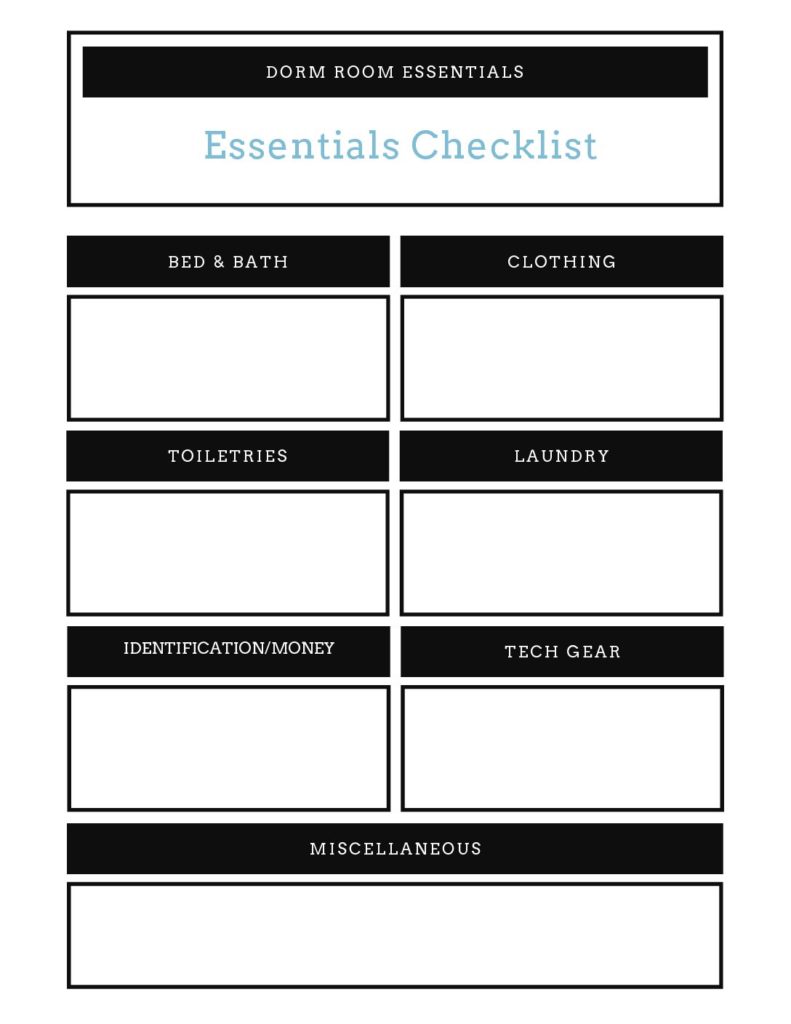 Good luck designing those dorm rooms, and share some pictures with me after you move your child in.
Till next time
xoxo
Sonya
Comments
comments