Tips on creating a beautiful container flower garden for a small porch
Do you have a small front porch you want to create a container garden for? Looking for ways to add color and charm to your front porch? Today I am going to show you just how easy it is to create a beautiful and welcoming container for your porch area.
Today I am joining a group of talented friends sharing their container gardening ideas.
Thank you to Kippi at Kippi At Home, for putting this together.
Creating a flower garden in a container is a fun and easy way to add color to the outside of your home, creating a welcoming porch.
Since moving a couple weeks ago from an apartment to a house I have wanted to create a flower garden.
Being a renter I did not want to plant in the ground so decided a container flower garden was perfect for my small porch.
My front porch is on the small side, therefore, I decided that a container garden would be perfect.
Prior to getting starting with any container garden, there were some important things to consider.
Things to consider prior to planting
Prior to getting any plants or a pot to plant in you need to consider the outdoor space and environment.
You need to know how much sun the particular area gets daily along with how much space you actually have for a container.
Be sure not to overwhelm a small porch with a pot that is too big.
Budget is something else to consider prior to planning out your design. Plants and planters can add up quickly.
If you are planting several species in one plant be sure to have one filler, one spiller and a thriller.
Fillers are plants that have smaller leaves and flowers while adding color.
Spillers are those plants that will spill over the edges of the pot and thrillers are the plant you want to be the focal point in the pot.
Planting warm weather perennials will help you to have blooms or foliage all summer long for at least two years or more.
Using annuals in your container means those plants will complete its life cycle within one growing season then die off.
The size of the pot you choose is an important factor, the larger the pot the easier it is to grow because they retain moisture better than smaller pots.
When looking at your container you need to be sure it has adequate drainage.
Once you have considered and figured out all these things you are ready to plan out your container.
Planning out your container
If you are wondering how to create your container, I have you covered.
Consider the outside color scheme of your home when planning out the plants you want for your container garden.
Our home has gray siding with navy blue shutters with a navy front door.
I took that into consideration when I planned my garden and chose white and a deep purple scheme for my flower pot.
You may have a pot that is perfect for your space and home or you may need to purchase one that will go with the space.
For my container flower garden I used a mid sized gray stone pot that I already had that coordinated with the gray and navy scheme.
Another thing to consider is whether you want to plant perennials or annuals prior to buying plants.
I wanted annuals for my container flowers and set out to find the plants that worked for me.
You will need to decide if you want foliage or flowers in your garden.
There are many plants that work well in containers and it can be overwhelming when at the nursery.
Before headed out to purchase any plants try and have an idea of what you are looking for so that you are not overwhelmed.
Here are a few of my favorite plants for your pot: wave petunias, creeping jenny, begonias, sweet potato vine and hibiscus.
If you are new to planting in containers just know that almost any plant can be grown in a pot with the proper planting and care.
Three most commonly used containers
Prior to planting it is important to consider the type of pot you will use.
The gardening stores have a ton of choices when looking for pots with prices that vary.
You should have in mind what your budget is when looking for your container as containers can be very expensive.
There are three most commonly used containers, plastic, terracotta and wood planters.
Plastic containers
Plastic planters are typically more affordable and from the street view appear like the more expensive planters.
The problem with plastic containers is they will begin to break down after a few years of use due to varying temperatures and sun exposure.
Terracotta planters
Terracotta pots are somewhat of a classic look and patina nicely with age.
The problem with terracotta planters is that they break easily and are a porous material so they lose moisture, creating the need for more frequent watering.
Wood planters
Wood planters are a beautiful choice for creating a welcoming porch.
They can be painted any color to match your particular color scheme but will need to be treated with care to maintain the planter.
Using wood planters require a lining inside prior to planting so that the planter will not deteriorate due to watering.
Once you pick out your planter you can begin planting your container flower garden with a few tools.
Tools for planting
While creating a welcoming porch with a flower container garden you will need a few tools to help you get started.
Fortunately when planting in planters you will not need as many tools as you would if you were planting in a larger garden.
With just a few basic tools you will be set to go.
These tools will help you with all of your small gardening plans.
Gloves to help protect your hands. They need to fit properly, be water resistant and durable.
Shears there is a variety of styles to choose from, for container gardening it is important to use a small pair that will easily fit in your hand and the planter.
Hand trowel is the essential tool for containers, be sure the handle fits comfortably into your hand and has a stainless steel head.
Watering wand is a great way to give your plants a gentle rain like shower. They are also great to use for your hanging plants or borders.
Watering can using a watering can is also a great choice for giving a gentle shower like watering. There are so many styles to choose from but generally they are plastic or metal. Plastic is much lighter but typically do not last very long. When choosing a metal watering can be sure you know how much it will weigh with water and choose a galvanized metal so that it will not rust.
I have included my favorites below for your shopping convenience. This post contains affiliate links at no cost to your. You may read the disclosure statement on the disclosure page.
With these few tools you are ready to begin creating a beautiful container flower garden for your small porch.

Tips for creating a beautiful container flower garden
Creating a flower container requires a larger pot to allow growth.
When using a larger pot put a smaller plastic pot upside down in the bottom of the pot to create a void and use less potting soil.
Be sure to plant your largest, thriller plant first in the center.
Then place your smaller plants around the pot leaving room for growth.
Some plants may need to be split in order to have room for growth.
Cover plants with potting soil to bury the roots.
Pack down the soil to hold the plants in an upright position.
After planting be sure to water thoroughly.
If you are needing more resources for your small porch gardening read here.
Yield: 1
Container gardening for small porches
Container gardening is perfect for your small porches, patios and rental homes to create a welcoming home.
Materials
One of the three most commonly used planters:
plastic container
terracotta container
wood container
Flower garden soil
Plants of your choice
Tools
Gloves
Shear
Hand trowel
Watering wand
Watering can
Instructions
Select a pot large enough to allow for growth
Place a smaller plastic pot at the bottom of the container upside down to help use less soil
Plant your largest, thriller plant first in the center
Next place smaller plants around the pot leaving room for growth.
Split plants if necessary to leave growth room.
Cover the plants with potting soil to bury the roots.
Pack down the soil to hold the plants in position.
Water thoroughly.
Notes
About one month after planting your plants should be filling in nicely and now would be a good time to begin fertilizing on a regular basis to promote growth.
Caring for your container flower garden
About one month after planting your plants should be filling in nicely.
Plants in containers tend to dry out quickly.
Make sure you are watering thoroughly, not letting the container dry out completely between watering.
Typically container gardens needs feeding/fertilizing consistently in order to help promote growth.
Deadheading or pruning your flowers will promote growth and keep rot from growing in your container.
If necessary you may need to cut out any plants not doing well and replace them for something that may do better.
With a little patience and care you can have a beautiful container flower garden while creating a welcoming porch.
If you are new to gardening and need to know more, read this.
More container gardening inspiration is below, please be sure to click on each link and show some love.
Container garden inspiration
Kippi at Kippi At Home has a complete container gardening guide to help you get started.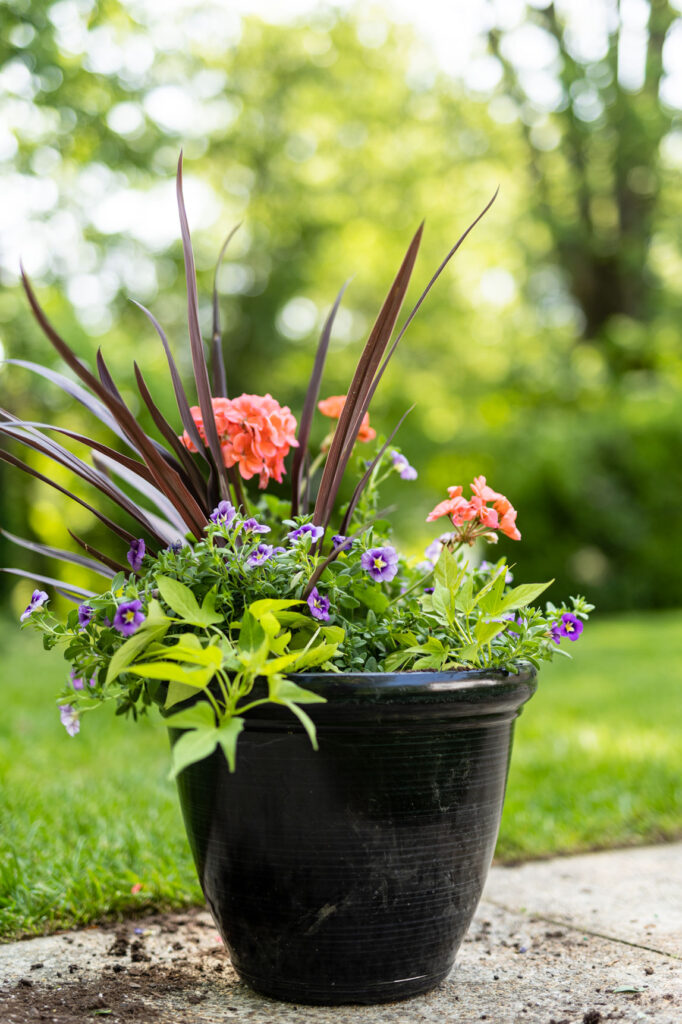 Learn how to create stunning a container garden with My Dear Cass.
From Farmhouse to Florida has everything you need to know about growing lavender in a container.
Over at Feet Under My Table are some creative ideas for container gardening.
Zucchini Sisters shows you how to fill window boxes like a pro.
Lynne at My Family Thyme is sharing all the secrets to creating stunning window flower boxes.
Till next time
Xoxo
Sonya
Comments
comments