Ideas for creating a flower bed for small spaces
Today I am sharing ideas for creating a flower bed for small spaces.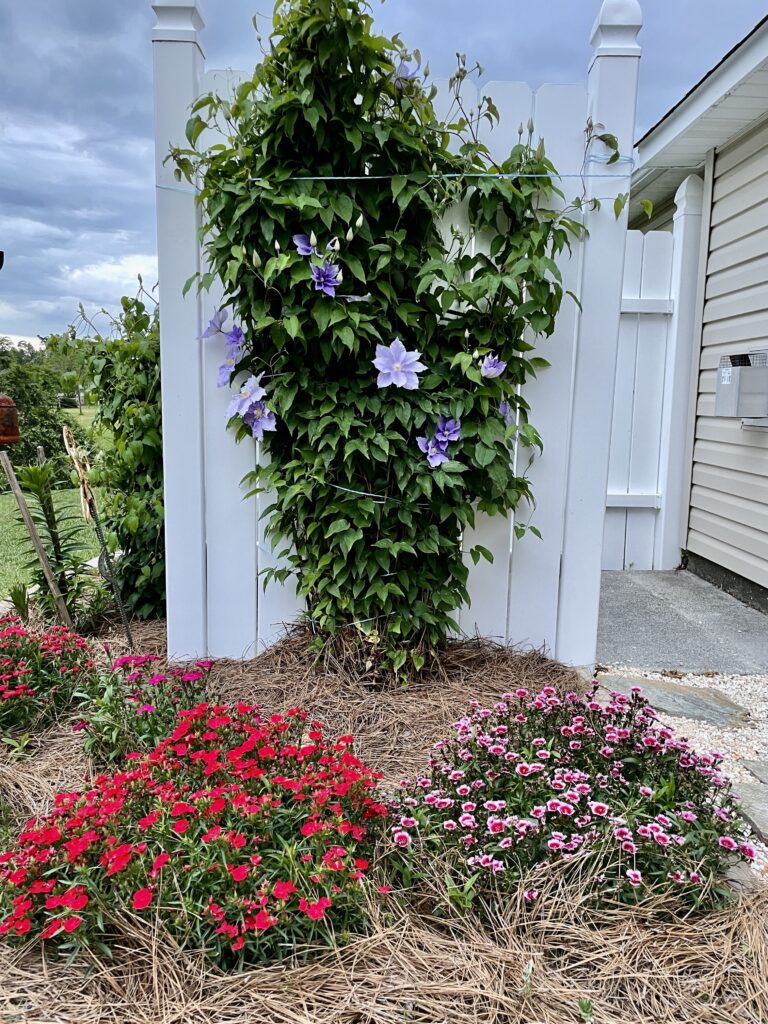 This post contains affiliate links where I earn a small commission at no extra charge to you. The disclosure statement can be read on the disclosure page.
Flower Garden Blog Hop
Hello, and welcome to the Flower Garden Blog Hop. I am so happy you stopped by. Today is the Flower Garden Blog Hop hosted by my amazing friend Kippi from Kippi At Home.
I am super excited to be joining this group of amazing bloggers who are sharing their flower garden ideas.
If you are hopping over from My Family Thyme, didn't you just love her bright and colorful container flower garden ideas?
Be sure to visit each one of the blogs listed at the end of this post.
Sit back with your favorite beverage and be prepared to be inspired.
Flower bed ideas for a small spaces
I don't know anyone who does not love flower gardens, even when they are in small space.
Planting in small flower gardens take some thought into how you would like the flowers to look in the near future.
When creating a small flower bed space it is important to plan so the space does not become over crowded and you are able to maintain the structure of it.
Flower gardening is also a great way to conceal areas of your yard that you may not be thrilled about.
We have a small space off of our back patio that surrounds a white vinyl fence.
This vinyl fence hides a gas tank for the fireplace.
Since we were not thrilled with that area, it was one of the first we decided to plan for.
Planning your flower garden
This was one of the first areas that we created a flower garden in when we moved into our home.
It has changed many times over the years as we figured out what worked and what did not work in the compact space.
After the first few changes I decided to start using a garden journal to keep track of what we have tried in the past so that we do not repeat any of the mistakes.
I would suggest if you are starting a new flower bed or have recently relocated, to use a garden journal to keep track of things.
With a garden journal you are able to write down what you have planted and how it did in your particular garden.
There is typically an area in the journal to help you draw a map of how you will arrange your plants and what the goal for the flower bed is.
Something to keep in mind is that it may take a while for your flower bed to look exactly how you envisioned it in your garden journal.
The growth really depends on what you have planted and how long ago.
Patience is key when creating your flower garden even if it is a small one.
Compact flower bed ideas
I wanted to share with you what we decided to do with our compact flower bed ideas in order to use the space wisely and create a distraction from the vinyl fence.
Like I said before this particular flower bed has changed many times over the years and unfortunately I do not have photos of the early days.
I can tell you that the plants that were there before filled in the entire bed and created a place for critters to hide and take up residence.
Much like this copperhead we found in the garden.
I can share with you what it looked like after we ripped out the previous bed and started fresh in the small space.
So we decided to rip out the existing flowers and soil and start fresh.
Before we started with the actual planting we thought about our plan and what would go with the existing clematis we had growing up the white vinyl fence.
We wanted plants that would coordinate with the clematis and fill in the small space nicely without overcrowding it.
Preparing the flower bed
Once we knew what we wanted to do, we pulled everything up and moved them to different areas of our yard.
The first thing we did after removing the plants was remove the plastic border we had been using.
After the border was removed we laid down weed block that creates a barrier for adequate weed control.
The weed block has kept us from having to use chemicals to keep the weeds at bay.
The groundwork was laid in order to allow us to create our new border.
Creating a flower garden border
After trimming the weed block we were able to begin working to build our new flower bed border.
We wanted to create a bit of a vintage, european feel with our border so we headed to Lowe's to see what was available.
There were so many great ones to choose from but we settled on flagstone retaining wall bricks.
The flagstone brick was perfect to get the height around the bed, alongside the patio.
These flagstone bricks helped give us the look we were going for in creating the border.
Once the border was complete it was time to get some soil back in the flower bed.
Amending the flower bed soil
Several years ago we started composting and using it in our vegetable garden.
When we were re-doing this flower bed we decided to use a mixture of compost and flower soil.
Some things that are great to compost are; fruit scraps, vegetable scraps, coffee ground, eggshells, grass clippings and shredded newspaper.
We composted all of the above and it created some amazing soil for our vegetable and flowers gardens.
The mixture was perfect to feed the small flowers we planted and got them started with lots of natural nutrients.
Not only that it was much cheaper than filling the entire flower garden with store bought soil.
Once your soil has been amended you are ready to begin the planting proces..
Flowers for a compact space
Of course when planning for your particular flower garden you need to plan according to your region.
For our particular flower bed we decide on using Dianthus in various colors that cordinated with our clematis.
Here is a picture of where this flower garden started this time last April.
Now look where they are currently.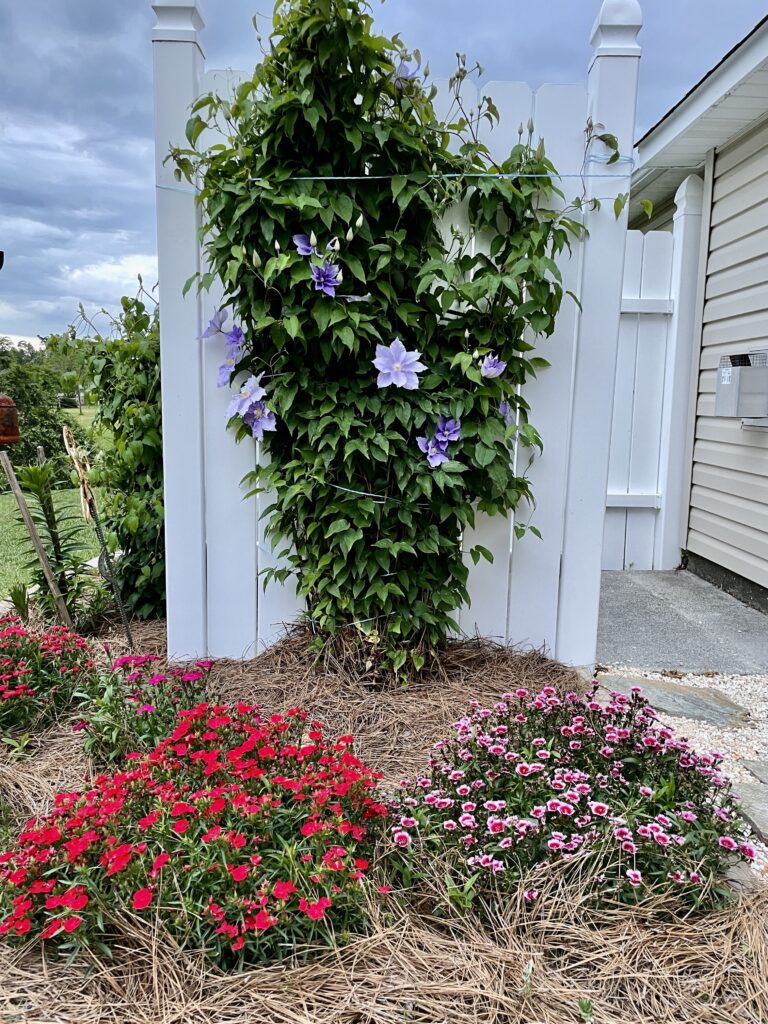 To the right of this garden is an even smaller area that needed just a little something to add some color.
Here we added three simple and beautiful irises to line the other small flower bed.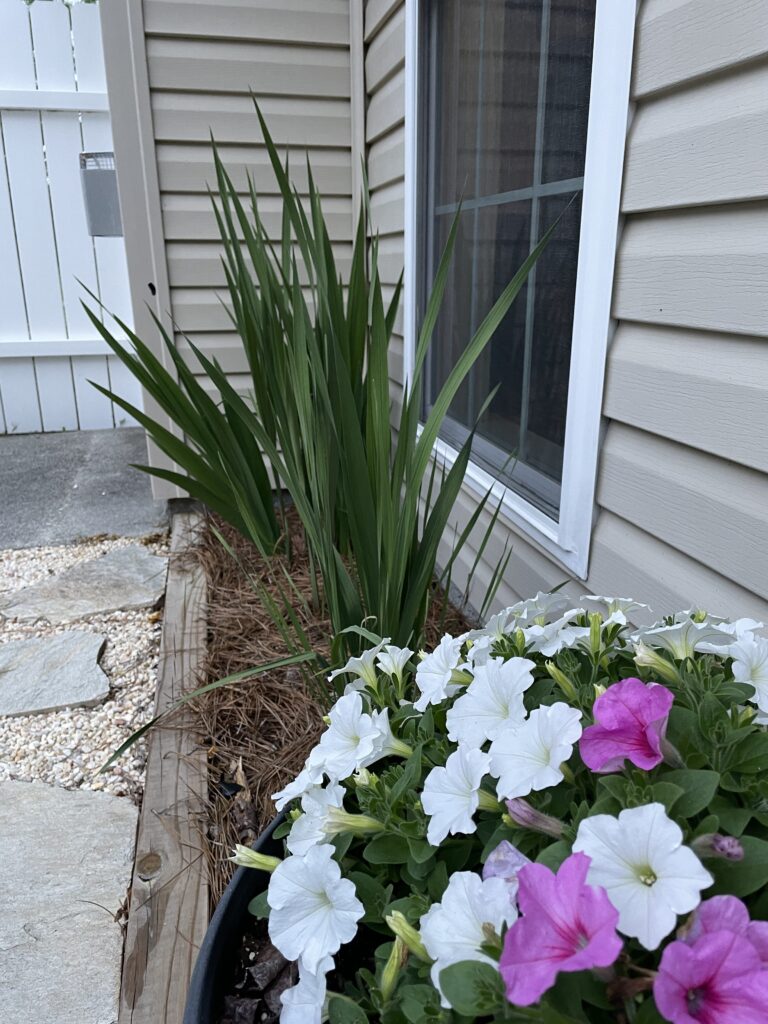 Adding these irises are the perfect touch and height for the compact flower garden on the other side of our walkway.
Remember when planning our your flower beds be sure to know the height of the various flowers and plant according to height if you are using various species of flowers.
Tips for the new gardener
If you are a new gardener doing some research on plants is a great way to figure out what might work well for your garden space.
One thing that has been a great resource for us in reading up on plants is the "A-Z of Popular Garden Plants".
This book is full of great information and will help you to learn about plants that are perfect for your small flower beds.
There are also several online videos from well established gardeners that can help you along the way.
One in particular is the online gardening courses from New Skills Academy.
Here is another post for the new gardener that will most helpful.
There is one other aspect that I love for flower gardens and that is adding in a little personality.
Decorative ideas for your flower bed
Another part of any flower garden is the decorative element.
Adding decorative pieces that interject your personal style add lots of character to the space.
One of my favorite pieces in our flower garden is a rusted scuba tank wind chime that I purchased at a local festival a few years ago.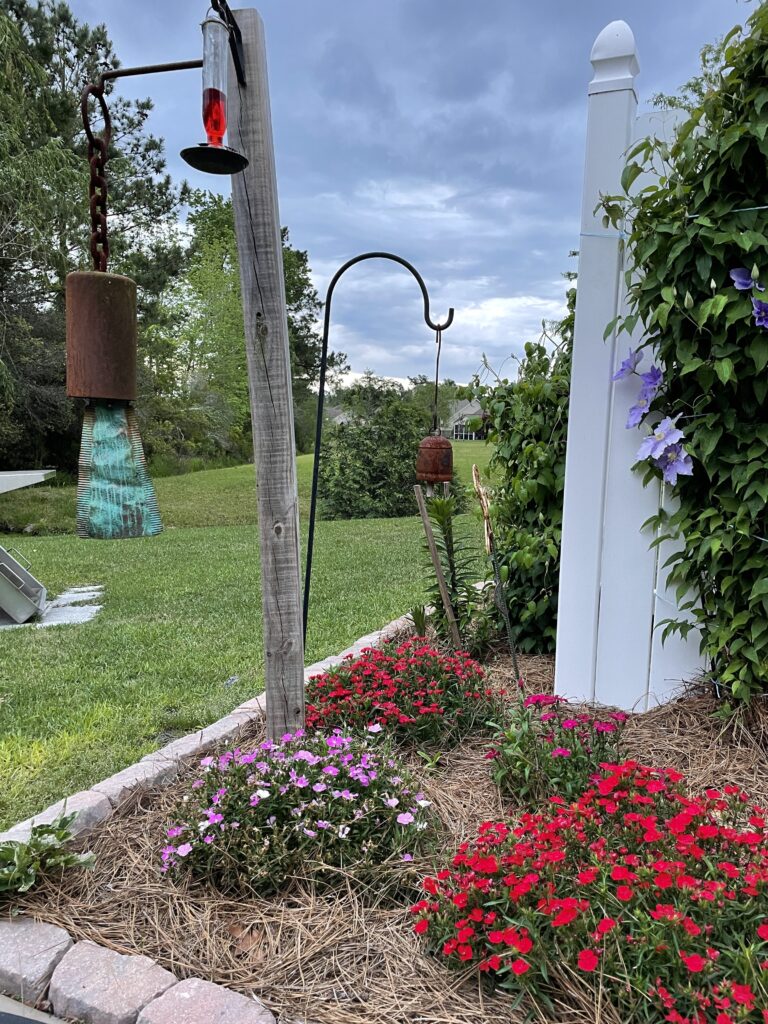 Not only does it add character but it makes the most beautiful and relaxing sound.
I can not find that particular one but have linked one that is also beautiful if you are searching for something like it.
There are so many different decorative pieces you can add to your small garden space.
Like small metal garden bugs and statues you can to create a unique flower bed.
We also needed to have access to our gas tank behind the fence so we added small white gravel and flat slate stepping stones.
With some planning and creativity you too can use these ideas to create a flower bed in a small space that is unique and reflects your style.

If you are looking for more gardening inspiration read here.
Be sure to visit the rest of the bloggers on the tour listed below.
Thanks again for stopping by for all your flower garden inspiration.
Till next time.
Xoxo
Sonya
Comments
comments